OneNightFriend: Is It An Easy Website To Get Laid?
The OneNightFriend hookup site is an astounding dating platform which makes getting laid an easy feat. You're shown hundreds of women in your vicinity, but you can search for ladies in any of the applicable countries. The site is peppered with unique features to enhance your experience and make it entertaining. The best part? It's ridiculously affordable.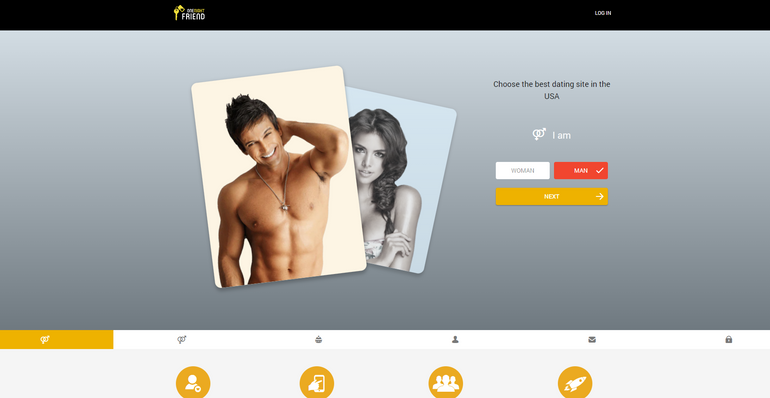 Tons of innovative features
Large and active user base
Affordable premium memberships
Only 5 free messages per day
How do you get started on OneNightFriend.com?
The first time you open up their page, you'll be greeted by a prompt asking you to fill out some details. Just state your gender, who you wanna fuck, and add in your credentials. Your location gets automatically filled out. When you're done, smash that "Join Now" button. Look, I know you're eager to start banging the babes here left and right. But don't jump the gun just yet, hotshot! You still need to activate your account. Check your email for the one sent by OneNightFriend, and tap the activation button. Once done, you're good to go.
Just because you've got an account activated doesn't mean you're ready for the OneNightFriend experience yet. You wanna get hit up by all the sluts desperate to get laid, bud? You need to touch up your profile. Upload a couple pictures of yourself so the ladies know what they have to work with. You ought to also add more details on your profile so chicks can get to know you. Tap the profile icon on the top right. It'll instantly open a popup where you can add all your physical details, create a status, and change your screen name. Remember, a witty status could make or break the girl's decision to send you a text!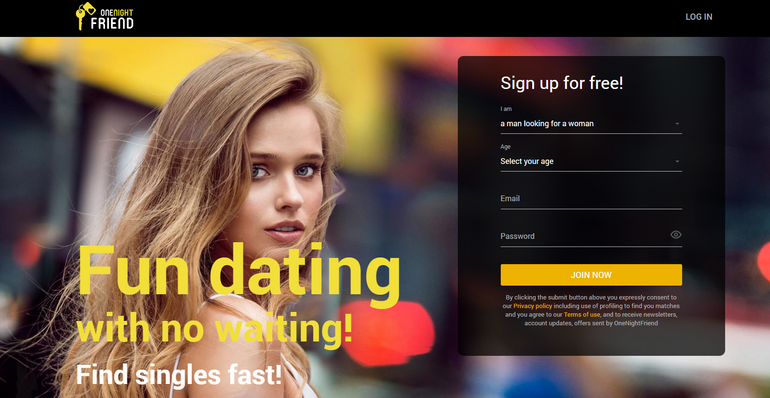 Member Structure
Member Structure
Members geography
127,000 from USA
Members activity
256,000 active weekly
How much will a premium membership run you on OneNightFriend?
Premium memberships are the way to go if you wanna experience this dating site at its max capabilities. It also happens to be extremely affordable:
You can see for yourself how affordable a premium membership at OneNightFriend is. However, you may be thinking, "But Hookup Guru, do I really need a premium membership? What difference could it possibly make?" Buddy, here's why you're gonna want it:
No limits on chats: You're on a hookup site. There's gonna be a lot of flirting and a lot more sexting. How the hell are you gonna sweet talk a chick into your bed when you have texting limits on your free account? Premium gets rid of those chains. Send all the texts you want, champ.
Max res photos: To view all the photos on a user's profile, you need to be a premium member. This also lets you view them in full size. You can get a real taste of what she looks like.
Premium support: OneNightFriend staff takes good care of its premium members. In case you run into problems while on this platform, their customer support service will always prioritize fixing your problems.
Attachments in chat: Instead of being limited to just texts in the chats, you get to send (and receive!) photos and videos. Suppose your conversation with a chick gets hot and heavy. Then, you might receive naughty pics of her, and maybe even send her a dick pic of your own.
What features does OneNightFriend offer?
OneNightFriend offers a plethora of features which will boost your experience and set it apart from all the competitors on the market:
Flirtcasts
Got dozens of the hottest ladies on your search page, but you don't know how to hit on all of them in a time-efficient manner? Fret not, because OneNightFriend has got your back. Try the Flirtcast feature—your mind will be blown. Instead of manually hitting on each attractive lady individually, Flirtcast simply sends several women on the search page a prewritten flirt message. This way, you can just tap a button to hit on all those ladies. The ones who are interested in you can text you back!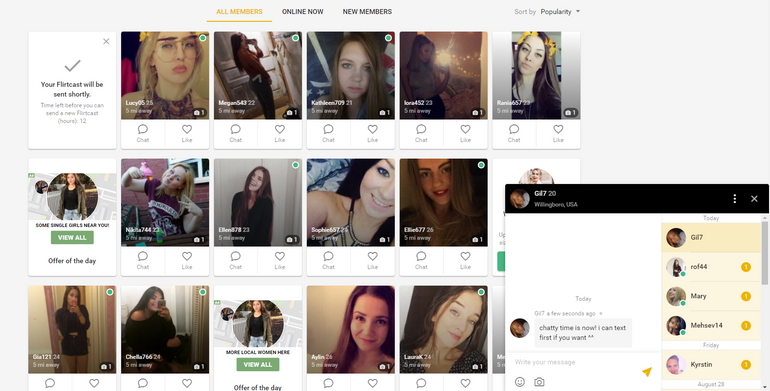 Satisfaction Policy
Look, OneNightFriend is confident in their ability to find you a chick to bang. They're so serious about it that they actually offer a unique "Satisfaction Policy". It states if you don't get find a chick to fuck within the first 3 months of you buying a premium membership, you'll get a free 3 day membership to OneNightMembership or any of its sister sites. Not that you'll have to use it! We both know that there's no way a stud like you isn't finding action on this platform.
Promos
OneNightFriend offers regular surprise promotions to keep you pleased and invested in the platform. You'll regularly find "Buy one day, get one day for free" membership bonuses, as well as sudden discounts. These offers can vary, often going all the way up to 40% off on memberships. Remember, these discounts are on a time limit. If you don't take advantage of an offer within 5 minutes or less, it'll disappear. These promos are completely randomized, and you'll have no clue as to when you'll get the next one.
The Like Gallery
The Like Gallery shows you one user at a time. It's a sort of "swipe to like/dislike" game. The only thing that matters is your first impression based on their profile. You can check out their profile and look at more pictures of them if you wanna make an informed decision. Alternatively, you can just swipe through each user based just on how hot they look. The choice is yours. If you like a user who likes you as well, you'll get a notification saying you matched. That'll give you the confidence to send them a message! Remember, you can send up to 5 free messages per day.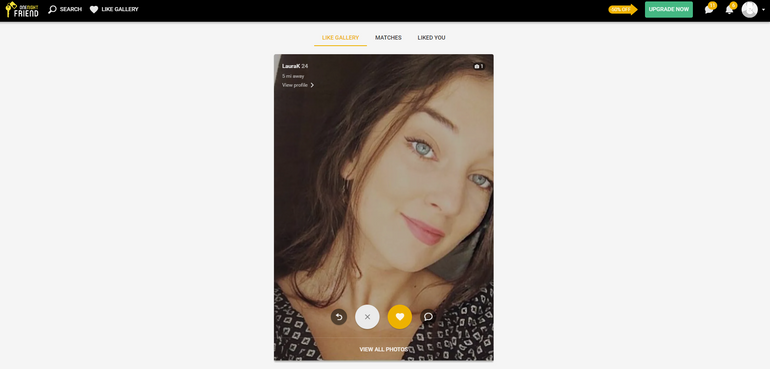 What's the verdict on the OneNightFriend review?
They've got all the features, hundreds of active users, a flawless UI, and an affordable premium tier. What are you waiting for, bucko? Pay them a visit and you could get laid tonight!
Total Score
Contact Information
| | |
| --- | --- |
| Company: | Blue Vision |
| Address: | Bulgaria, 1000 Sofia, 16, Lavele Street |
| Phone: | 1-800-989-2318 |
| E-Mail: | onenightfriend@support.com |
Free Registration
Frequently Asked Questions
1. How long does it take to have my profile approved?
Your profile will be approved once you open the verification email and click on the link provided. This email will take at most 10 minutes from the moment you register to be sent to you. Check your spam folder in case you cannot find it.
2. What payment methods does OneNightFriend accept?
OneNightFriend accepts payments made through debit/credit cards from VISA, Mastercard, Amex, Diners Club International and Discover.
3. How to use OneNightFriend without paying?
Almost all of OneNightFriend can be used without paying, except viewing user photos. You can even send up to five free messages per day, and like other users. You will not be able to see a user's "Looking for" details on their profile, however.
4. How does OneNightFriend work?
OneNightFriend finds hundreds of women in your vicinity for you to chat up. Alternatively, you can use the search filters to hone in on your specific type of hookup partner. The Like Gallery is a fun swipe game which can help you find matches as well. The website simply shows you all the available prospects, and you can strike up a flirty conversation with any of them.
5. Can you delete your OneNightFriend account?
Delete your account by opening the dropdown menu at the top right of the page and going to the settings. At the bottom of the page, choose to remove your account. Follow the instructions and select all the applicable boxes. Your account will then be removed.