What Is the Sex Messenger app?
SexMessenger is an adult platform you can use for hookups, erotic stories, risque pictures and videos, and plenty more. It's got all the bells and whistles, while being in a familiar format. It's easy to navigate, and anyone can use it.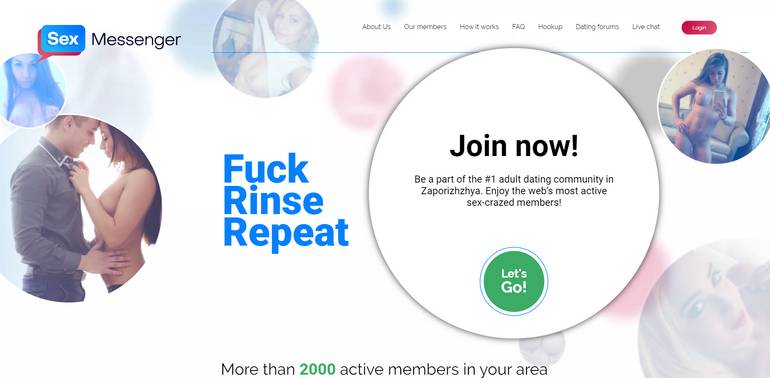 Downloading SexMessenger for the first time
As soon as you open the page, you'll be prompted to fill out a form. You begin by stating your gender, and what gender you're pursuing, as well as what you're looking for specifically. The next step is to create an account.
Member Structure
Member Structure
Members geography
61,000 from USA
Members activity
195,000 active weekly
Creating an account
In the form, fill out your email, and create a username and password. Next, fill in your zip code and birthday. That's all you need to do to create an account. Your first login will bring up a prompt, asking you to purchase a membership to use the website to its full extent.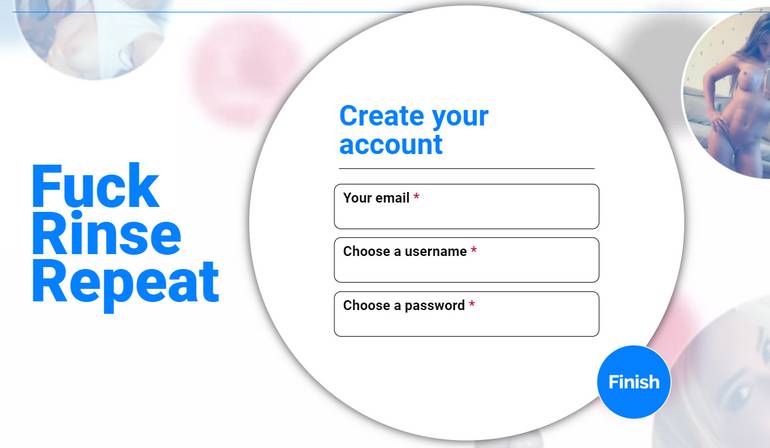 The main page
While the main page maintains a rustic aesthetic, it's easy to peruse. Everything that's unique stands out, and it's easy to identify the main features. Just in case, here they are:
Profiles tab: At the center of the page, you can see users who are currently active, as well as your new matches, members near you and VIPs!
Broadcasting tab: This tab shows all the users who are currently streaming. You can join them for some saucy, steamy displays and conversation. After all, one thing might lead to another, and you might find someone new to fuck your brains out.
Personal profile section: At the left of the main page, you'll see your personal profile. You can add a profile picture, which will tempt more people to check you out. You can also update your status here. Any messages, friends and flirts will all show up in this tab.

SexMessenger special features
These bits are what make the SexMessenger app unique and fun to use. Of course, a horny bastard like you will be too busy molesting yourself to appreciate their features, so here they are for you to read while you're not distracted:
Instant Messenger
The IM is quaintly made to resemble the age old cybersex rooms of AOL and Yahoo Messenger. You'll feel the nostalgia hit you just as your cock starts throbbing from anticipation, waiting for that first message before the dirty talking begins.
The SexMessenger 'Community' tab
A porn platform is only as good as its community, and SexMessenger shines here. They provide a variety of different ways for their users to interact with each other, and keep it fresh despite being active for so many years. Take a look at some of the most popular ways SexMessenger connects its users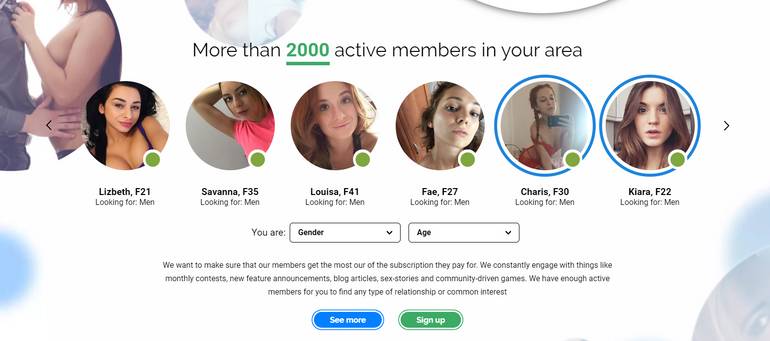 Blogs
Every member has a blog. You can write about anything you want, and post pictures along with it. You even get to decide who can see your posts, as well as who can comment on it! Since there are different forums available, you can choose to have your blog visible only through your profile, or through a forum of your choice.
Groups
The perfect way to organize hookups, orgies, and to have group conversations. This is the place where horny bastards congregate, and usually conjugate!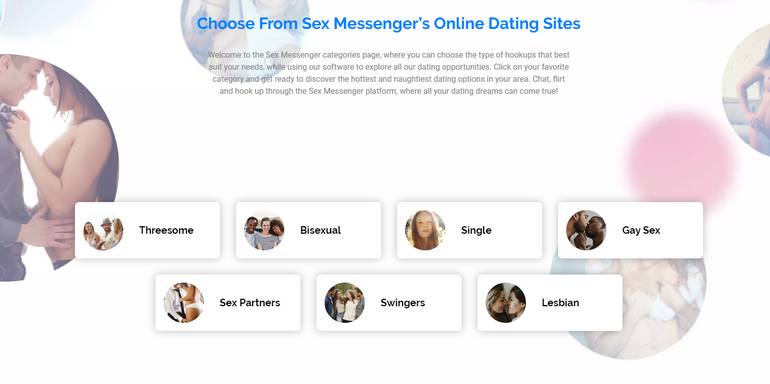 Contests
Different kinds of contests are hosted on Sexmessenger.com. Any member can participate, and it usually involves posting pictures related to a particular theme. Members then vote for their favorite pictures. The top three winners receive prizes, usually gold memberships which last from 3 months to a year.
Magazine
The magazine is composed of articles written by different members. They cover different aspects of relationships, from starting one, swinging, breaking up, safe sex and a plethora of other topics.
Erotic stories
Are you the kind of wanker that has such a creative imagination, that you can write about hot, sweaty scenarios? If you're really that good, you'll love Sexmessenger's 'Erotic stories' section, where you can read stories posted by other members, and even add your own! You can filter the different stories by categories, such as 'loving wives', 'group sex', 'anal', 'romance' and plenty more. You can also sort by the most viewed, trending or latest stories.
What are SexMessenger Points?
On SexMessenger, you need points to do just about anything. Whether it's browsing naughty photos, sending/receiving messages, and making video calls. You can even use these points to send tips and virtual gifts to members you like, and to become the 'Top Fan' of members you adore. Anything your naughty mind craves doing will cost points here, so are you man enough to get some? Here's the current pricing for points:
200 points = $3
500 points = $6
1000 points = $10
You can also earn points through the following ways:
Uploading a photo = 20 points per photo, upto 200 max.
Uploading a video = 20 points per video, upto 200 max.
Status updates = 1 point per update, upto 100 max.
Confirming ID = 500 points, one time only.
Completing profile introduction section = 20 points max
Answering additional questions = 1 point per question
Getting VIP Membership = 500 points
What is Gold Membership?
Gold membership is the highest tier that an account can possess on the Sex Messenger app. Gold membership pricing is as follows:
By purchasing gold membership, you unlock a few distinct features, such as:
Unlimited messages to gold members
By becoming a gold member, you can communicate with other gold members as much as you want. Bear in mind that free members will not be able to communicate with you.
Access to the 'Sex Academy'
This is for dirty bastards like yourself, who want to get better at the art of making love. You'll learn different positions, erogenous zones and more. When you're done, you'll be able to make any girl scream, moan and whimper in bed.
Final thoughts on the SexMessenger Review
SexMessenger.com is for a man who wants it all: live cams, nudes from women all over the world, smut, real life hookups, orgies and more. There's nowhere else on the internet where a dirty pervert like you would thrive. The only question left is if you're man enough for everything Sexmessenger offers, or are you too much of a pussy?
Total Score
Contact Information
| | |
| --- | --- |
| Company:   | RTA ASACP |
| E-Mail: | sexmessenger@support.com |