Horniest Chicks On XMeets For A Quick Awesome Fucking
Many communication options
Easy and hot bitches
Old-fashioned design and interface
The next hookup website for a good fuck I'm gonna tell you about, you won't find it on Google search. It's so secret that you only need to type their link and then you'll get it. So just go on xmeets.com and enter a world of fancy hookups with gorgeous sluts. There are no cheap bitches, only queens. At least, you get this impression when you see the main page.
How to register on XMeets, dude?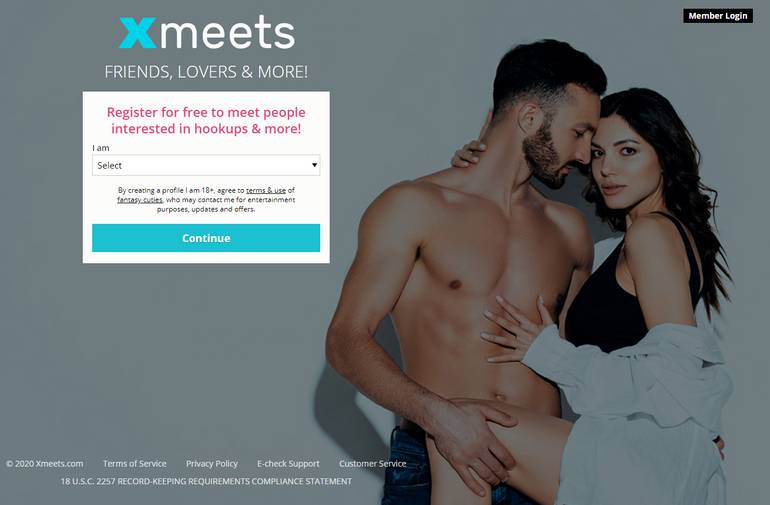 The registration process is as easy as your ex-girlfriend. You have first to choose who you are: man seeking women or woman seeking men. Right, there's no place for LGBT, sorry, guys. Then you enter a username, password, and email. Everything is as usual. They'll ask you to confirm your email, and do it right now because they won't let you use their shitty website.
When you sign up and enter the site, it seems completely fucking different than their main page. Dudes, really?! Who the fuck is your web designer? I'm like in 2004 and there are also the same pics of weird bitches. I don't know who you think you are, moderators, but we're men of the 2020s and we don't need that kind of shit.
Whatever page you go, it shows you this ugly banner of upgrading your account. Click the tiny "No thanks, continue" to hide it. When you just sign up, girls start texting you nasty messages. You know, when hoes act like that on a hookup platform, I don't believe them. I don't have a picture of myself, why the fuck do you write to me? It kinda seems like they're all fake and it makes me sick because I have to use this shit instead of really good adult dating websites.
But now I have a mission to find something good in this XMeets review. There's a header with the main pages: Home, Search, Messages, Quickie (what the hell is that?), Friends/Favorites, Chat, and Cams. I'm gonna tell you about all of this. You may think it's crazy but some dudes in my blog really enjoy reading all the facts about the website. If you're a big fan of good porn and hookup platforms, it's a necessity.
XMeets Costs and Prices
3-days trial costs $2.97 PER DAY! It's not fucking 3 bucks for 3 days but a fucking 9 bucks for 3 days! Omg, dudes, are you crazy?! 6 months is $70 (I'm not gonna tell you this "per month" shit like it changes something) and they call it the best deal. Of course, it's an awesome deal when you have a monthly subscription for $30. It seems like even they don't know the price for such crap. Are you already going to make a damn XMeets profile?
Okay, tell me about the XMeets pages, Guru!
First, of course, there's a Home page. That's the weirdest one where you just have literally everything so you don't even understand how the hell to use it. Tweets, cams, chats, newcomers, matchups… Seriously?! I don't need all of these on the page even if it's the main. Bunch of fake bitches' pics and nothing useful. Ok, let's see the next one.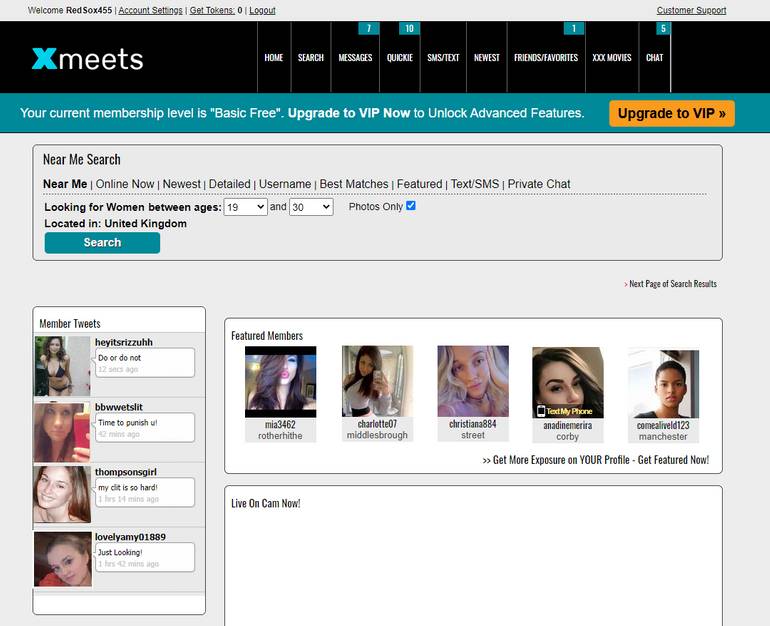 The Search page looks like crap as well. You can just pick up the age of X Meets bitches and that's all. And when you see them, you'll make sure they're all fucking fake. There are low, shitty quality photos of young cunts. Of course, they have iPhones these days to make good pics of their boobs! I'm getting angry because of such websites, give me some antidepressants to continue this review…
When you open fucking messages, you can continue watching these assholes trying to get your money. There are definitely fake profiles made by owners of this ass site, they text you as they're pretty hoes and make you pay for their subscription. And that's how they treat us in 2020, dudes! I'm a fucking Hookup Guru and I'm not gonna stand this, I'll tell you every piece of fucking truth, my friends!
The Quickie page is something like a Tinder game. You see a random picture of a chick and have to answer if you like her (YES), don't like her (NO), or maybe you just have to see her profile immediately. Surprisingly, you can really see the profile. But if you want to answer yes or no, you have to download your own picture to let a girl pick you up too.
The Newest Page is supposed to show me fresh-made profiles, I guess. But even though I picked up a wide filter, it didn't show me a single bitch. OK, what are the following disappointments you want to offer me? You won't find such XMeets reviews, right?
The Friends/Favorites page is pretty clear. Again, you open this fucking page and see there's a pretty naked girl sending you a request. You try to accept it and you see this fucking "upgrade your profile, dude"!!!
Same for the rest of the pages. There are XXX movies but you have to pay to see it. You know guys, I don't mind it and I really pay for good porn myself. But really, let's see their prices and if it's worth it. I already described how fucking poor it all looks. And now, the prices…
Dudes, I guess you get my impression. I want you to make sure you can trust your buddy Hookup Guru when it comes to hookup or porn site advice. I'm not gonna tell you this X Meets platform is great when it's not. Check out my other reviews and use really fancy stuff!
Contact Information
| | |
| --- | --- |
| Company: | Fantasy Cuties |
| Address: | Stephen Workman, Esq., 200 W. Madison Street, Suite 2100, Chicago, IL 60606 |
| Phone: | 800-564-9432 (+1-727-755-7249 OUTSIDE USA) |
| E-Mail: | support@trustedassist.com |