Camcontacts.com Review: Is It The Top Pervert's Destination
Tons of special events
Naughty camgirls
Both non-sexual and sexual categories
Payment card details are obligatory to mention to register
Few free shows are available
Got an urge to jerk one out? Choking the chicken should be a fun experience, not a chore. Camcontacts can make every jerk-off session the one you're eager to start again and again. Before you know it, your dick's gonna be so sore not even Viagra's gonna help. It ain't just the drop-dead gorgeous bitches performing, but the features that make interacting with them so much fun. Excited to get into it? Read on and you'll learn everything you need to know.
Member Structure
Member Structure
Members geography
212,000 from USA
Members activity
118,000 active weekly
Can you use Camcontacts.com for free?
This is tricky. You can use CamContacts for free, but you need to create an account. It ain't as simple as might seem. Camcontacts.com is premium and makes sure no bots can get into the site. To keep it safe, they require a payment card number to verify your identity. You won't get charged for creating an account. Once you've given those details and created an account, you can browse the site for free. Most of the cam shows here are paid, but you'll find a few free Chathost shows on the "Who is online" page.
How do you create an account on CamContacts?
Click on the "Register now" button on the left of the home page. You'll need to fill out your email ID, create a screen name and password, and mention how you found the site. On the next page, fill out the details required: your name, date of birth, address, and payment card number. You won't lose any money, creating an account is free. This is how CamContacts checks if you're a real person or not. Once you're authorized, you can browse the site for free.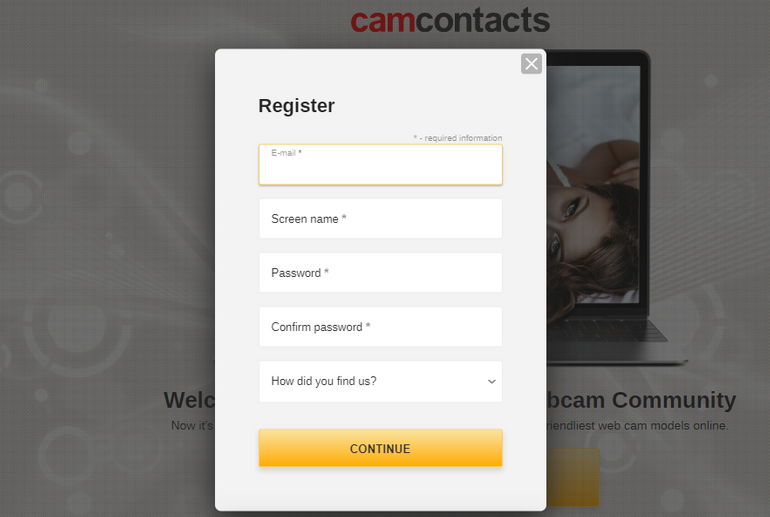 What kind of categories does Camcontacts.com have?
There are 3 main categories you need to know about as a beginner. As you get more experienced, you'll realize there's more depth to these categories than these hot chick's pussies. You're not gonna be able to handle it at once, but that won't stop you from trying, right?
Non Adult
Just cause you're on a cam site doesn't mean you're furiously stroking your cock. If you're looking for a pretty babe to give you companionship, you can find it here. There's plenty of cam girls who are only looking for friends, and even searching for a long-term relationship and even marriage! You're not gonna see any nudity here, so wankers ought to move right past this.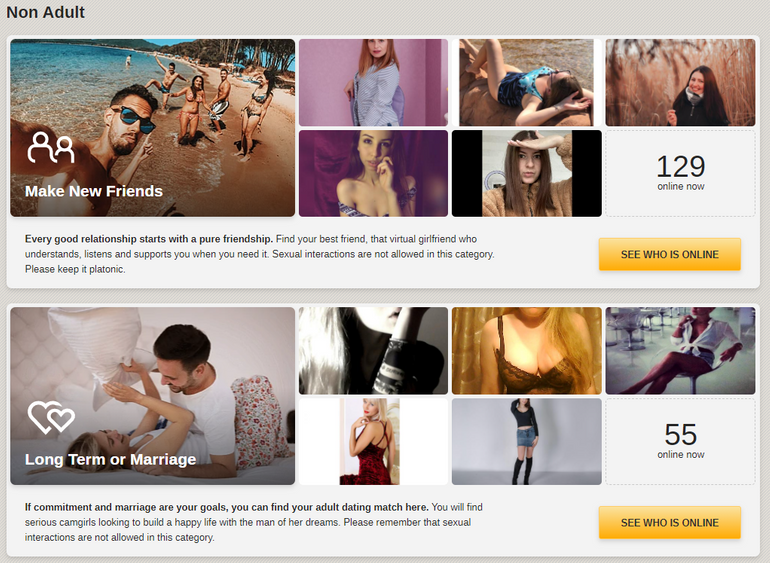 Softcore
Are you one of those dudes that like clothes on chicks? I bet you're into the "Clothed Female Naked Male" fetish. If that's your vibe, you'll love softcore. They've always got skimpy clothes on, and even if they're nude, they won't do anything too sexual. You'll even find rooms with two chicks together, experimenting with each other. It's a perv's wet dream, and you'll love cumming for it.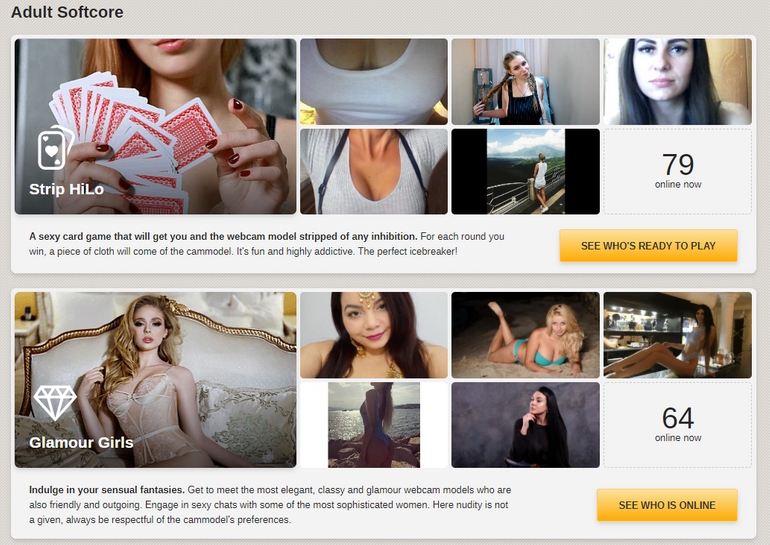 Hardcore
These are the nastiest hoes the site has to offer. You wanna see a girl get absolutely dirty? This is the go-to section. Even if she's got clothes on, you know it's getting torn off in seconds. Dildos, cum, fingers in every hole she's got is what you should expect. You won't be starving for content either. Besides the vanilla solo cams, you'll find tons of threesomes and orgies. Got a fetish? These whores' priority is serving you. Doesn't matter if you're into feet, stockings, latex wear, jerk-off instructions, or humiliation, they'll provide. Are you one of those kinky fuckers who gets rock hard for BDSM? You'll love the "Dungeon" section in Hardcore. Naughty boys like you can watch cams with bondage, femdom, submission, spanking, facesitting, and more.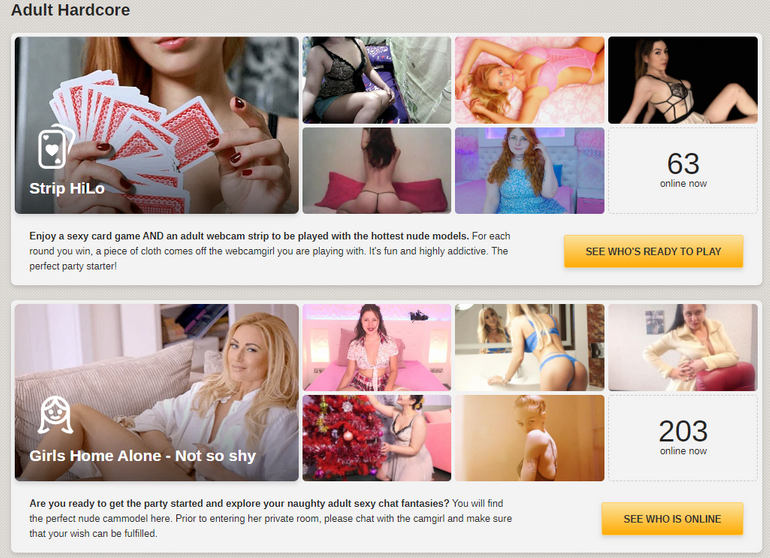 What's special about CamContacts?
CamContacts.com ain't like those other low-tier sites. It's on a level of its own, and this myriad of features will prove it.
Special Events
The best way to keep a community active is with events, and Camcontacts.com knows it well. You'll find tons of anniversary and Valentine's Day events where camsluts and viewers alike compete for prizes of the naughtiest kinds.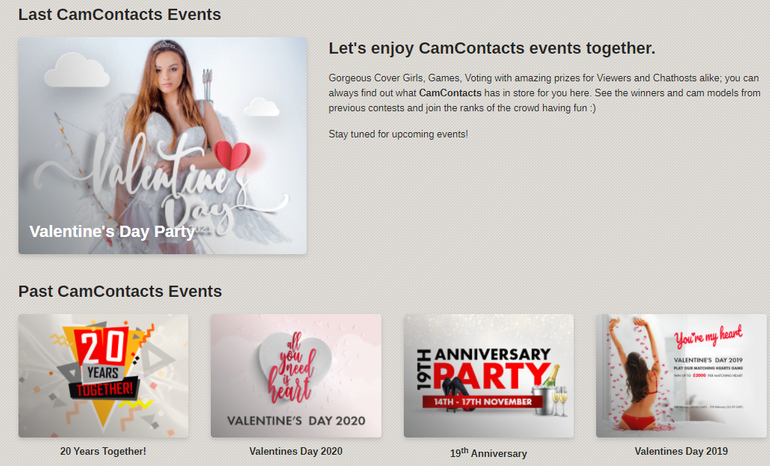 General forum
This is a spot for all the horny users, both camwhores and studs like you can congregate and talk about anything you want! Start your own contests, post ads seeking chicks of a certain type, look for people to meet in your area, and even ask questions about the site.
Gifts
Aside from tips, gifts are one of the best ways to show your favorite cam girls a bit of appreciation. These chicks have been keeping your cock satisfied, so send a digital gift their way. You can buy one on CamContacts, and they receive the amount of money you spent on the gift.
StripHiLo
Wanna get competitive with a model? Turn the performance into a high-stakes game with StripHiLo. It's a card game where you and the cam girl have to guess whether each other's cards are higher or lower than the previous one. If you win the round, she's gotta take off an article of clothing. With enough skill and luck, you'll be the one virtually undressing her, stud.
What's the Camcontacts WeCamGirls standing?
Every perv knows WeCamGirls is the forefront for camgirls reviewing the best cam sites to work on. It's the spot to check reviews of the site from cam models themselves, and CamContacts has outstanding reviews from its performers. The average rating is 4 stars! If a cam site can keep its sluts happy, you know it'll do you even better.
Is Camcontacts a scam?
Is CamContacts safe? You don't wanna spend time on a cam site that'll snitch about your naughty fetishes or steal your credit card info. It's an easy way to end up divorced and/or broke. Lucky for you, I already did the research. See that lock symbol next to the website link on your browser, buddy? That means this site is HTTPS secure. Your transactions are carried out through a secure 3rd party. This site definitely won't be the reason you get your info leaked.
Camcontacts premium account cost
Camcontacts doesn't have premium accounts, dummy. It's a premium site, so all the users are premium by default. You only pay for the pay-per-minute streams and for the tips you send camsluts. If your favorite whore is offline, you can pay to watch some of their pre-recorded videos. Most of the cam shows here are paid, but that doesn't matter to a rich dude like you, right?
Ready to impress CamContacts chicks with your pecker?
You might wonder if CamContacts is worth it or not when creating a free account requires card info, but you're missing the motherlode if you skip it. If you've got the cash, the pay-per-minute content here is top-notch. And the features? Mate, they're giving you so many ways to find the best cam girls and even better ways to interact with them. With StripHiLo, you're relaxing with a sexy babe, slowly stripping her of her clothes, and you're both having a good time. You're not gonna find interactions like that anywhere else, so create an account and experience it yourself.
Total Score
Contact Information
| | |
| --- | --- |
| Company: | CC Media Network Ltd |
| E-Mail: | help@camcontacts.com |
Free Registration
Frequently Asked Questions
1. What is Camcontacts.com?
CamContacts is a premium-level cam girl site. It's got tons of models performing, events on a regular basis, and fun ways to interact with the models such as group shows, one-on-one cam sessions, and StripHiLo.
2. How to sign up for Camcontacts.com?
Using CamContacts requires you to create an account. You can do that for free, but you have to provide card payment info. On the main page, click the "Join Us Today" button. Fill out the form with your email ID, preferred screen name, and password, and mention how you found the site. On the next page, fill out your personal information and payment card details, and your account will be created once you are verified.
3. How do credits work on CamContacts?
CamContacts does not have its own currency system. Purchases are made directly through the card you used to create your account. You do have an in-app account called a "Gift Box", which you can top up to purchase gifts and videos on the site.
4. What payment methods does CamContacts.com accept?
CamContacts only accepts card payments. It requires a card to create an account, and all payments are made from it. All credit, debit, prepaid, virtual, and gift cards with VISA or Mastercard logos are accepted.
5. How to do cam to cam on CamContacts?
When you're watching a stream, click on "Switch Session" at the top of the stream. Select "One2One". It'll show you the cost per minute. Select "Begin Videochat", and your stream will start once she accepts! You can start One2One shows only if the Chathost is alone.