Chaturbate Webcam Site Review
Pros
Email-free registration
Search tags with relevant profile suggestions
One of the biggest amateur models bases
Easy access to self-broadcasting
Cons
Irritating ads
Outdated interface
Chaturbate is a live sex cam site you would never get bored with. The variety of models is impressive: you may enter female, male, couple, or transsexual chat rooms and watch the shows uploaded. You'll see a crapload of Chaturbate reviews online, and all will prove it's one of the best in town to watch live cam shows. Especially if you're into amateur shows where models don't even know how to hold a dick and just learn how to explore their bodies.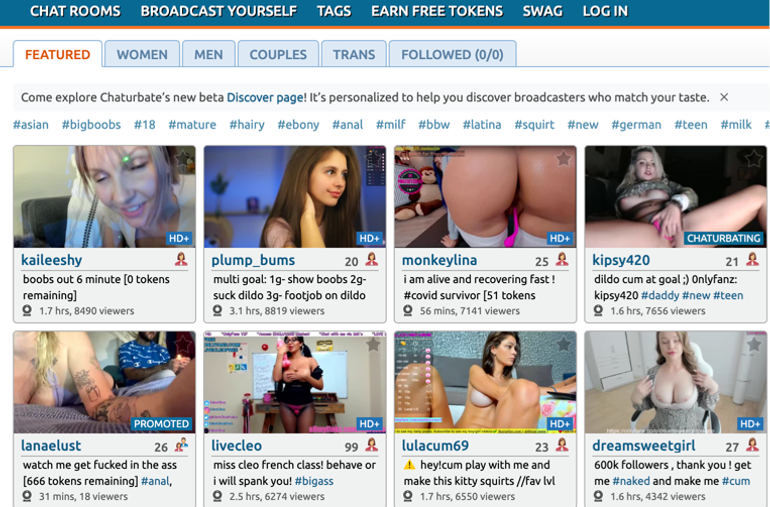 It's easy to navigate the platform as every video is ascribed to various tags that help you find exactly what you want. It's so simple you won't even get confused by how to use Chaturbate—you'll really get how it works on your own in a matter of a few minutes. In general, Chaturbate operates as a free online chat – you may register free of charge and watch the content. Is Chaturbate a scam? Nope, since all your data is protected, all pussies here are real, and your payment for extra options will be secured by encryption. Nobody will ever know about your filthy transactions.
Member Structure
Member Structure
Members geography
132,000,000
Members activity
25,600,000 active weekly
If you want a model to fulfill your request, then you're expected to pay a certain amount of tokens – each model sets the prices on her own. The platform is interactive, and you're unlikely to get bored browsing it. Plus, every model drops a tipping menu where you can see how many tokens they ask for a particular activity. These bitches can get greedy at times, huh? Anyway, guys need to jerk off and girls need some cash, so everyone's happy here. Plus, you can search for more affordable chicks and have even more fun with them. Here, you have the search filter that shows you ratings per price, so just pick the cheapest one and see what you'll get. The longer you hang out, the hornier both you and the model get, so don't underestimate cheap models here.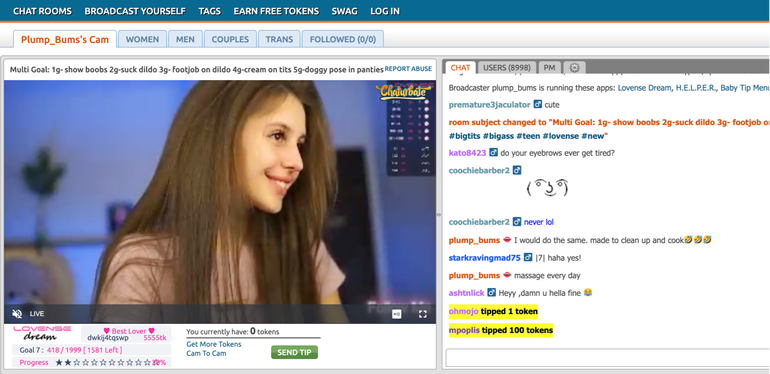 Chaturbate is one of the most popular adult cam websites. Of course, you can't enter it being under 18 years old. You can chat and at the same time watch different intimate videos. Chaturbate cams are some of the wildest, promiscuous, and naughty live shows you'll ever see. Models here go nuts to get more of your attention and blow your mind away.
The special thing about the Chaturbate website is that it's free of charge, but sometimes you're to pay «tips» for watching the videos.
Top Chaturbate Models
Chaturbate Prices
Chaturbate cams:
Female
Male
Trans
Featured
Couple
What's more, this website is available in numerous languages. It's very convenient and useful.
The languages:
English
French
German
Spanish
Italian
Russian
Japanese
Mandarin
Portuguese
Korean
Dutch
Greek
Arabic
Turkish
Hindi
The statistics say that this website gets more than 4 million guests every month, and it's a really great figure.
In cases when people get tokens, they can earn real money. So, this website is useful not only for enjoyment but also for getting a profit. Moreover, the cams are also divided by several factors. There are different Chaturbate categories for videos, and you can choose them by the models' gender, preferences, and the type of show they deliver: a private, public, or a spy performance where you can join and take a peep at how models do a private dance or fingering session for another guest.
The factors for dividing:
Age (Teen cams, 18-21, 20-30, 30-50, 50+)
Region (North America, Philippines, Asian, South America, Euro Russian, Other Region)
Status (HD, Private Shows, Group Shows, New, Exhibitionist)
Chaturbate gives you the opportunity to get a private show. However, you're to remember that they cost money. And the charge is calculated for minutes of watching. But the crucial thing is that you register on Chaturbate free of charge.
The advantage of Chaturbate cams is that you're free not only to be a client of this service but also to act as a model. It's not just for fun, as you can earn real money sitting at home. Chicks usually create wish lists and can share links to them on Amazon or other online platforms. Most of the time, the wish lists include new phones, money for the separate apartments, new dildos, clothes, and all that girly shit. Guys, in most cases, collect money for cars, a new home, cool accessories, or even studies. They seem to be way more reasonable than girls but come on, let these pussies play and get what they want out of such a sweet deal.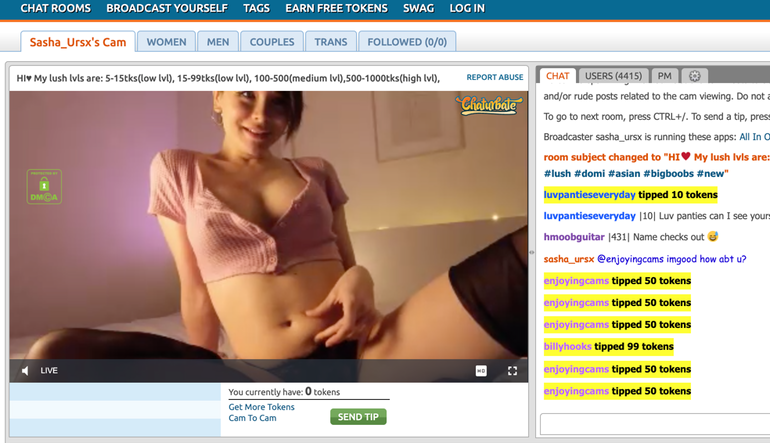 Chaturbate reviews
Never give preference to the cam sites if you haven't read the reviews about them. Of course, the websites won't tell anything bad about themselves. But, fortunately, the reviews about Chaturbate are mostly positive. For instance, we have found the following reviews.
Jack has written the following: «I'm not a freshman in this business. I've tried many diverse live webcam chats. But I have selected Chaturbate. As for me, it has easy navigation, lots of tags that help to find the necessary videos, and I like the opportunity of having the free Chaturbate live chat. And if I want more, I can pay money and get it.»
Michael says: «I don't like the design of Chaturbate, but I like the functionalities. Also, I like the fact that it's available in various languages. I think it plays a significant role in using websites. What I also adore is that the registration here is free of charge. It's crucial for me. I have found shits of beautiful models here and visit this site almost every day.»
Sabrina said the following: «I'm not a model on this site, I'm a client. I get bored with ordinary things. That's why I'm glad that on Chaturbate I can find anything I can imagine. Moreover, thanks to their tags, it doesn't take much time to find the categories I need. I really recommend you not to waste time on other bullshits and try this one.»
Alex likes everything about Chaturbate cam chat and says: «I don't understand the people who are still looking for the perfect adult cam chat, as Chaturbate is the best. Lots of live translations and many nice models. What else do you need? Stop hesitating and come to try it. Anyway, you won't lose anything.»
Olga adds: «My friend told me about this kind of earning money, and I decided to work as a model on the adult cam chat. I've tried dozens of them, but Chatrubate seems the best for me. Working inside, I know that everything is honest, and I have no desire to change this place. To tell the truth, often I use the website as a client, and I am totally satisfied with it.»
Finally, you see with your own eyes that Chaturbate live chat is definitely one of the best sex cam chats. More importantly, it doesn't take money for the registration, and the fact it has so many users proves its outstanding performance.
So get down there, put your pants off, and prepare for some hardcore show time. Don't get greedy on the lube, you're gonna need it a lot!
Total Score
Contact Information
| | |
| --- | --- |
| Company: | Multi Media, LLC |
| Address: | 23615 El Toro Rd #X344, Lake Forest, CA 92630 |
| Fax: | (407) 774-6151 |
| E-Mail: | support@chaturbate.com |
Free Registration
Frequently Asked Questions
1. What is Chaturbate?
Chaturbate live cam site is a free platform for watching and broadcasting adult webcam shows, tipping models, or earning your own money. It offers email-free registration, a huge model base, various options, and search tags to simplify browsing the perfect performer for you.
Chaturbate welcomes all types of models: male, female, trans, and couples. Here, you'll see deliberate model profiles, their tipping menus, and some extra content like private photos or videos, links to their social media, or Onlyfans account to get to know your favorite models more.
2. Is Chaturbate real?
In one word, yes. Chaturbate adult webcam shows and models are all real, the data here is protected, and the payments are encrypted. Chaturbate has been operating for quite a while now, and it's gained a high level of trust among all its users. You can even try broadcasting yourself and start earning money to make sure it's all for real.
3. Is Chaturbate free?
Chaturbate is partly free. Sure, you can register on the platform and start watching shows right away. But there's also a Premium membership that you can get to make use of extra functions. It costs $19.95 and offers you the following features:
First 200 tokens for free
Ad-free interface
Private messaging
Anonymous tips
Custom fonts and colors
Animate room pictures
4. How does Chaturbate work?
You'll need to register a profile to start watching Chaturbate adult cams. Add your username or password. An email will enable follower notifications and improve your account privacy, so if you want, you may also enter it.
Once done, you access all the models, tags, categories, and full shows online. Search tags will help you find exactly what you need and even get several profile recommendations to save your time. If you want more features and opportunities, there's a Premium membership. In case you don't want to pay for the subscription, purchase a token package to tip models, watch private content, and order performance.
5. Is Chaturbate good?
Yes. Chaturbate is one of the most popular adult cam sites around. It offers free shows and model browsing, affordable token and subscription prices, and has gathered the best amateur models. It also got several awards and nominations from reputable adult ratings, so it's worth your time.