About ImLive
Imlive is an adult website providing live webcam shows by Camgirls and a place to go when you're horny and ready to bust a nut. These girls wish they could come slobber all over that cock, but the distance between you two is too damn far. So, you get to watch all these pretty whores fuck themselves and do everything you want them to do for you. Why would you ever watch normal porn when you can just have your own personal pornstar?
Search tool allows you to find the most attractive model to watch her live
Huge list of categories to choose from
Ability to watch not only cam but recorded videos as well
Numerous languages are available
Old-fashioned design
Most perks of the site are paid
Member Structure
Member Structure
Members geography
1265000
Accessing ImLive For The First Time
When you open it for the first time, you'll have to confirm that you're 18 years old or above. Don't start wanking right away, you can't watch any of the live shows without creating an account, dumbass!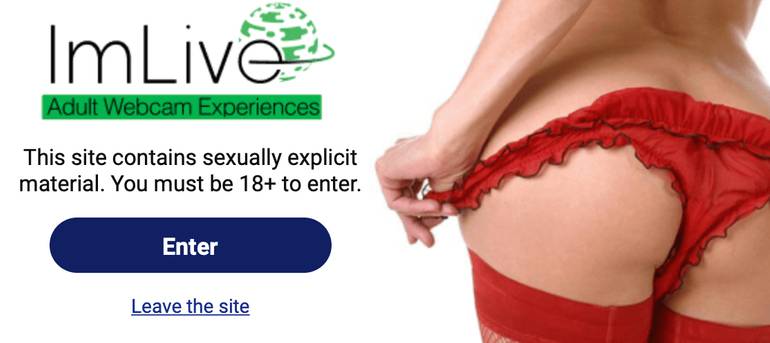 Creating An Account
You can create an account for free by clicking on the on the top right. Add in a username, password, and your email. When you're done, you'll be able to see all the live shows. Have fun fapping to the actual girls instead of the thumbnails now, you dirty pervert!
Top ImLive Models
The website is well-designed, loads quickly, and is simple to navigate. Thus, you'll easily find the profiles of your favorite models and won't have trouble figuring out how to interact with the website's features.
You may also browse model profiles, which sometimes include old photos. You can add them as friends, monitor them, and give them gifts. Furthermore, the chat room allows for control of the model's sex toy or taking her to the private chat where you become the main focus.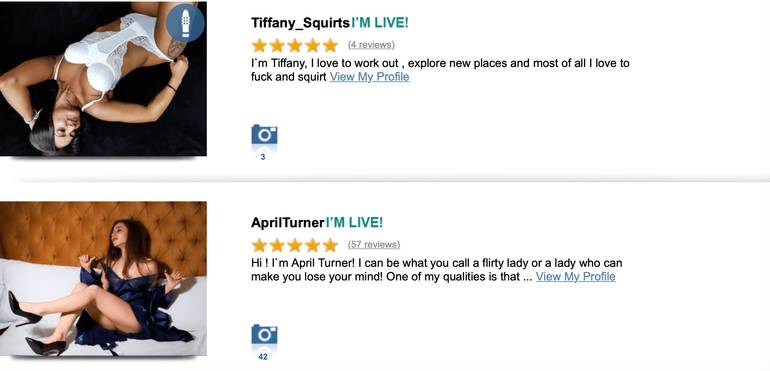 Regardless of its name, the ImLive website offers its visitors not only live nude cams but also shows recorded in advance by so-called "hosts." If you wonder which options you have on the site, you are free to choose among girls and guys performing alone, transsexual people, groups featuring different combinations of models, etc. Moreover, if you missed the live performance of your favorite model, you should not worry, as you may check it out later.
You may also enjoy a Multi-Viewer function: you're allowed to watch several shows that are being streamed by different hosts simultaneously. You may join ImLive for free and enjoy following amateur sex webcam shows.
Can't Pick A Girl To Jack Off To?
This is where the magic starts. Imlive web has an amazing search function. On the main page, you can select a category such as a girl alone, fetish and BDSM, couples, trans, and so on. Based on these categories, you'll have one more drop-down menu. This menu lets you filter by fetishes, age, pricing, body type, ethnicity, and even the size of their tits and ass!
Host Videos
Hosts record Imlive cams, so you can watch your favorite cam girl even if she's offline! You can't spend your whole day sitting at home with your dick in your hand-jacking off. You've got work or classes, and timezones make it harder to watch your favorite models! Host video is a great solution, so you'll never miss that slut's tits ever again. It's divided into the following categories:
These are the models' most popular live shows, which have been recorded and saved onto the porn platform.
The models record their own short videos so you can watch and blow your load whenever you feel like.
Imlive hosts a different video competition every month. Each month has a theme, and the top videos are almost always free! However, you need to be a member to access these videos even though they're free. Then again, you'll go through the work of creating an account because you're a horny dummy, aren't you?
Since a lot of the good videos cost Imlive credits, free teasers are a good way to see if a video is worth watching or not. It gives you a short preview of the whole video. Be careful, and don't stroke your cock too hard while you watch the teaser. You might blow your load, and that would be disappointing.
The Top Host Arena

The Top Host Arena is all of the top Imlive cam girls in one convenient spot. There are a lot of different categories to help you deflate those hefty balls, like:
The hottest, sexiest, dirtiest sluts you'll ever find are here. They're ready to milk you dry and have the experience to get it done. Whether it's teasing you for hours and keeping you on edge, or making you cum buckets off the bat, you won't regret it.
These are those girls that like a bit of help from vibrators and dildos. It's even better because, with credits, you get to decide how hard and how long those vibrators work in these girls.
This lets you see the top performer in categories like the best stripper, hottest ass, sweetest legs, best role player, best boobs, kinkiest, and plenty more. You'll cum for a new girl every day and you won't get tired of it, pervert.
A sexy-themed party is hosted every weekend. If you're a member, you can vote for your favorite models, and the winners will keep partying with you in private.
These aspiring hoes are new to the cam show scene, and they're eager to get you hard and horny. The best rising newbies are recommended for your pleasure.
Sluts who have been camming with Imlive since as early as 2002 are on Imlive diamonds. You know these whores have got the skill cause they've been in the business for so fucking long.
Video quality
The overall video quality depends on the camera the model is using. If it's cheap, then the site can't do anything about it. Nevertheless, the website asks the webcam users to stick to professional hardware.
Chat options
You can get a sneak peek of any of the live cams and watch live sex, or participate in countless live chats. When you're in a chat with a model you can send her messages and emojis. Make sure to utilize the whole variety of communication options in order to establish a connection with the babe so she'll be happy to fulfill your sexual fantasies.
Private chat
Free Chat is a chat that users can access for free and enjoy the live performances of ladies. New models must spend 120 hours in free chat before they're eligible to use the Private Chat feature. The Private Chat is a chat in which a user pays in order to enjoy the private performance of a model that is specifically tailored to the user's desires.
Candy Shows
These are private shows which members can enter by buying a ticket. You can check out the previews for each model for free, to make sure she makes your cock happy before you pull out your wallet.
Group Cams
Members have the opportunity to take two models into the private room at the same time. In this case, you'll see the camera of both girls. So you can simultaneously enjoy a live performance of two beauties.
By default, this feature is disabled. You can enable it on the tab Power Tools—Group Cams—Participate in Group Cams.
ImLive Prices and Credits
Credits are Imlive's currency system. Upon purchasing credits, you become a member. This allows you to access the customer support system. You can use these credits to enter private shows, control the sex toys the girls are using, and even invite a second cam girl to join the session!
If you sign up for an account now, you'll get $50 worth of Imlive free credits deposited into your account!
Payment methods include credit card, PayPal, or PumaPay. Note that PumaPay charges you based on exchange rates.
Extra special features
We know that you always face a complicated choice when you decide to take part in the sex chat. In our modern world, it's not a problem to find the chat where you can turn all your fantasies into life. Of course, there a lot of such chats but not all of them are good enough. What we offer you is to try ImLive which in contrast to other adult webcams has a lot of specific features.
Take a look at the special features below now because you'll be too busy jacking off to tits when you go on the erotic platform:
Multi-Viewer
This feature is enabled by default and allows members to watch multiple models and peek at your privates at the same time.
Mailing List
Before each shift, it's useful to let your members know that you're about to go online. Or maybe you've uploaded some new pics and want to tell them about it? You can use bulk messaging for that (and more).
Referral Link
Here is the model's referral link for members to sign up for the site. If people sign up via it, the model gets a percentage of all their spending on the website!
The Panic Button
While you're jerking off, you're not gonna be paying attention to your surroundings. If someone gets too close to you, you don't want them to see what you're watching. Imlive has a handy red panic button on the right at the middle section. Clicking on this immediately sends you to cdc.gov, and anyone who looks over your shoulder will think you're being a responsible adult. Whether or not they see your hard dick in your hand, however, is a different question.
Discover ImLive This section shows you all the special features Imlive has! It's an easy way for a turned-on dummy like you can get to know the site quickly. That is, if you haven't already prematurely ejaculated your load after seeing all those hot babes on the front page.
Customer Support
ImLive customer support is immediate and fulfills all of your needs. A link to the Customer Support Center may be found at the bottom of every page on ImLive. However, prior to calling the customer support team or contacting them via chat, it's better to browse their knowledge base with the answers to the popular questions. You also can report about a girl who raises your concerns.
For Cam Models
Having huge customer traffic, this site brings decent earnings to all hard-working models, without exception. There are nuances of work, of course. A personal manager will tell you the secrets of high earnings on ImLive.
The website has an offline mode, which means that the client will only be able to see you on camera for money, not for free. You can switch the mode with one click and go to the free (Free) chat. And from there to lure clients in private. Notice that it's forbidden to get naked in free chat.
Payment Methods

Regular Mail

Firstchoice Pay

Shipping via a courier

Payout Percentages

- 30% to 35%

Payment Frequency

- Twice per month

Revenue type

- Tokens per minute

Traffic

- 2.1 mln users per month
The Finale Verdict on Imlive Review
If it's pussy and tits you're looking for, Imlive cam girls have all that. They know how to use them in ways that will leave you rock hard and aching. What else could you want from a live cam website? These dirty hoes will make you realize there's no better erotic platform in the world.
To get the hottest webcam experience, you'd better set the right tone for a girl. Send her a grin, a gift, or a seductive emoji to show her what you're feeling when she's concentrating on you. After such attention, a lady would also do her best to satisfy all of your hidden desires.
Total Score
Contact Information
| | |
| --- | --- |
| Company: | I.M.L. SLU |
| Address: | Edifici Burge's Planta 3, Avinguda St. Antoni 27, La Massana AD 400 Principat d'Andorra |
| Phone: | 1-866-831-7731 |
| E-Mail: | dpo@imlive.com |
Free Registration
Frequently Asked Questions
1. What can I do with the ImLive?
If you want to see hot chicks pleasing themselves on cam in real time, you may utilize the platform. Thousands of models are on duty 24 hours a day, seven days a week. You can watch their shows, ask for private shows, and chat with models too.
2. Is it possible for me to browse the site anonymously?
Yes, ImLive provides such a service. You have the option of using the service anonymously or disclosing some personal information. You may also choose whether or not to display your face when speaking with girls.
3. Are there fake accounts on the site?
The website puts efforts to provide users with a safe experience, so it evaluates performers to ensure that they provide high-quality services. This way, the possibility of fake accounts on the platform is quite low.