What Is RoyalCams: Why Does It Get So Much Flak?
Clicked here to check out what is RoyalCams?RoyalCams is a large cam platform with thousands of models. Granted, the most important part of a cam site is the ladies who perform on it. These same ladies can be found performing on other, bigger platforms. What reason does that give you to stay committed to this platform, huh?
In this RoyalCams review, delve into all the juicy bits of RoyalCams, so you can decide whether it's worth staying on with this small-time competitor. After all, a pervert like you deserves premium pussy and features, right? Still, I'm gonna tell how does RoyalCams work, scroll down man.
Thousands of models to choose from
Lots of contests to boost activity
Various categories
Ad pop-ups
Restricted full screen video to paying members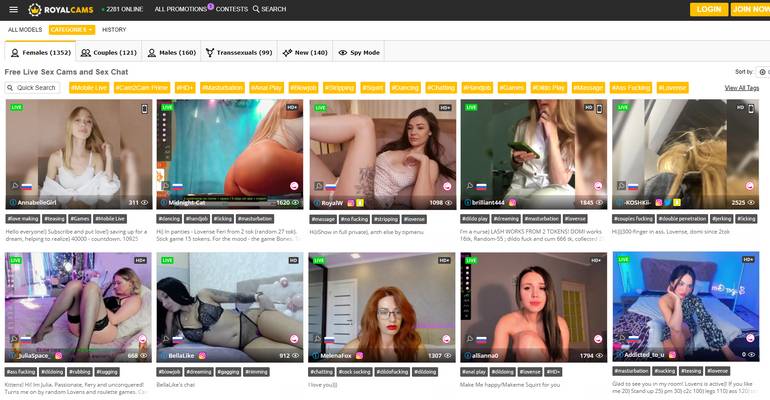 Member Structure
Member Structure
Members geography
372,000 from USA
Members activity
215,000 active weekly
Is RoyalCams worth creating an account there?
Royal Cams doesn't offer exclusive models or even any unique features not found in any other cam site. So it's only up to you whether to stay committed to this one platform. I appreciate monogamy, but this is only fair with people, not with websites. Spread your wings and check out more recommended cam sites before you decide to settle! And then proceed reading the Royal Cams review.
Registration process
Just easy, you don't even need a mailbox to create an account here. Lemme tell you in a few words how you can do it.
Visit the website.
Find the button in the top right corner.
Input the username (not the email).
Come up with a strong password.
Tick the box approving you're an adult.
There. Now you can buy a bunch of credits, explore your account, add girls'n'boys to your favorites and, of course, annoy the customer support center!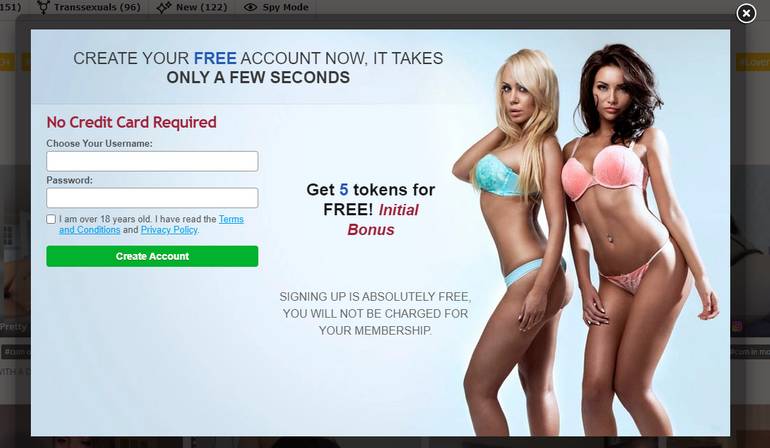 Who are the most popular RoyalCams models?
These are the most followed RoyalCams models of the past year: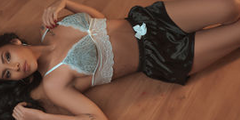 Ttikhomirov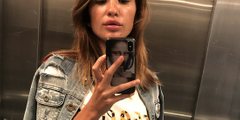 Catch_Me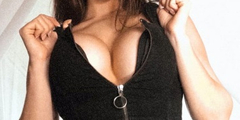 BellaLike
You won't see sites like RoyalCams here and there every day: on average, you'll find around 3000 models performing at any time on the RoyalCams. However, there will be several hundreds of cams with less than two-digit audience numbers. You can find camgirls of all ethnicities here. There aren't any exclusive models, though. This means the same models you watch on Royal Cams can be streaming the same shows on other bigger live sex websites. This does not make you feel exclusive, yeah?
Royalcams models profiles
Chatrooms will give you a lot of options: play games, rotate the wheel of fortune, play slots, set your own music, control the vibrator, and send tips. Scroll down, and you'll see the takeaways from the performer's profile. By the way, about profiles!
The profile will tell you the damn story of this person! You can see literally everything: their bio, what they hate, what they love, and the very basic info. You may view the prizes and awards and check out the commentaries left by other fans.
To see the full profile, click on the correspondent button under the chat. RoyalCams com will open another tab in your browser, so you won't miss the performance. And even if you suddenly close the show tab, the website will manage to show you the closed performance in a tiny box in the corner of your screen. How very thoughtful!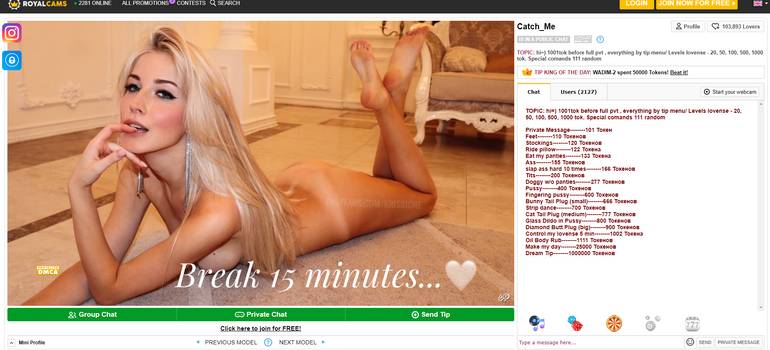 Types of Royal Cams shows
Is it weird I'm praising the Royal Cams that much? I can't help myself. Even though the design is just old, I truly think this is one of the most glorious sex sites. Let's not stop and check out the given categories (and how to sort them out).
Categories and filters
The categories tab is very prosperous. You can choose from 34 categories, but that doesn't even begin to cover the various fetishes a person can be into. There's a category, but these aren't big-name actresses. It turns out that just about anyone can hop on this sub and start performing.
The search filter allows you to satisfactorily change the parameters of your hunt based on appearance, language, region, and age. Get your freak on without any delay in finding the perfect whore for you, perv.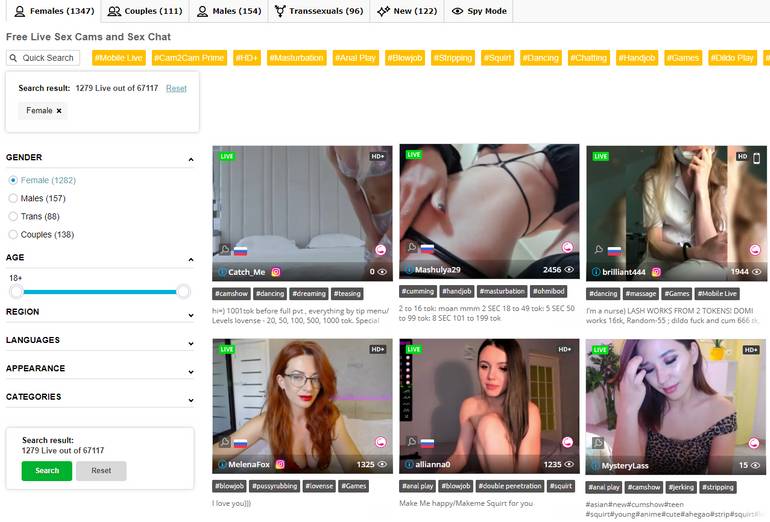 Video quality
For me, the quality of the performance carries the most weight. But even watching the RoyalCams on mobile is quite convenient. Usually, the video quality will depend on the performer's camera. RoyalCams models are aware of how quality will impact their revenue, and this gives us an opportunity to watch the non-soaped shows. You can change the quality in the bottom right corner (even on HD) and bend the dimension: from full-screen to the tiny corner-box. And the half-screen.
Chat options
As I said earlier, the chat gives you a chance to interact a lot with the model. There are basic options: wheel of fortune and slots, and those a model decides to be or not to be displayed and active: vibrator control and custom music. Sometimes, to unlock the option, you have to—guess what?—pay tokens.
You can send messages. Quite unexpected? And emojis—that's free, you just have to create an account.
Is it economical to buy tokens on RoyalCams?
However, the purchase page kept crashing every time I attempted to launch it. So even if you want to spend money on the platform, you'll have to wait until they fix the issue or contact the support to find out the RoyalCams cost.
Can you be a VIP on Royal Cams?
Royalcams has 7 different tiers of premium membership. The first tier, Gold, can be accessed by purchasing any amount of tokens. It gives you access to most of the important aspects of the cam site, like sending private messages, watching private shows, getting full-screen videos, following models, and more. The other tiers give you minor benefits like changing font styles, getting gift cards, and changing the color of their messages. They're trivial benefits that don't make much of a difference but are there to incentivize heavy spenders.
To buy RoyalCams tokens, you can use this generous range of banking methods:
Visa/Mastercard
WebMoney
Bitcoin/ETH/Tether
Qiwi
Skrill
Is RoyalCams safe?
RoyalCams is safe to use. To keep yourself secure from hacks and phishing attempts, you can enable 2-step verification on your account. It also has a valid security certificate, which ensures your personal information and credentials won't be stolen. Is RoyalCams legitimate shouldn't be a question as well, probably. Even if you face any issue, you may contact the support team, and they promise to solve it.
Does the Royal Cams webcam site offer any unique features?
If a chad like you spends time at any one site, it better stand out. Unfortunately, RoyalCams doesn't do anything unique to separate itself from the crowd. The most they have to boast about is the contests they host, but this is common for many cam sites you see these days. While other websites have unique games, social media platforms, and dedicated mobile apps, RoyalCams lacks innovation. Another issue the website has is it limits the time you can watch a specific model. If you don't have an account and you find a cam girl you like watching, you better jack off quickly. After a set amount of time, you'll be blocked from watching their specific stream until you create an account. You can still watch other cam sluts, though.
Customer Support
Customer support will find you in the footer. Next, you can contact e-mail support or online (which is the live chat). There is also billing support, and you can check the FAQ library to manage your questions yourself. The live support usually responds in a minute (I've noticed the signs of life after 20 seconds of waiting).
Wanna become a RoyalCams cam model?
To become a webcam performer at Royalcams, you have to be at least a 18-year-old – 21 in some regions – female, male, shemale, or couple with a working computer, webcam, and good Internet connection.
RoyalCams reviews given by models claim that every aspiring performer may earn around $1,000 a month, while more experienced models hit up to $5,000. You can register as a model or join/register the studio (studios are more stable than earning alone).
The website cherishes its models a lot. Wonder whether is RoyalCams legit, or is RoyalCams a safe site? I can vouch for it. You'll be wrapped in care, and anyone who dares to upset you will be kicked out.
Payment methods

E-wallet
WebMoney
Kiwi
Crypto
Mastercard
Visa
Paxum
Skrill

Payout %

Payment Frequency

Revenue Type

Monthly Traffic
Conclusion from HookupGuru
Honestly—RoyalCams is one of the best webcam houses I've reviewed. I'd recommend this one to anyone in search—you'll find something for you. The biggest pleasure will be received by those who appreciate Russian models. HookupGuru rates RoyalCams 9/10 for accurate tag search, amazing quality of cams and performances, user pool, online activity, and caring operators.
Total Score
Contact Information
| | |
| --- | --- |
| Company:   | Provep progressiv development LTD |
| Tel: | (+372) 51 57 177 |
| E-Mail: | support@webcamsupport.net |
Frequently Asked Questions
1. How do credits work on Royal Cams?
You can purchase tokens once you've created an account. You can redeem tokens at different sections of the site for private shows and group sessions. Use tokens to send tips and purchase videos and photos in a model's gallery. You even have the chance to win tokens back through regular promotions.
2. What payment methods does Royal Cams accept?
RoyalCams takes payments through major credit cards, PayPal, cryptocurrency, Skrill, and even gift cards.
3. How to get Royal Cams tokens for free?
When you launch RoyalCams for the first time, you'll have the opportunity to get free moolah. Once you've created your account, add an email and confirm it to get 10 tokens without cost. You can also check out the promotions tab to get more tokens by signing in through your mobile device or by referring a friend to the platform. You can get 100 free tokens when you first get a gold membership.
4. How to delete Royal Cams account?
Once you're logged in, hover your mouse above the dropdown menu next to your username at the top right of the screen. Click on "Account Information". At the bottom of this page, you'll find a yellow "Cancel Account" button. This will bring you to a confirmation page asking if you're sure you want to deactivate your account. This permanently disables your account when you click the red "Confirm" button.