How Does Streamate Work? The Ultimate Streamate Webcam Site Review
A great database of models
Exclusive services
Browsing for free before registration
High-level security
Ease of use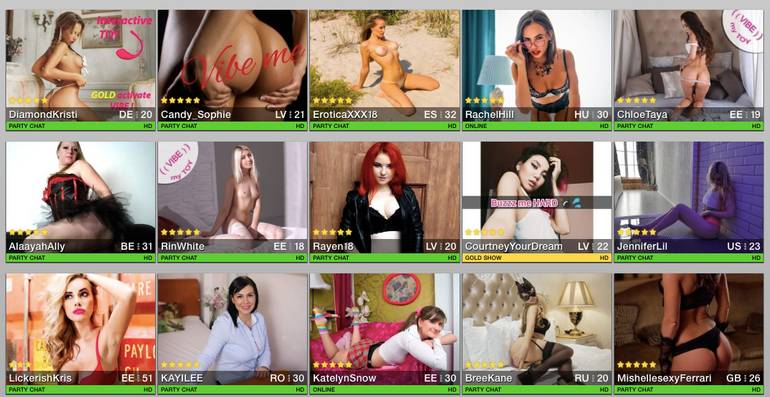 So, what is StreaMate?StreaMate is a top live sex cam site launched in 2003 and is still evolving and gaining ground. This website is a perfect venue to take your mind off things after a long day at work or spend some pleasant time online. You won't leave unsatisfied because the creators of the site did everything to provide users with good service.
When it comes to the choice of service, you need to choose only the most experienced and reliable one. The number of models and active profiles is impressive, so even if you visit this site at the most untypical time of the day, StreaMate guarantees you an amazing webcam experience. There is no reason for you to wonder whether is StreaMate a safe site—I checked every corner to guarantee your safety. Scroll down, I've prepared this StreaMate review for you to get ready for those pervy chicks who won't give you any mercy! You'll need some napkins one way or another.
Easy registration
Usable free trial
Extended search categories
International model base
No mobile app
Outdated interface
Member Structure
Member Structure
Members geography
All around the world
Members activity
Over 65,000 models
Registration
Free account
Simple process of signing up
Safety of all your data
Watching shows even without registration
No extra personal information requirements
StreaMate.com is one of those best adult webcam sites that offers you to pop in and enjoy all the videos even without registration. You can wander around and then become a member. But to get more services and possibilities, you need to register. Signing up is more than simple. You need to enter the standard pack: your email address, username, and password. After that, they require your credit card information as a personality confirmation, but there is no danger of some additional fees or charges. In just a few moments, you're welcome to the Sexy Land with all its perks and tight pussies.
You see, it's just a piece of cake. You don't need to share any extra information about yourself because it's unnecessary. It's a real perk, your data is safe, and you can stay anonymous as long as you want. No risks of being burned or declassifying your identity. Try it, right now!
Top StreaMate Models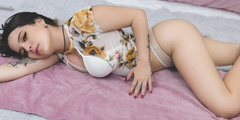 Maddyowenss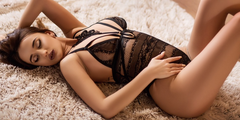 SuperBianca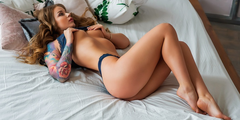 PeachXGirl
Over 65,000 models
About 1,600 models live at any moment
Members all around the world
People of different ages and appearances
Here you can find a lot of active members ready to have virtual fun. Models around the whole world want to perform and satisfy your desires. Whether you want to find a blonde or mature, Asian or Latina, it's really easy. The majority of models are from North America, Europe, and South America. There you can look for models that have any special "qualities." You can enter orientation, ethnicity, age, fetish, spoken languages, body type, and breasts. If you know the name of the performer, you can type it in the search box and click the search button to find her.
Profiles
Detailed information about models
Different filters to look for the desired show
No need to give extra info about yourself
Only the most experienced models in the top
Here, on the best of the best adult webcam sites, you can find whatever and whoever you want. StreaMate models generally fill their profiles' descriptions with information about their age, gender, sexual preference, kinky attributes, country, zodiac, and physical features like height, weight, hair color, eye color, build, ethnicity, and cup size. Moreover, somewhere you can find info about her show and things that turn her on. Use this wisely and make both of you moan with joy.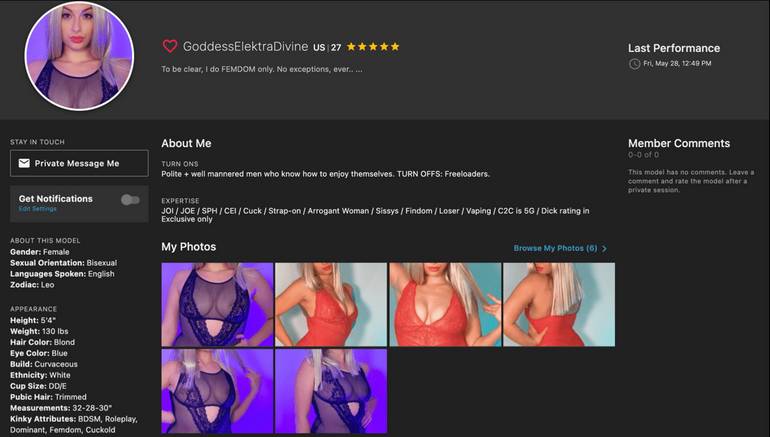 Types of Shows
Chatrooms for free
Browse as much time as you need before signing up
Pay only for communication one-to-one
Use filters to find exactly what you want
Opportunity to upgrade to a paid membership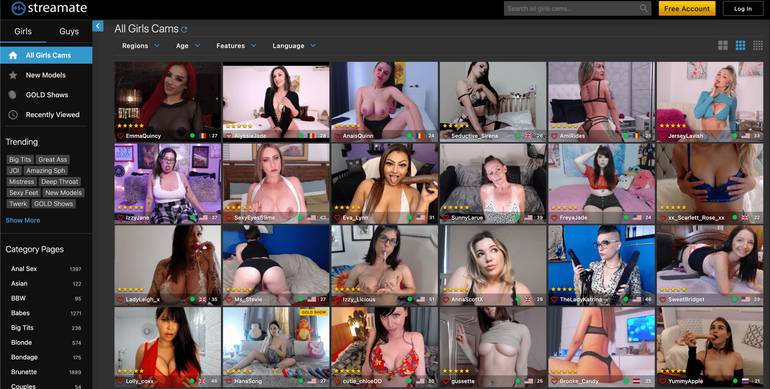 You can start your use of StreaMate from the homepage, where there are different filters and categories.
StreaMate show categories
Not only standard shows, but also some spicy ones are available. This site can offer you a lot of different shows depending on your tastes. StreaMate models include solo girls, guys, trans, and couples/groups. For any of your fetishes, you may find a category and even check how many models are performing for the type. These are some of them:
Filters and tags
Navigation, sorting, and filtering here is quite easy. If you've wondered how does StreaMate work, here's an answer for you: unlike some new inconvenient resources, StreaMate is a master of filters.
Filters are easy to use. You'll find a lot of them in the upper bar. Click on a certain title (ethnicity, fetishes, region, age, language) and tick particular boxes. The redundant performances won't appear.
Another way you can filter performances lies in using the left sidebar. I already mentioned it above—just tick the boxes under the "Categories" title. There you'll see the most popular queries of users and those tags, abundant on performers.
Fetishes
The range of fetishes is the stronger side of StreaMate. You may find whatever you like there. You may find 22 sorts of fetishes: from the regular ones (like feet, JOI, anal) to the very quaint (shaving, whips, lactation)
To enjoy the opportunities, whether you're registered or a guest, you want to go to the , scroll up, navigate to the upper bar and click on "Fetishes". There, tick the boxes of fetishes you'd love to see. Other, irrelevant shows won't bother you.
Video quality
Video quality only depends on StreamMate models. Mostly you'll enjoy fine quality, but sometimes you may run into a complete soap. Anyways, by clicking on the performance and navigating to the bottom of it, you'll find the Quality setting. There you may choose the standard quality options: from "Auto" to 720p.
If you wish to enjoy the stream on your full-screen, there is a single button designed for this aim, you can find it near the "Quality" setting image.
Chat options
Wanna chat? No problem, you can do it for free in chat rooms. You can interact with models in different ways, including giving them tips. But if you want to communicate with a member or a model privately, you need to pay a certain amount of gold. In their descriptions, they point out info about their show and skills, so you can easily find out what you can ask them to do.
After buying some golds, you can get an amazing experience like Cam2Cam, which lets you share your video with the performer during private sessions, or some gold shows that won't let you get bored. Those face-to-face webcam shows are the most sensual and can turn you on instantly! Private shows are exactly what they sound like. No scams or cheating, just providing you with high-level services.
Mobile app
No mobile app available
Possibility to visit the service as a mobile user
Unfortunately, StreaMate.com doesn't have an exclusive StreaMate app, but they offer the possibility to use the mobile version of the website instead. Though there is a need to get with the times and upgrade compatibility with iPhone and iPad, they don't leave a mobile member to stand by.
Appearance and interface
If you have already been in the situation where you like the services offered by the website, but the whole appearance and design of the site scares you off, then relax. On StreaMate, everything is updated, the interface is more than comfortable, and you won't find anything clunky. The side panel will help you navigate with no difficulties. There's also a tab where one can view a certain number of pictures on the page, up to 100 pictures on the search page, which is useful for the customer if they want to spend less time going from page to page.
StreaMate Prices
Similar to other sites like StreaMate, the majority of options are free of charge and some shows are available without paying. To access more Premium services, you need to buy some golds—special coins created for this site. Registration doesn't charge you to pay. But if you make a deposit of at least $25 once, you get a premium account with access to some great services.
1 GOLD is $1.00. Gold is counted as StreaMate token, and is used as a way for members to give tips to models on Streamate apart from paying the per-minute rate for the specified chat room show. Golds can be given during Free Chat, Paid Chat, or Gold Shows. Models can ask for Gold, or members can give Gold because of their own desire. Prices are very different. Every model sets her own prices. Streamate has different shows for different budgets, like Gold, Private and Exclusive. The StreaMate prices are divided into inexpensive ($1.99/minute) and very expensive ($10/minute). Check out what services are free and what StreaMate options cost will cost you some tokens:
Free services
Singing up
Chatting
Watching samples of shows
Viewing profiles' information
Advanced search engine
Access to photos
Accessing chat rooms
Fee-based services
Gold shows
Group shows
Private messages
Voice-to-voice chat
Private shows
Cam2Cam
Voyeurs
Nude Chat
Exclusive Chat
You can use literally any payment method you regularly use or any that comes to your mind: from PayPal to cryptocurrency. The only cards and banks this website won't accept are any Americans.
As you can see, the variety of free services allows you to find out whether to buy golds and continue your fun. Freebies are good, but the most interesting is always paid, and it's fair because free cheese is only in a trap.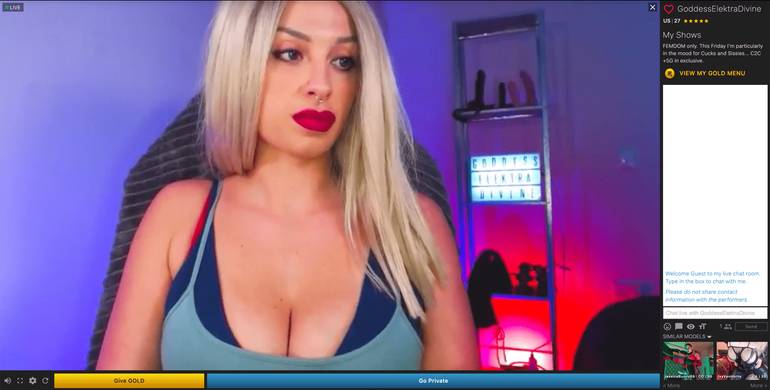 Streamate special features
Below you'll find Sreamate special features that won't leave you indifferent:
Exclusive show. If you want to enjoy it entirely one-to-one with nobody else observing, you can choose an Exclusive show. Just a model, you, and a very intimate atmosphere full of dirty stuff like bondages, anal plays, and way more. But be careful and check the price, because different models charge different prices.
My Streamate. Forget about losing your favorite models on Streamate.com. This service allows you to add the models you like the most. If you're dying to see someone get back online, you can set up alerts that will either text message your phone or update an RSS feed. Streamate also has daily limits on how much you can spend. The default is set at $150/day but can be changed to as low as $25 if you're trying to watch your budget.
Phone calls. You'll seldom find sites like StreaMate with such a special feature. It allows you to make your virtual entertainment as natural as possible. When you're in a room with a model, you may ask her if it's possible to phone her. Some girls require buying exclusive shows. Here, nobody will hear your conversation, so your dirty talk will stay between you and the pussy you chose. Your privacy is absolutely respected. The model will never see your phone number, and in the same way, you won't see hers.
Customer service quality
I never found the info in the real users' StreaMate reviews, so I turned to customer support to ask about payment methods. I didn't create an account and reached the Agent in a live chat. I received the answer in two seconds! The customer service is 10/10 here. That made me understand whether is StreaMate safe site and I have no doubt anymore.
Support is reachable by four methods: WhatsApp, live chat, e-mail, and you can also call. You may find the FAQ section as well if you click on the in the top right corner of the website.
Wanna broadcast like StreaMate model?
Join the largest and most popular live cam model community in the world. It's time to be your own boss and start making money from the comfort of your own home. All you need is a computer, a webcam and an internet connection to start making money today!
Is StreaMate legit for models? It is! A person who has never reached 18 years old can't perform, StreaMate reviews your identity during your registration. The website's staff will ask you to upload a digital copy of your ID for additional verification.
The user pool of StreaMate members is huge, there will be fans for every model. This way, by performing, you can earn about $3,000-$6,000 per month. A qualified model can earn massive money by performing in Gold shows. By the way, I've noticed that male models gain popularity much more quickly than even girls!
Payment methods

Visa
Mastercard
Discover
PayPal

Payout

Payment Frequency

Revenue Type

Monthly Traffic
HookupGuru's Opinion On Streamate
Time to hit the road! If you want to have some hell of a night with all the hottest girls available online, Streamate is your thing. It's a very sleek and simple platform, yet quite stylish and full of cool stuff. So no more wasting your time, you've got some boobs to stare at and some tips to fund. Have fun! ;)
Total Score
Company info
| | |
| --- | --- |
| Name: | StreaMate |
| Email: | supportteam@streamate.com |
| Phone number: | (800) 893-8871 |
| Address: | 800 Stewart St, Seattle, WA 98101-1306 |
Frequently Asked Questions
1. How much can a model earn on the StreaMate?
An average model can earn up to $1,500 in the first month. Further, if a model is active enough, he or she may count on $3,000 or more. Models can earn a lot by throwing Premium and Exclusive shows, but your account will need some time to grow in popularity before you can do decently paid Premiums
2. What can an unregistered user do on the website?
An unregistered user can browse the website to get familiar with it. You can sneak-peek, talk to customer service, watch some free shows, and… That's all. You can sign up very quickly to unlock chat and other opportunities.
3. How to delete my account from Streamate?
It's easy. Streamate's basic services are free of charge, and it does not charge a monthly fee. However, if you'd like to close your account anyway, you can visit our account closure page. Navigate to the closure page and just follow the instructions.
4. Is StreaMate a legit website?
Yes, it is. The website is legit. The entire range of real users appreciate the website's services, and will always stay loyal to the great and safe resource. Don't worry, your data, e-mail, bank card, and everything you've mentioned are safe and sound with StreaMate.