Tinder has undoubtedly not outdated yet, but let's be frank with ourselves – sometimes you want diversity, more opportunities to hit on beautiful chicks and that's it. Here are 5 alternative hookup apps that will help you find either a one-night stand or a nice friend to spend time with.
Looking for a girl to hook up but would like her to be hooked a little longer than before? We suggest you try out eHarmony. This app matches adults based on 29 dimensions of compatibility, so if you end up sleeping together, believe us, it won't be for the first and the last time.
Swiping, swiping, swiping, just like on Tinder but… only swiping friends. Have you ever had a girlfriend (don't confuse with the girlfriend with who you are in an intimate relationship) with who you have always wanted to make out (or spend at least one night?) This app will give this chance to you.
Down offers you all the acquaintances you have on Facebook. However, its drawback is that some of these offered friends might not have joined the app yet. But anyway it is a great chance to fantasize with your dirty dreams. Down gives you a lot of premises for this.
RELATED: Most Watched Webcam Models on Chaturbate
If you happen to bump into a hot girl in the nearest store buying milk, you can be sure you will meet her again on Happn (if she's there). This app matches you with people who have recently walked past you within the surrounding 250 meters.
The only disadvantage that it has is that in case your one-night stand goes bad, you won't be prevented from bumping into her near the newspaper store again. But in general Happn is a great hookup app, and it is one of the most effective ones.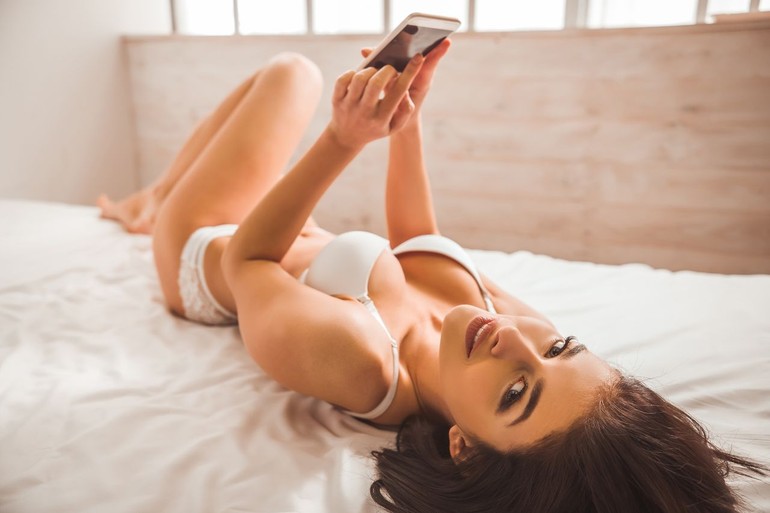 RELATED: How To Impress a Hot Girl And Last Longer In Bed?
If you are tired of "stalking" women on dating and hookup apps without knowing whether they will respond positively to you, Bumble will be an optimal option for you. This app allows only women to initiate conversations so you will receive messages from ladies who are straightforward – they want you.
Bumble resembles Tinder as it exposes you to profiles of potential matches which you can label with a "like" or a "dislike." The rest of the balls are in the women's court. If you've got enough patience (you know, ladies may take their time), Bumble can replace Tinder for you.
RELATED: Wingman Help: How to Pick Up Hot Babes at the Gym
This app does everything to ensure other users pick you not just because of your appearance. The app's motto is, "You are more than just your photo." OkCupid has been created for real hookups and dates where people care about their matches interests and passion.
Some guys need more than just knowing she has "blonde hair and blue eyes" to turn on. At the same time, you can learn more about member's characters and sort out all the candidates who would irritate you rather than heat things up.