Everyone has their gym crush, buddy. It's just impossible to ignore all those fit and sexy booties in tight leggings when you work out. But if you're here, you probably doubt whether flirting at the gym is even appropriate.
Hell, yes! In the era when work and lots of other responsibilities take too much time and social life gets limited to online, talking to girls at the gym becomes something you should consider for making new hookup friends.
How to flirt at the gym so that you don't scare any chicks? Let's find that out.
10 tips on how to flirt with a girl at the gym
Naturally, there are certain dos and don'ts when you're planning to seduce someone at the gym. So not to embarrass yourself, better follow these simple recommendations.
Don't try too hard to catch her attention
A skinny guy who pretends to be Arnold Schwarzenegger will only make any babe in the gym laugh. So trying to do stuff you aren't actually capable of doing won't end well for you. The simplest thing you should do to get attention in the gym is simply work out and be involved in the process. Every chick will appreciate seeing a man who enjoys training as much as she does, and chances she'll start a casual chat with you will get higher.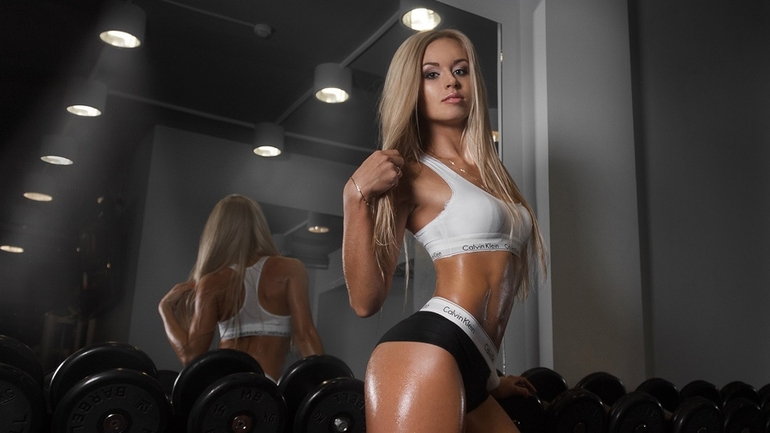 Don't stare!
I know, it's too hard. Chicks enjoy wearing sexy outfits to the gym, distracting guys from exercising. Revealing tops, tight leggings, and extremely short cut-offs shaping females' asses in the most delicious peaches. No doubt you'll want to stare! But better don't.
Even if you're planning just an innocent hookup, treating a girl like a piece of flash (though very juicy) won't bring you and your cock any good results. Giving short admiring glances—ok, staring—not ok.
Offer her some help if you're good at sports
Noticing a gal who doesn't know how to use gym equipment is a perfect situation for you. Many chicks come to the gym in the hope of training by themselves without getting a professional personal trainer (which isn't the best idea). Flirting at the gym with such a bird is as easy as pie! Come over, smile, and ask whether she needs any help. That might become the start of your memorable casual fucking.
Forget about mirrors
The worst thing all guys do in the gym is looking in a mirror all the time. Sure, you enjoy the way your muscles finally shape, but check that out at home, damn! How to flirt at the gym with a girl if you don't notice anyone but you?
Focus on the workout, be involved in the process, and such a devotion to workouts will definitely catch sporty chicks′ attention.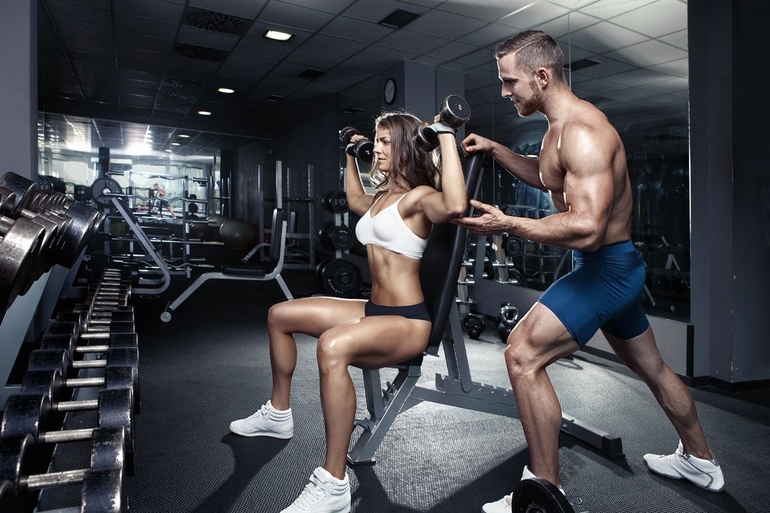 Know the time for talking to women at the gym
As a rule, the initial goal of every chick coming to the gym is to make her ABS look ok, not to pick up a guy. Sure, some of them go dicks-hunting, and you notice these dolls in seconds. Approaching such a babe, the chances you'll get laid tonight are at least 90%.
But if you see a gal exercising and decide to talk to her in the middle of her training, she'll send you to hell, be sure. Come up when chicks are having their rest between exercises, not when they're actually working out.
Don't be a gym-hookuper-guy type
Every gal in the gym easily identifies those guys who come for pussy hunting. Do you really believe no one will notice how you approach all the chicks in the gym and do zero exercises?
Flirting in the gym is cool, but only if that's not your single goal. Fit birds from the gym will more likely fuck a guy they occasionally meet when training than the one who comes to the gym regularly but isn't interested in workouts at all.
Mind your outfits
Too many dudes make a mistake focusing on their training only when choosing what to wear to the gym. Old oversize t-shirts and ugly shorts might seem a wise decision for you, considering the fact that you'll sweat like shit in the gym. But would you ever start a talk with such a messy loser?
Pick up something tighter, something that highlights your best body parts. Famous sports brands will always be a good decision. And remember that sweating is inevitable, so better opt for dark colors.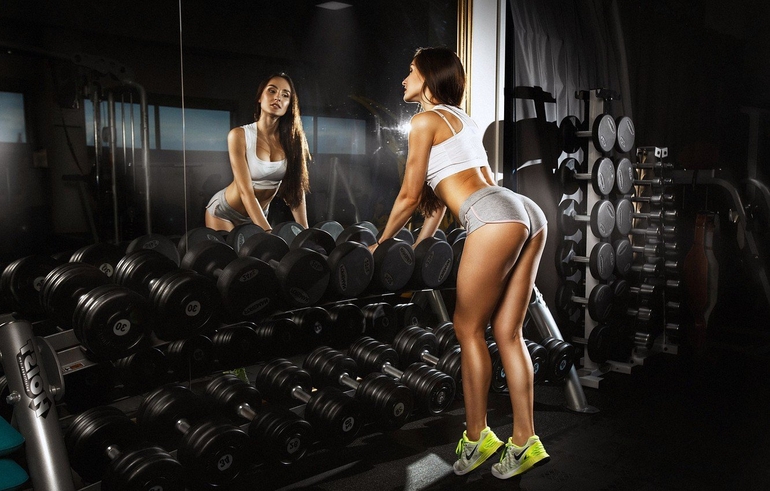 Don't be ashamed if she's more fit than you
That's even better if you're a newbie to the gym stuff! Chicks often like guys they feel pity for. Moreover, that's your chance to start talking to girls at the gym, as you can ask the fittest babe about how it's better for you to work out right now. Or become gym friends with a bird who is a newbie too. Benefit from your inexperience, dummy!
Get rid of dirty compliments
If you believe that flirting at the gym is about giving compliments like "your ass looks so good when you do this exercise," your cock won't feel any sporty pussy ever. It's a disgrace. Buddy! Saying "you do that exercise very professionally" will work much better. Or you can just mention that you like your workouts better when seeing her around. That's the first step to possible casual fucking afterward!
Don't try to impress her
It's actually even dangerous if you're new to heavy lifting. Guys enjoy testing themselves with big weights and roaring like fucking lions when doing that. Who told you that it's sexy?
Exercising calmly and quietly, you'll attract much more attention. After all, all girls like it when you ignore them a bit, remember?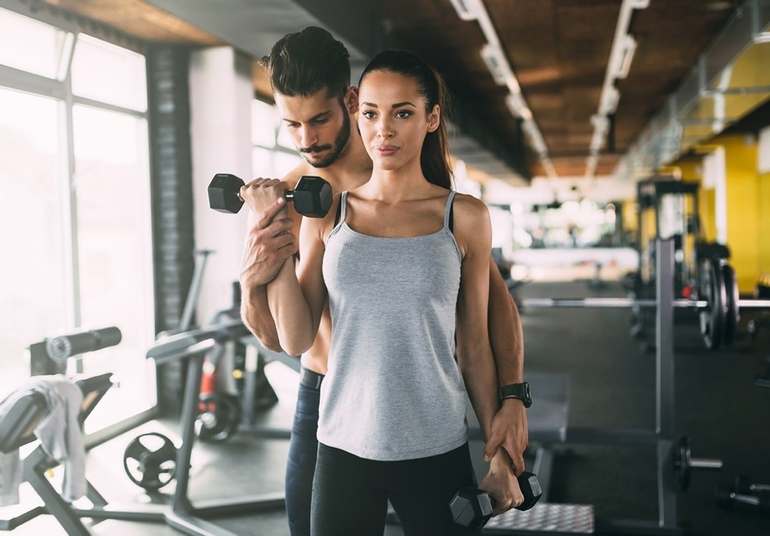 How to flirt with a guy at the gym?
Ladies, your urges will also be satisfied. Naturally, there are some flirting rules chicks should make use of when picking men up during workouts. So if you wonder how to approach a guy at the gym and make him want you, I'll give you a few helpful tips.
Ask for help
Men enjoy feeling powerful, so demonstrating your weakness in some things will only make them more attracted to you. No matter how sporty you are, it's ok to ask men to help you with the gear or assist you in certain exercises. Make a guy feel mighty, and he'll later want to prove that by fucking you hard.
Don't dress up too sexy
This way you scream for attention, and it's sometimes the worst thing you can do to make dudes actually want you. One of the main rules of how to flirt with guys at the gym is always to leave some space for their imagination. Showing off your best sides isn't that bad, but it rarely brings results.
Train more, show off less
This is also a boner-killer for all sporty men. They don't like chicks who come to the gym only to take selfies and find someone to hook up with. You probably wonder how to pick up guys at the gym then. Just work out, and that's enough! Seeing how chicks exercise is already a big turn-on for many.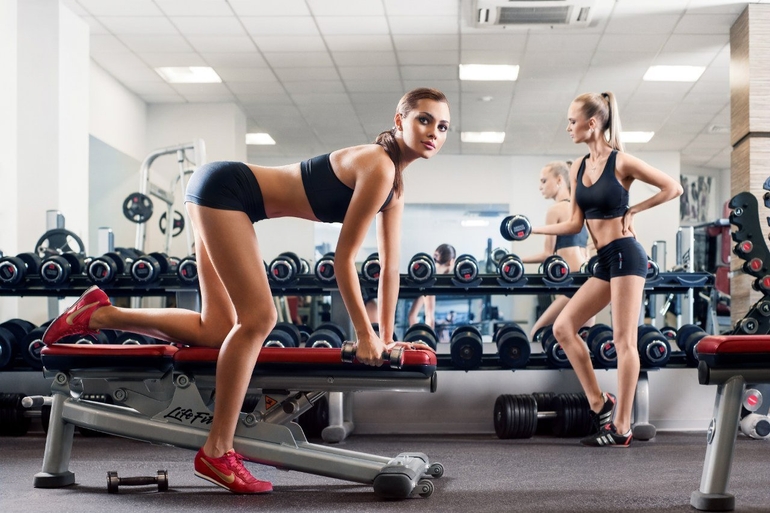 Don't be afraid of small talks
Forget the rule that claims guys should always make the first steps. It's in the past already! Now, it doesn't matter who takes the initiative, it's the result that matters. So if you see a guy you'd like to know closer (and I mean much closer, cutie), just smile and ask how he is doing. Believe me, the fact that you're not afraid of making the first steps will already make him interested.
Be bright!
And now I do mean the clothes, babe. Choose outfits that are impossible to ignore at the gym and forget about black and other dark colors. If you want to stand out, opt for something acid and sexy. In case you do so, there won't be any trouble with how to talk to a guy at the gym because he'll definitely approach you first!
Flirting at the gym is something you should consider when you're too busy for any other kind of social life. Stick to the recommendations above and enjoy making new sporty friends.