Oh the teenage years, where sex was something new and exciting. Getting freaky in a place outside your house is extremely hot. Fucking in the car means fucking almost anywhere – you're free to drive to any location (safe and comfortable, of course), at any time of the day and night!
List of top-rated hookup platforms:
Car sex also helps you feel your partner on a whole another level. Limited space leaves you with no options except constantly heating up the air around you. Both people need to actively take part in the process for it to be enjoyable, which brings you two closer than ever.
Important tips for an amazing car sex
There are some things you need to be mindful of when getting nasty in your car, so keep in mind to: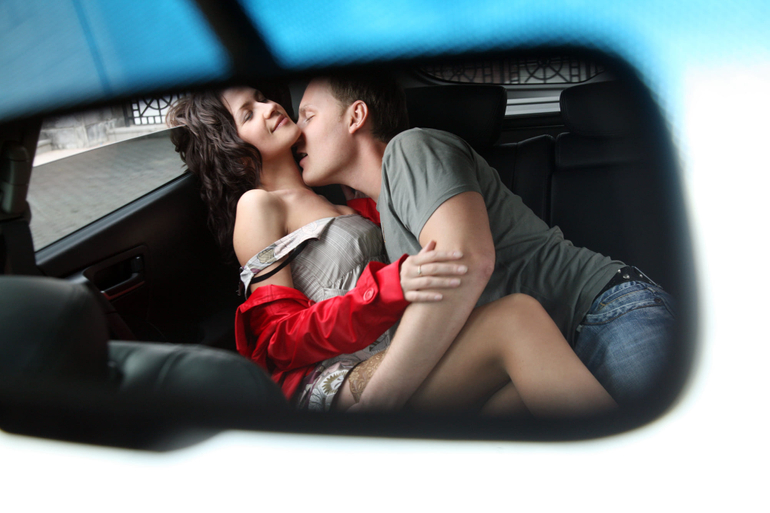 Carefully choose places to park. Of course, you can have sex in a car in broad daylight on a shady parking lot, but it'll probably be stressful for you and uncomfortable for random people passing by. Hooking up in a car is best on empty evening streets, maybe near a campsite, or near a beach at night.
Plan a comfortable outfit. As you're all horny in the car, taking off tight jeans can be a discouraging step. Instead, wear something light and easily removable (shorts, a dress, light tee, etc.) This way, you'll spend less time removing your clothes and more time doing the actual fun stuff.
Take care of the essentials. While banging in the car is wonderful despite small space, make sure to turn on the AC if it gets too hot and put on dimmed car lights to avoid blind injuries!
Explore the possibilities. Although the car offers you much less place than a house, you can find many ways of pleasing each other here. Switch from the front to backseat sex, if your car has a trunk – go for it! Don't let anything stop you from getting the most from this intimate experience.
Talk about car sex with your partner. What if your hot partner isn't so courageous about having a good fuck in the car? Just have a chat about it with your s/o beforehand to make sure you're both on the same vibe!
Where to have sex in a car?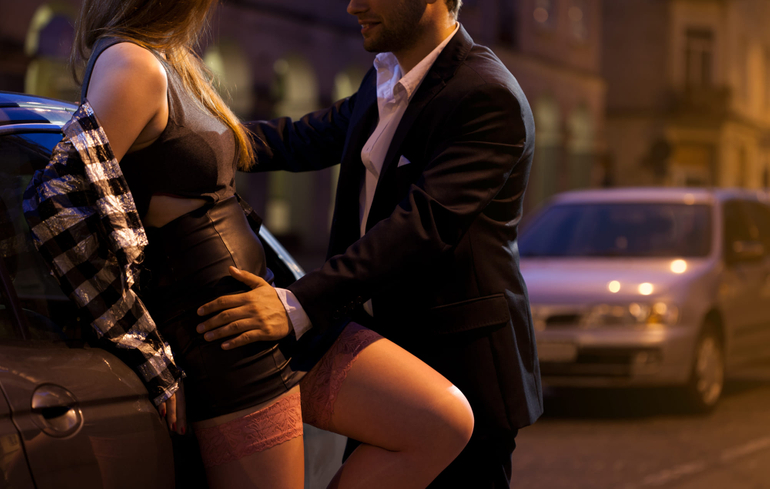 Heads-up: your legs will start cramping if you're mugging it down in the car for too long. That's why comfortable sex positions are a must when it comes to vehicle fun. Don't worry, there are lots of ways you can please yourself and your gorgeous partner in the car without it feeling like a rack. For convenience, here are the best sex positions in a car according to the seat.
Front seat car sex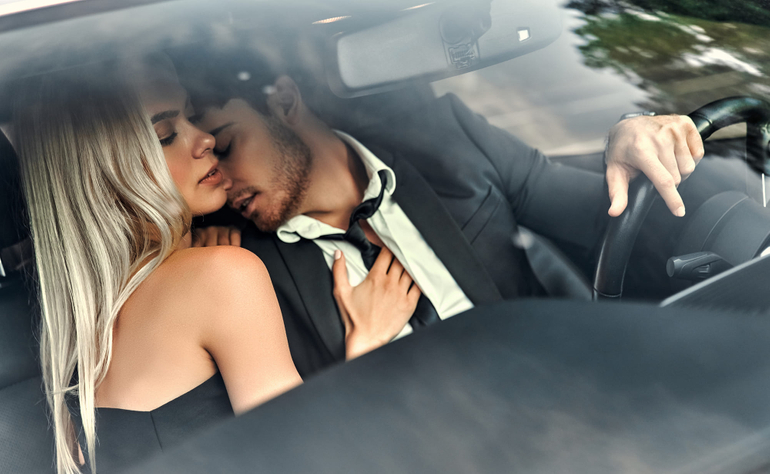 Hot Passenger. The man is sitting on the passenger seat, whereas the woman is placed on top of him facing away for some room for motion. It's an amazing position where a woman controls the pace and depth. Compact and comfy for both partners, it's a go-to position for quick and enjoyable sex.
Car Girl. The woman is sitting on a man and facing him, similar to the Hot Passenger, except she's wrapping her legs around his. The girl gets tons of clitoral stimulation from controlling penetration pace and partners can lower the front seat for more room if wanted!
True Doggy. Front seat allows horny people to throw it back and enjoy the leisure of classic positions such as doggy style. With a woman below a man pinned down to the seat, whether you're going in for anal or vaginal pleasure, both partners have easy access to erect parts. It's one of the best positions for car sex because it's simple and highly enjoyable.
Road Blow. Of course, this works ONLY when your car isn't moving, but getting head can turn interesting if you take it somewhere other than your home. This position is immensely popular and easy to perform. Pullover and enjoy some sweet blowjob while watching the car drive by.
How to have sex in the backseat of a car?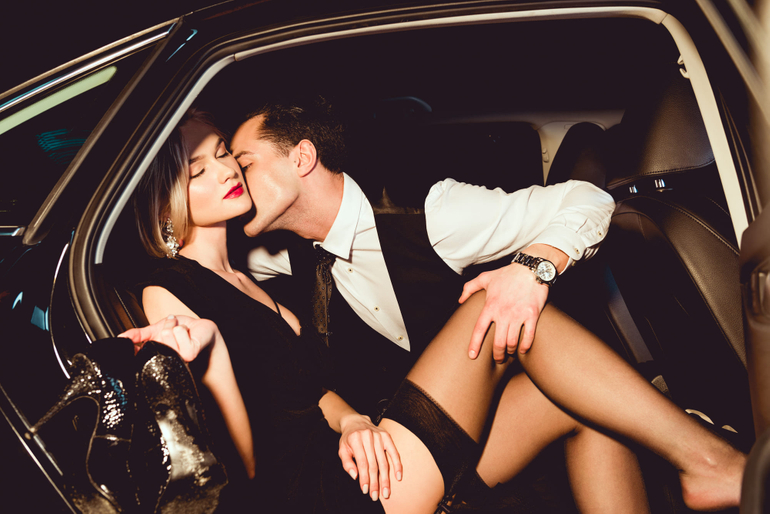 Backseat Reverse Cowgirl. A woman sits on a man's lap, facing the front seat. For more space, the lady can flip the front passenger seat forward and push it as far as possible for more motion. It's respectably one of the best sex positions in a vehicle as it gives a lot of space for friction, pace control, and of course, the view of your partner.
Spoon Fun. Take a simple sex position and transfer it to a new, exciting location – boom! You've got amazing car sex. The man lies behind the woman (like a spoon hug), but a bit lower for easier penetration. Not only it's comfortable for both partners, but it also feels fucking good. Everyone's go-to in the back of the car.
Improvised Handcuffs. If you or your partner wants to dominate and take the initiative, seat belts will help you out. Just tie your partner's hands around the seat belt and climb on top. Jump and sweat to your best pleasure.
The Seashell. A popular twist to the well-known missionary for great backseat sex. A woman lies down and puts her legs on top of her shoulders, with a man getting comfy on top of her for quick friction. Works best if you're worried about others seeing you as it takes little space in the dark back of your car.
Having sex on the car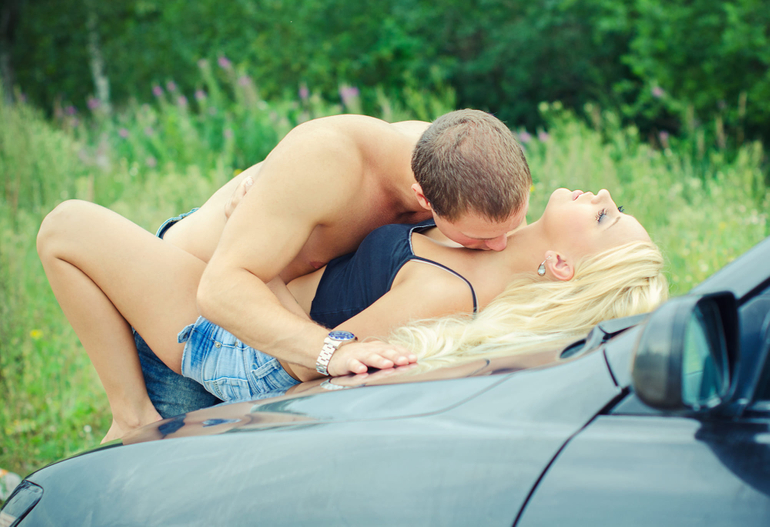 Yes, you heard it right. Is it even possible to bang on the car itself? Yes! Just a reminder to be careful when trying these out:
Lean-On. Grab your partner and bend her over the car's hood. You can play with the positions of legs and hands, but the main idea is to keep your partner leaning on the car, similar to doggy style.
Spider Legs. One of the comfiest car sex ideas, where the girl lies down face up on the front glass and the guy sits down with his hands back for support and intertwines his legs with hers. Controlling the pace is easy and your legs won't start cramping after 15 minutes of sex.
Sunset Doggy. The position is similar to the regular well-known way, but instead of doing it in the car, climb on the hood and bend your hot girlfriend over the roof of the car. Let yourself and she enjoy the view. Works best in campsites, forests, etc.
Ways to have oral sex in a car
Road Suck. Simple and highly effective position, where a man is in the driver's seat whereas the girl is on the passenger seat. She bends to the side, slides his pants down/unzips the zipper, and gives him a blowjob. Works all the time like a clock! (Beware of driving while getting head, just pull over for some time and enjoy it to the maximum.)
Kiss To The Lips. This one's for the ladies (and gentlemen) to enjoy. A woman stands on her knees on the backseat with a man laying down right below her ass. Giving head to the girls is just as arousing as getting it from them!
Layback Blowjob. A guy lies down on the backseat and pulls his pants down for a girl to climb up and suck his dick. It's amazing because it allows people to slow down a bit and rest between active sex sessions.
How to safely have car sex without getting busted?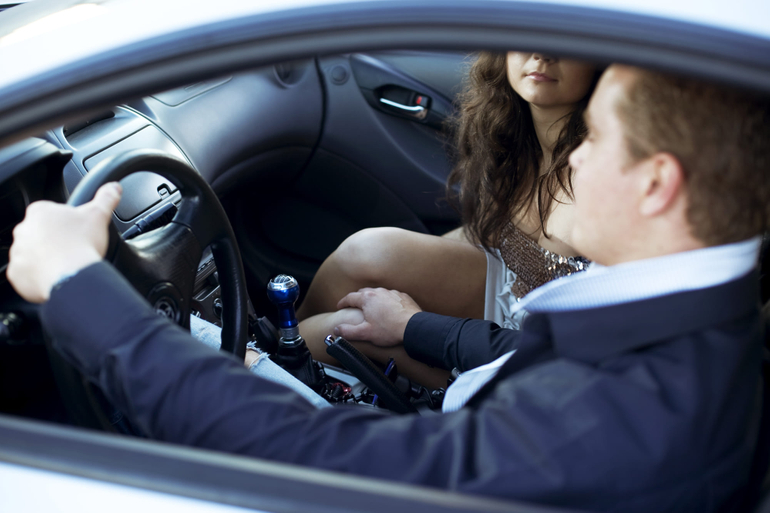 It's all fun and games until the cops come knocking at your window with a public rules violation ticket. To avoid getting into uncomfortable situations and still enjoy amazing sex in the car, follow these simple tips.
Turn the engine off
Don't test destiny and turn the car off somewhere safe before receiving or giving sexual pleasures to your partner. Numerous people have died because the satisfaction from intimate things made them forget they were driving a vehicle. Safety first, safety second, safety third!
Adjust your movements to the situation
Deep thrusting your cock into your partner at a maximum speed can shake the car pretty hard. It's really easy to spot a shaking car among still ones, so be sure to keep your movements slow but steady. Plus, fucking slower means less chance of accidentally hitting your head or elbows.
Be mindful of your moans
Darkness is awesome for sex in the car, but if you're the type to loudly moan – keep in mind to stay quiet. Your loud voices can attract unwanted attention, and it's the thing you want to avoid. Leave screaming for hotels and your own home, but hold it when banging outside.
Buy essentials beforehand
Sex can be nasty and fluid. Things like wet tissues, lube, some mint candy, and water should always be in your car if you want to fuck there. If your partner doesn't want to swallow – they can use tissues. And if something gets on the seats – baby wipes always can quickly clean it up. Plus, having a fresh breath after giving head is always welcomed.
What locations work best for hooking up in a car?
Now you know how to fuck in a car, let's talk about where to do that! Yes, technically, you can bang anywhere. But in reality, some places are best to stay innocent. Here are the safest locations for your midnight car fuck according to car sex experts and laws.
Beaches
If your city is blessed with the sea or the ocean, shores will be a great place to have your bite of sex on the beach. Obviously, all such activities should happen when it's dark (preferably from 10 pm to 4 am.) Beaches are awesome for car sex because you can fuck inside and then go take a quick refreshing swim in the ocean to lessen the heat of your bodies.
Campsites
Another amazing spot for car banging, campsites are usually located outside the busy town life. Possibilities of stumbling upon a stranger are small, and nature around helps you calm your nerves down. However, campsites can be crammed with campers in the summer, so make sure to explore the territory before getting hot and heavy.
Having sex in a car – not just a blowjob!
There are numerous ways to have sex in the car: in the front, back, or even on top of the car! Possibilities depend on your courage. Keep in mind to have car sex when it's dark outside, choose quiet and empty places for your midnight fun, and always have wet tissues and water with you. Ride the sex machine safely!