What is a FWB? Friends With Benefits relationship. Have you seen a self-titled movie with Mila Kunis and Justin Timberlake? That's it. When you have marvelous passionate sex but don't need to call her mom to wish a Merry Christmas. That's a new type of dating that mostly fits busy people who're concentrated on work more than on personal life. Or, it's a good choice for those, who've been hurt in the past and don't want to go through this shit ever again.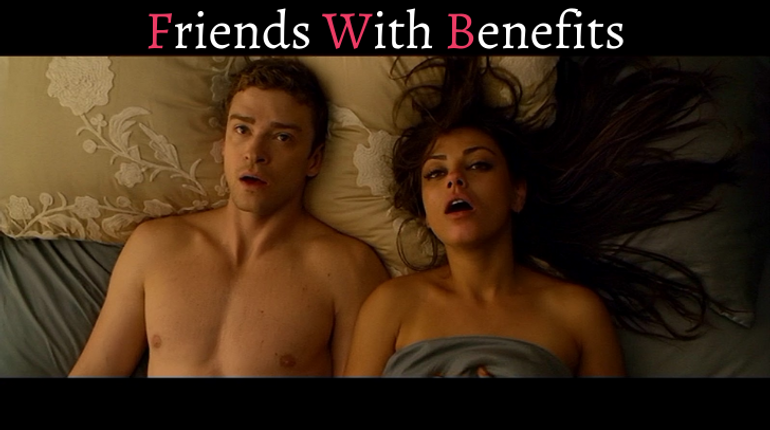 Is it so easy to get into FWB? How to find a FWB? And what are FWB rules? Let me clarify this for you, man.
How to get a FWB?
Easier said than done! Things that seem obvious might bring no results. Let me guide you through the darkness, my horny friend. This is how you can ask a girl to be a FWB.
Find the willing one among your friends
Yeah, just go and ask pretty chicks in your surroundings if they would enjoy spending leisure this way with you. It seems to be the fastest way to find a FWB partner, but actually, the majority of them will not only refuse you but get offended even. You may lose friends this way, is it worth it?
Go to bars and pubs
Glass of wine or a nice cocktail turns modest girls to horny bitches usually. Choose the one in the bar you like the most, offer a drink, talk, make jokes, ask for a dance. You'll feel if your little friend in pants desires to taste her. If yes — just be straight about your intentions. Invite her to your place but add it's only sex. After a wonderful night, ask if she would love to do it again. Sounds pretty simple, but when was your last one-night stand actually?
Register on specialized sites
There are numerous platforms where people are guided with the same aim. Hookup resources, casual dating sites, you name it. It's like the biggest social network but for sex lovers. Isn't this the easiest way to get laid? You know for sure that gal is looking for sex just like you and your chances to be dumped again get lower! Everyone there knows FWB rules perfectly.
FWB relationship rules
If you were lucky enough and found steamy and hot bird for regular sex, you need to know how to be a FWB before getting involved in this dirty adventure. Follow these rules for a delightful FWB.
Create no emotional bond
Don't be a pussy! The movie I've told you about in the very beginning is the bright example of how you shouldn't behave in an FWB relationship. You state the rules and expectations when you start such an arrangement and your sex partner doesn't wait for your romantic moves. You'll just ruin everything! If you want to make love, not just fuck like a wild animal, go on dating sites, dummy.
Respect boundaries
Good conversation makes sex better. You can voice your fantasies and kinky desires and get them realized. You tell how you enjoy being sucked and other stuff for better fucking. But you never ask about her family and a cat! Don't you even try to learn her daily life and become its part. Your place is between her legs, not in her heart.
Remember about protection
Your teacher from school was right saying condoms are the must! Going on a date with a complete stranger for pure sex you need to get prepared. Relying on the responsibility of your partner is foolish. If you don't want to end with STD after your sex race, always bring rubbers with you.
Keep it a secret
Generally chicks don't want everyone to know about their erotic dates. They act like sluts only at night, in the daytime, they're illustrative daughters and workers again. Don't brag about your wild experience, just enjoy it.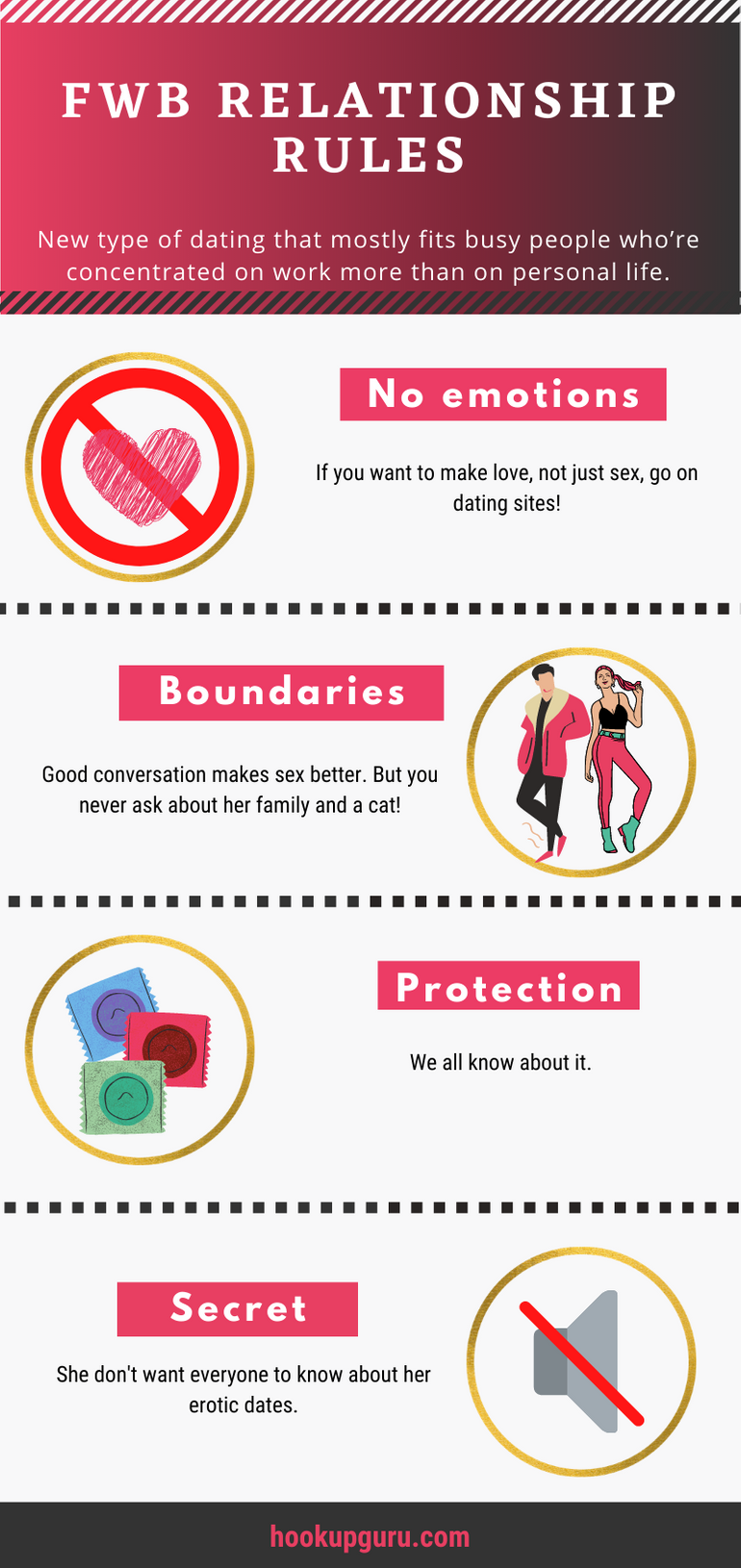 Knowing these obvious FWB relationship rules you may turn your sex life to a fairy tale. Or better say, to the filthiest porn ever. Isn't it what you crave for?