Sensual couples massage is a surefire way to boost your intimate relationship and add colors to your sex life. If you've never tried pleasing your partner with massaging before, you definitely underestimate the power of sensual massage techniques.
How to give an erotic massage so that your girl enjoys it, and what's sexy massage all about? Read on to know the answers.
Erotic massage techniques and tips
Basically, you don't need to be a pro to make your girlfriend moan from pleasure. Perfect sensual massage isn′t about applying some profound techniques, it's about the process. And following these 15 simple recommendations, you'll surely make it an experience of a lifetime.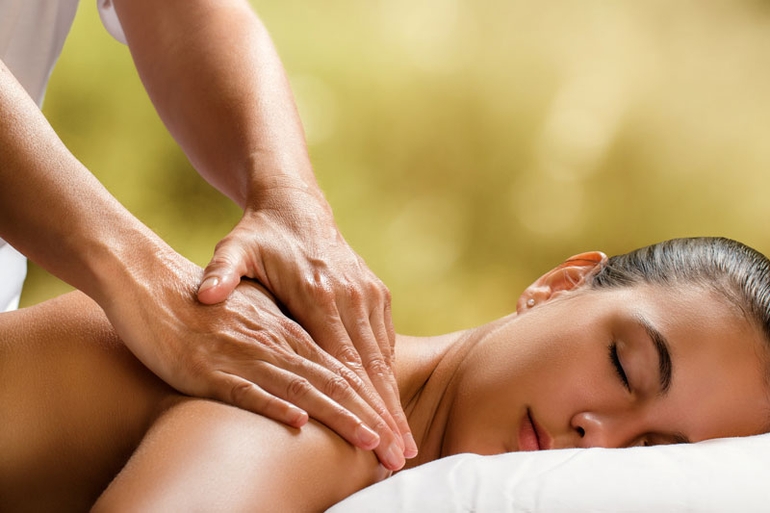 Take care of the environment
It would be hard to get turned on in the messy room where your stuff is piled up on the floor. Your kids or parents behind the wall are even worse. If you're planning a passionate massage with your partner, make sure you're all alone in the apartment and no one will distract you.
Mind helpful decoration
Flowers, sexy aromas, clean silk sheets—every detail matters when giving a sensual massage. Take care of the relaxing atmosphere that will help to set your partner in the mood for sex.
Light up candles
I can't even imagine how to give sexual massage without candles. First, they give a perfect soft light. Second, if you use aroma candles, they add more scents to the whole atmosphere. And third, there are special massage candles you use to set up your partner's pleasure to a completely different level. Such candles consist of a special wax safe for skin and oils that make the massage even better.
Turn on relaxing sexy music
This is one of the main points for a perfect sexy massage. It has to be something without words, something that's used for background only. I hope you understand that your favorite Linkin Park doesn't work here, right?
Use oils and towels
All sensual massage techniques have oils involved. And if you use oils, towels are necessary as well because everything around you'll get quite messy. Towels are perfect if you don't want to ruin your new sheets, but you can just opt for bedding you won't mind throwing away after the massage.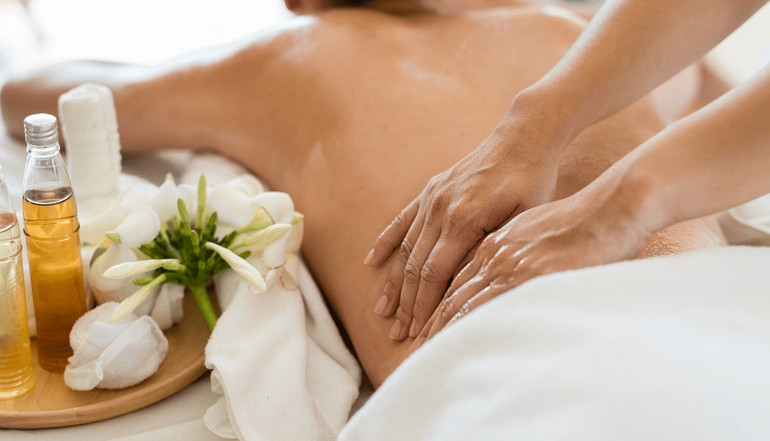 Consider a fully naked massage
What can be better than getting naked right at the beginning for a massage before sex? It'll add to the sexual tension between you two as you can feel each other's skin (and she'll appreciate seeing your hard-on).
Start gently
It's a sexy massage aimed to get your chick ready for fucking or just make her cum without penetration, not the massage to relax her back after sports. Don't be too harsh, massage her gently, making circles with your thumbs. That's the key to your success, and you don't need any other erotic massage techniques.
Don't focus only the back
It's not only about sensual back massage, explore every piece of her sexy body! Massage her head, ears, neck, elbows, toes, heels, nipples, tummy. Don't go to the pussy from the start as well! You can't even imagine how wet she can become from simple toes massaging. ;)
Use your body parts to massage
I bet you saw this in porn if you're into massage sex. You can massage her with your own body! Pretend to have sex but don't put your cock inside her. Make every part of her body feel how hard she makes you.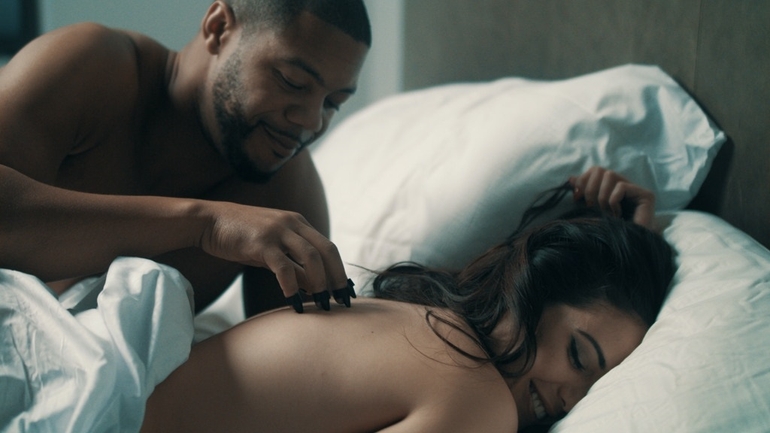 Build up the desire slowly
The key rule of how to give a good sensual massage is to slow down. Chicks need more time to get horny, and they can't climax intensively without getting very wet. The more you tease her with slight touches and gentle massaging, the more chances she'll cum like a wild.
Pay intimate areas particular attention
When she's turned on enough, it's time to work on her pussy. The main sensual massage tips here are to do that slowly and play with clit more. Rub it gently, caress, blow on it, or even pour some hot wax if she's ok with that. Just don't hurry up and take your time.
Ask how your partner likes it
No matter what it is, a sexy back massage or simple toes caressing, erogenous zones differ depending on a particular babe. If you're planning to please a chick you don't know well, then it's even more important to find out where she likes that the most. Especially when you're about to do something extraordinary (like using wax), ask her first how she enjoys that.
Don't be afraid of gentle penetration
Yes, my perverted friend, real sexy massage implies exploring her from the inside as well. Sure, you don't have to hurry at that stage. Move to her sweet hole only after you've paid enough attention to her clit. And only then, when you're about to make her cum, enter your fingers in her pussy and massage the anterior vagina wall. Do everything slowly! That's what sensual massage is all about, after all.
Experiment with blindfolding
To make all her feelings and perception even more intense, suggest blindfolding. When one of the 5 senses is isolated, the rest start working even more. Meaning, if she doesn't see what you're going to do to her right now, her skin will feel all your touches on a completely different level, maximizing the pleasure.
Don't steal the orgasm
The beauty of intimate massage is that the final is always open. You can massage her to prepare for the wild sex after, or focus on her satisfaction only and lead her to orgasm. The choice is yours. But don't forget that chicks can cum many times during the one sex session, so what's the need of stealing her orgasm after a good massage? Let it only be the first in the row!
Never wait for a massage in a reply
The worst intention of pleasing her with massage is earning sensual massage back. She doesn't owe you that, dude! Giving more, you'll eventually receive more anyway. But never force her anything. She'll surprise you when the time comes. ;)
Basically, there's no top secret on how to give an intimate massage. You just need to focus on pleasing your partner and find out about her preferences and dislikes first. Follow the recommendations mentioned above and make the most sensual gift ever!