Believe it or not, there are a lot of nasty perverts who want to buy worn panties online, but you can't even think how many girls are selling underwear used to random strangers from all over the world! And don't even think such kind of kinks exists only in Asian countries, where people are really crazy about all this weird sex stuff. This is really becoming a huge hit among various regions, and the marketplace seems to be growing bigger and bigger every day.
Selling used underpants isn't a big deal and not really time-consuming, but you get some real money out of each processed purchase. Even though you don't have to spend the whole day browsing potential clients (trust me, they're pros in finding the best chicks who sell used underpants), you still need to be all nice and pretty to make guys want your stuff.
If you've ever sold something online, you'll figure out how to sell your underwear on the internet pretty fast too. You should only know places and hot tips for making the most successful deals. Ready to absorb some knowledge about selling worn panties online?
Best websites where to sell underwear online
One of the most important steps in selling used underwear for profit is finding a perfect platform that'll fit your needs. You should pay attention to the means of communication, variety of goods, extra services, and the clientele itself. I've run some legit checks and prepared the best websites to sell underwear and keep your pussy satisfied with all the money and attention from fellow pervs!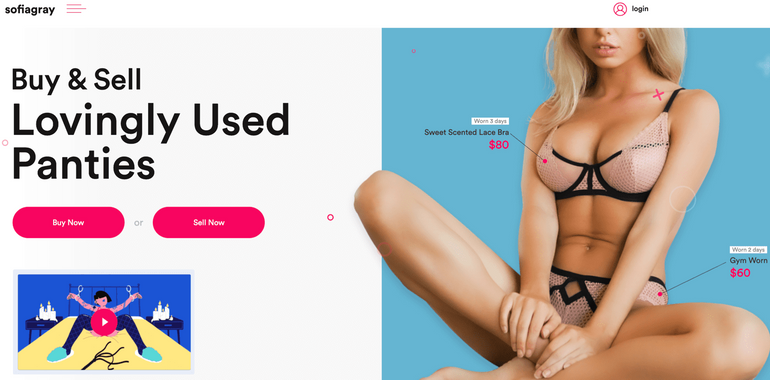 Sofia Gray is a nice place to sell your dirty underwear and have some fun with your potential customers. Don't forget not only to place used undies here but also upload extra hot stuff for users like nude pics or sexy videos. Yes, you can even film homemade porn shorts too! Customers access hot pieces by paying extra SG coins. Plus, you can share some kinky information about yourself. There's a special Interview section where sellers answer tricky questions about their sex habits, favorite positions, etc. to turn users on.
Registration is free for all the sellers, and no extra fees or hidden charges apply to them. You get the full price of your used panties plus extra coins for sharing spicy pics or videos and receiving messages from potential customers. All the girls who sell used undergarments can be absolutely sure about maintaining their anonymity here. No private data goes to Sofia Gray, hence it's neither keeping nor sharing information about its sellers with someone else.
Panty.com

If you want to know where to sell used underwear, Panty.com is a perfect platform for you. Depending on your region and country, you may choose the most suitable currency (GBP, USD, EUR will definitely work here). Here, you can sell a whole crapload of other kinky stuff, participate in cam chats, place hot pics to drive more customers, and text with fellow pervs.
In case you're into selling underwear online but want to earn a bit more on other stuff guys may like, you simply post some goods in the Other section. There you'll find other types of underwear (bras, thongs, pantyhose, etc.), sex toys, dildos, even candy, and used face masks. I wonder what kind of people are shopping all this crap, but the market is actually booming these days.
To sell your dirty underwear, you should include as much information about goods as possible. Tell users about their wear duration, when you were wearing it, as well as size, material, and form. You can also do some research and look for valid buyers who could help you close a really nice deal. Text the ones you like the most and offer your undies. But don't be too salesy—you'll get your customers right on time!
Snifffr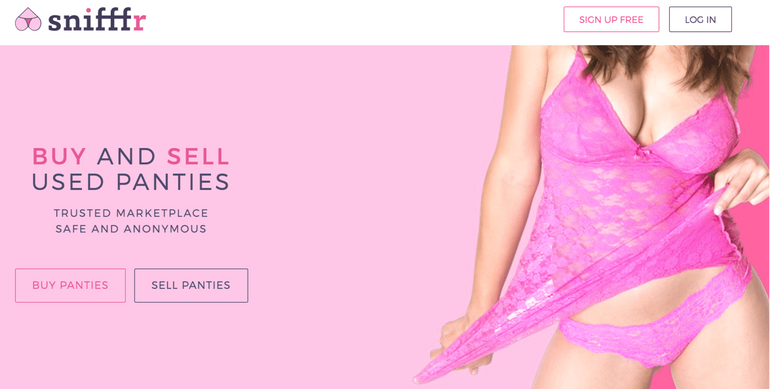 Snifffr is another cool place where you can sell used panties online easily and fast. It offers both flexible marketplace conditions and support all along the way. Here, you'll get useful tips on selling dirty underwear online, treat customers, and process shipping. It's free to enter, and you don't need to pay any extra charges for it. The site is minimalistic and convenient to use, and the support team guarantees full anonymity for all the users.
Snifffr also offers different goods to its users, so you can earn even a bit of extra money for placing different pieces of your underwear or stockings on a personal page. Finally, you may get some dough from sexting and giving buyers an unforgettable webcam experience. Yeah, you know what I mean!
Scented Pantsy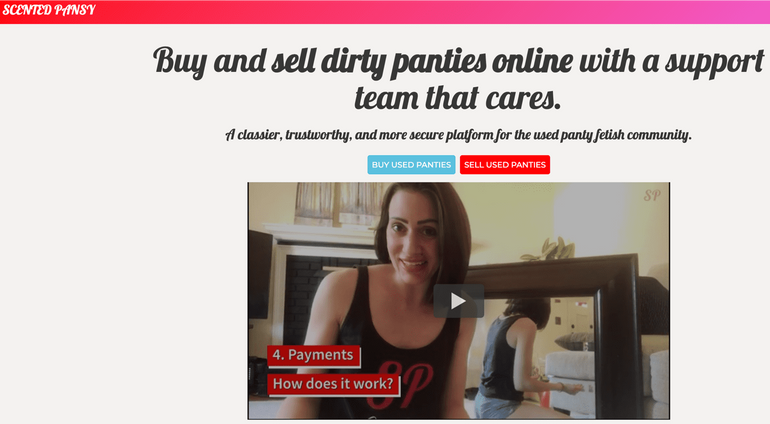 This website will show you how to make money selling panties in a fast and convenient way. It's a handy website with a live 24/7 support team that cares about your successful transactions, anonymity, and making yourself a rockstar panty seller. With an affordable monthly charge of $8.50 for sellers and buyers, both of you enjoy some lovely perks.
As a seller, you'll get the analytics dashboard access to keep track of your sales and the overall market situation, more reputation points for good reviews from your customers, the opportunity to rate buyers and build your panty empire with your own rules and prices.
Pantydeal

Pantydeal is probably the best website to sell used panties if you're looking for a well-structured and convenient platform where you'll get the latest updates from other sellers and customers right away. It takes only four steps to start earning on Pantydeal: create an account, complete your profile, add a panty ad, and earn money.
Pantydeal offers you not only to sell your underwear online but also share video clips, private photos, other types of worn clothes, and various chatting options like Skype cam chat or Whatsapp texting. Plus, as a seller, you can be sure it's all 100% safe and anonymous, with new customers joining the website every day. You have your own shop system where you set any price and sell as many panties as you want. Pantydeal doesn't take any transaction fee from you—all your money goes to you directly.
You can verify a personal account and upgrade it to a VIP one to draw more attention from the guys, look at the best chicks and their offers to test the market and adapt to it faster, see new updates on the dashboard, etc. Now you don't need to ask yourself where can I sell my used panties, you just go and do it!
How to start selling used underwear?
After you've chosen the best place to sell used panties online, time to think of how you'll start selling them. Consider charges, communication, and shipping to provide high-end customer success. This will bring you more clients, and your marketplace will get a real blast. Read more about selling used underwear, nailing every process, and earning nice money.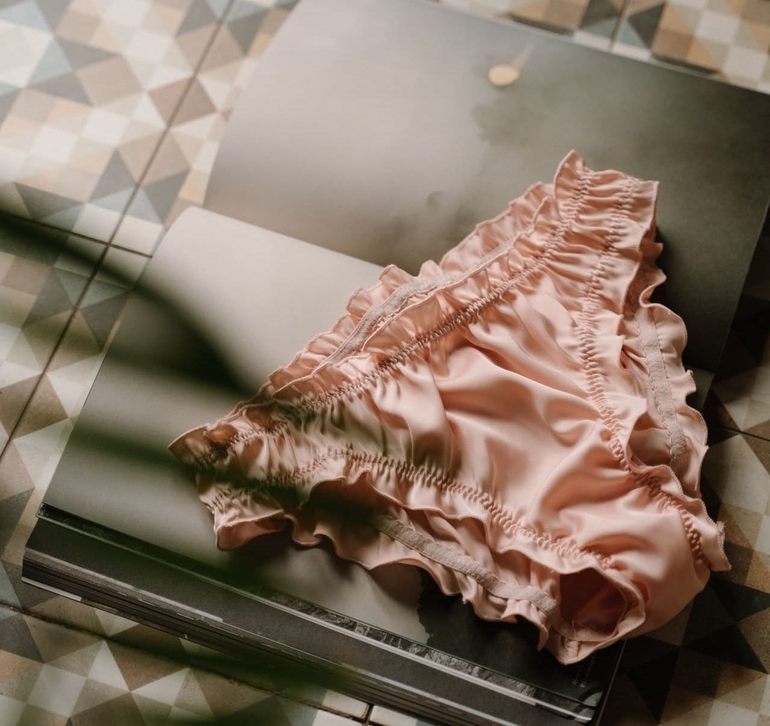 Setting charges for used panties
How much do used panties sell for? That's the all-time question every new seller asks herself. But don't worry, there are some rules for charging clients on panty-selling websites.
Be wise with the pricing at first
When you're a newbie, don't sell your underwear online at the highest possible price. It's important to gain trust and a few buyers first to see how it goes and if your dirty undies have any potential of becoming someone's property. Don't worry, you'll start earning nice money once you figure out your strategy and learn more about the market.
Try to differentiate your goods to earn more
Selling used underwear is a highly competitive activity, and you have to prepare for fighting for the clients in any possible way. You should try to make each pair absolutely different. Let your first one be fresh, not changed for 1-2 days, and worn in college. The next one can be 2-3 days old, worn in college and gym (ooh, guys love after-gym panties a lot!). Differentiating this stuff and pricing for it can bring more potential buyers with various requests and needs.
Look at your competitors
Nothing will tell you better about market rules than looking at the ones who are doing the same thing as you. Check their prices, what types of undies they're selling, how "old" their panties are, and whether they wore it during workouts, masturbation, or else. This will help you see how big the demand is and whether there's enough supply to cater to all the needs of potential buyers.
Become a better seller to impose more charges
Before changing the price list, make sure you're doing way better than competitors. Otherwise, you run the risk of losing interest in your offers. First, collect some cool reviews and make those perverts rate you and rate you real good. Impress them with fast deliveries and a nice chat, maybe include nice polaroids too. You should be more reliable and competitive, and that's when you can talk about updating the prices of your goods.
If you're having trouble trying to differentiate your undies, here are four main categories to help you out: regular worn, workout, playtime, and creampie panties. The more action you take while wearing those, the higher the price for them is. Creampie panties, for example, will easily go for $150-$200, but some pervs may even get them for over $300. Workout panties are also quite popular yet smellier and a bit odd to sniff, so they still can go for a good $100. Seems stupid, still, you keep earning money, and that's the real stuff you should think of.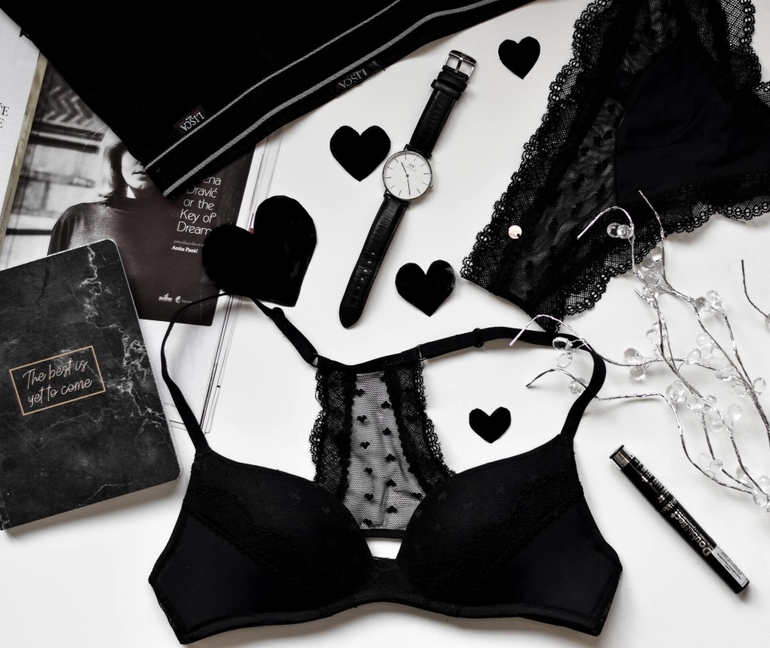 Messaging potential buyers hints
How to make money selling panties except for just selling panties? Be a perfect seller! You should know how to behave with your customers, what approach to take, and how to attract them more. Below, you'll find exactly what you need!
Be friendly and nice
Who'd not want to buy a pair of smelly panties from a cool, sociable girl who'll gladly greet any customer, tell everything about the variety and price range, and is open for negotiations? People get attracted to polite and charming chicks, so try to stick to such a character. Don't be afraid to post some kinky pics or videos to entertain your peeps too, and you'll get twice as many buyers as you expected. Don't be shy in such a business, better keep it up!
Be there for your customers
Try to check your inbox on the selling platform to see if there are any on-the-spot customers who'd love to buy your stuff. Selling used underwear also requires a bit of devotion to the website and customers. Try to spend at least some time a day being online and texting potential clients (or responding to their messages).
Collect reviews
After every delivery, ask your customers to leave a review or an honest private message if something was wrong. Reviews and ratings are what keep all these sellers afloat, so don't blow it and improve every small detail of faulty service or bad packaging. And yes, every time someone gives feedback, thank them in replies. You can even send your customers private messages offering to get back to your marketplace and see fresh undie drops.
Best tips on shipping your used panties
And, for dessert, here are smart tips on arranging fucking awesome shipping for all your customers. Read the most important ones below to master every delivery and become Hail Mary of selling used underwear!
Arrange a shipping right after you get the money
Take care of the shipping immediately after receiving a payment. You should have at least some boxes and decorations ready to work with. Get to your closest post office—it's better if you manage to send the order the day you got the money.
Make nice packaging
Since it's better to store used undies properly with the minimum interaction with air and moisture, consider airtight packaging. Get nice ziplock bags or little plastic containers and wrap them well enough. This way, you won't feel a wee bit embarrassed while processing shipments at the delivery office. Nobody will see what you're about to deliver, and there won't be any awkward looks from a post office guy or girl processing your shipping.
Add a personal touch
Who said you can't put pics or kinky stickers in your package? Or maybe a free condom, lotion, or something to impress your buyers with. Even a card with a handwritten note will make customers return to you again and again. These small gifts mean extra costs, but in return, you'll get even more money and devotion from many guys. Isn't it worth sticking to?
Negotiate all the terms
It's super important to agree on the terms of delivery. Who pays the fee? What address to mention? How many days to wait for the package? Clarify all these questions to provide the best service ever to all your clients.
Now that you know how to sell your underwear online, you'll nail every new drop of used undies. This can become a business just for pleasure but still bring money. Try your luck and don't be afraid if your first bid fails. Remember these useful tips and try again and have some fun with panty-sniffing pervs!
FAQ
Is it legal to sell used underwear?
It's not illegal to sell your used or worn panties online. There's no crime in any country to distribute it, and it's always up to the customers whether to buy used or normal underwear, wash it or not. The only problem that might occur with selling used underwear is processing payment transactions through various service providers. For instance, PayPal won't complete such a transaction since the platform doesn't support payments for adult services.
How much can you make selling used panties online?
Depends on how many you have and what you'll charge your customers. As a newbie, you'd better set smaller charges to see how it goes. Get some reputation out there to make people return to you soon. If you're really excited about selling as much as possible, you may earn $10-$200 for a nice pair of panties. Sometimes, customers pay way more for a good deal, so the price per one pair can be even higher, and professional ladies can have up to $2,500-$3,500 per month.
Who buys used panties?
Usually, it's mostly young guys aged 20-25, but sure, older people make orders too. Girls rarely get men's or women's undies. If you're selling dirty underwear online, you may notice that the age range of customers is really big. Panty fetish goes far beyond the standard age, and the competition between customers is fierce.
Will I remain completely anonymous?
Yes. All websites for selling dirty underwear for money guarantee 100% anonymity for both sellers and buyers, but still. Try not to share too much of your private information to avoid any possible fraud. Sure, panty selling sites don't require your real name or any other personal data except for an email. These platforms neither collect nor share any data about their users and encrypt payments. You don't need to reveal your face in pictures as well. The problem might be the customers who could use this information for their own purposes.