Fling Review - How To Get Laid On Fling Dating Website?
People of different orientation and gender can join the site
More than 50 million members
Advanced search engine helps to find the most fitting partner for a hookup
Video chat and Live streams
Cheap 1 day trial period
The site is available not in all countries
All communication tools are paid
All roads lead to sex, agree? No matter who you're at the day time — CEO of the big financial company, pensioner, or just a teen jerker. Every evening your demanding cock will ask for attention and I bet your hand is tired to please him. Why continue this miserable masturbation on the typical porn if you can get real vagina and fast? Fling dating site is your decision! Seeing how many hungry ladies form your place are registered there you'll regret you haven't heard about this platform before.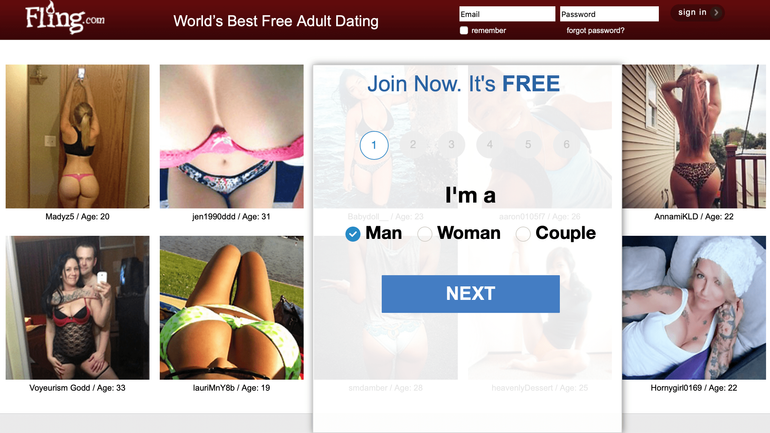 Is Fling real? How soon will you fuck? Is it worth your time? I'll cover it all for you, my perverted friend.
What are the reasons for huge success?
Probably, the secret is in complete freedom of sexual expression. No one has to hide his or her real intentions on Fling website – this is just a perfect place to feel comfortable with your sexuality.
Sounds pretty good, but what else Fling has to offer?
If you are looking for no strings attached, hot adult content and new acquaintances with the same interests, read on for this Fling overview to know more about its key features.
Registration on Fling.com
Fling registration is as easy as fuck. Follow 6 steps: indicate your sex, preferable gender to hook up with, age, location, valid email, and reliable password. That's enough to become a site's member and browse the Main page.
However, even though the platform is an international one, there are some countries Fling.com does not support. Still, the users from these countries are able to sign up for WebDate – the website that also belongs to the Global Personals Media company network.
Right after the first step is done, don't hesitate to upload the best photo of your cock or your casual one. But, Fling dating isn't about appearance. Thus, better demonstrate your erected friend so all the bitches know what's waiting for them. Adding a few lines about your preferences in sex won't be bad either. The more concrete you are, the more chances you have to feel the pussy tonight.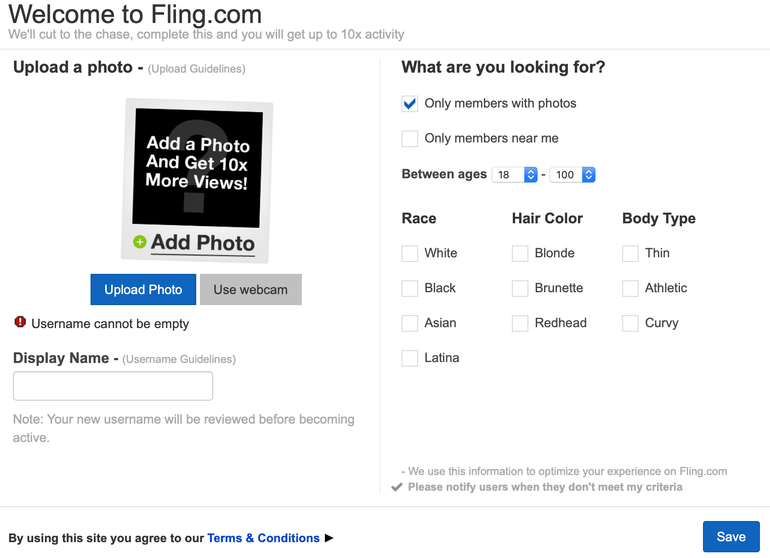 Who are the members of Fling community?
Currently, this is one of the largest hookup websites . It has more than 50 million members from all around the globe, and around 18 million of them are from the United States.
Most users are aged 30 to 35.
As for gender proportion, around 35 percent are women, and 65 percent are men, respectively.
Member Structure
Members geography
1,500,000 from USA
Members activity
250,000 active weekly
Overall design
Even such boring nerds like you will enjoy surfing Fling, as it's pretty intuitive. Site developers didn't put too many buttons that lead nowhere. Every time you click anything you get one step closer to pussies. Popping up notifications will only help you to reach that goal faster.
Colors are satisfying by the way. Don't you even dare to say you don't give a shit about this! I know even the tiniest detail can make your dick soft, so better shut up and read on.
Fling profiles
The Main page is the first you see opening the site after registration. Here you get the list of chicks ready to fuck in your neighborhood and those who are online. To get the bigger picture, head to the Search section. Here all results are divided into a few groups: new faces, advanced search, most popular, who's viewed me, streaming now, etc. The most precise results you'll get applying to advanced search. Here you can use numerous filters: sex interests, appearance, languages, religion, marital status, profession, and even income.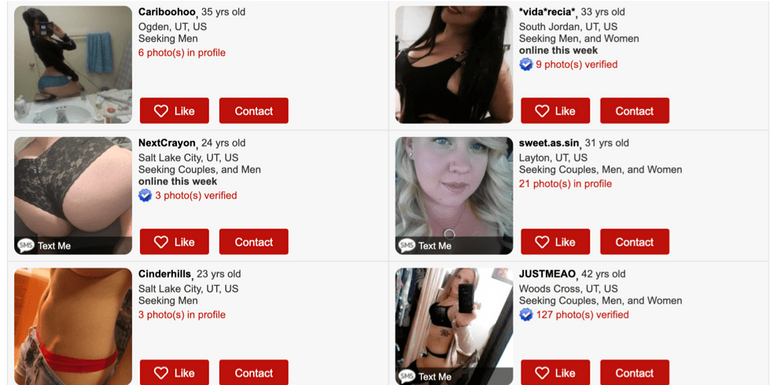 Girls enjoy adding sexy photos so don't get surprised seeing smooth and hairy pussies on their profile pics. After all, isn't this exactly what you need from the sex dating site?
Fling personals
You'll never miss a single message from any hottie. Notifications pop up regularly no matter what page is open right now. Also, you have access to your chats and can answer new invitations at any moment. Yes, the chat is the main tool for interaction between you and horny birds. Not only to talk but to have a video chat also! Moreover, those sex queens make live streams! Provided you're too hard to wait for the face-to-face meeting, play with a sexy bitch a little online on cam.
Though, you'll open nothing on the site without upgrading your membership and getting fucking credits.
Start making contacts on Fling.com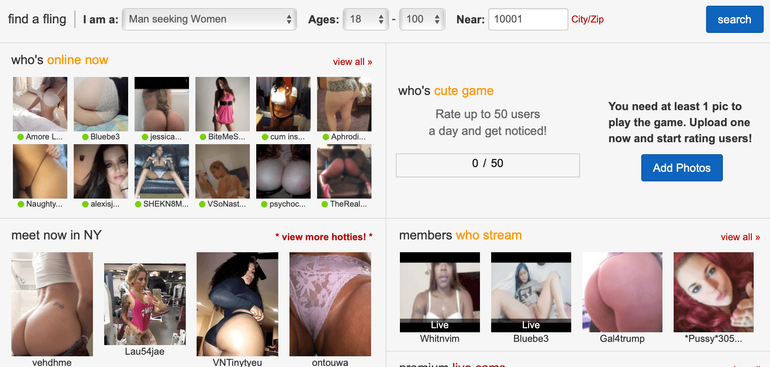 Advanced search with plenty of filters is one of the most important pros of the website. Particular, a member can search for other users by age, gender, online status, appearance, etc. You can even find people who are streaming right now or men and women who are looking for threesome .
Non-paying members see if someone sends them a message, but they cannot read it or reply.
Fling Pricing Policy
To chat, view babes' profiles, and open their damn hot photos you need to pay. Fling offers such packages:
1-month Gold membership: 34.95 USD per 1 month, 34.95 USD in total
6-months Gold membership: 11.66 USD per 1 month, 69.95 USD in total
One-year Gold membership: 9.90 USD per 1 month, 118.80 USD in total
Is premium membership worth buying? The answer depends on what features you are going to use.
Getting the cheapest plan you'll have enough time to test everything and to see if there's any pussy for you. If all works well, buy access for a month or even more — all depends on how much your cock can fuck.
Free features:
Sign up
Create and fill out a profile
Get notifications about the new messages
Participate in "Who is Cute"
See the members who viewed or liked your profile
Paid services
View users' profiles
Exchange messages with members
Watch webcam shows and chat with webcam models
Buy products in the sex shop
Use video chat
Fling.com special features
Although the number of free services is limited, the range of special paying features on Fling website is really impressive.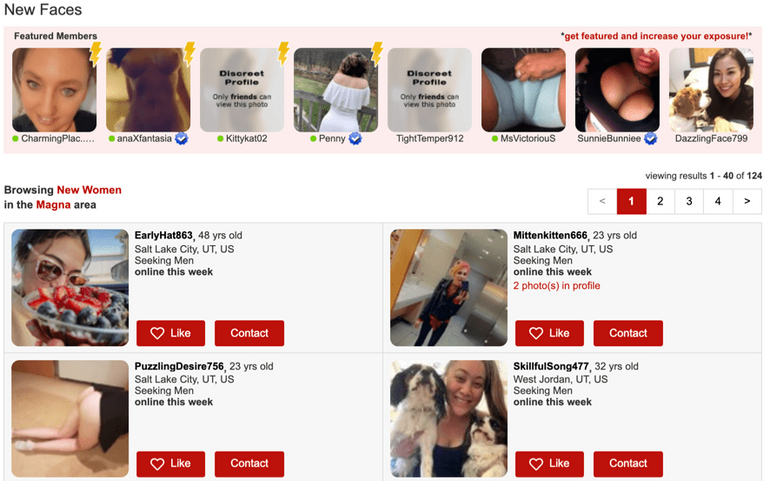 Users with premium membership can:
Use video chat. This is one of the website's most popular features and no wonder. Text chatting will hardly provide a user with the exciting experience that the video chat guarantees. Such kind of communication between the members has a lot of pros, actually. It is perfect to have some webcam fun or just to see a person you would like to meet in real life.
Enjoy webcam models' live shows . Non-paying members can view the webcam models' profiles, but that is all. Users with premium membership have more opportunities to have some fun with these gorgeous ladies, particularly exchange messages, watch live shows, and send requests.
Get three-month guarantee . This website is so popular because it provides its clients with guarantees of finding hookups. Everyone who has not found a hookup by the end of the three months, the company gives you three-month access to all paying features at no charge.
Make money on the platform . You can upload photos, make your own playful videos and sell them as the premium content through the platform.
Rate other users . Fling.com has a cool feature called 'Who's Cute.' The name speaks for itself: the paying members can view other users' profiles and decide who is cute and who are not. Members, who rate users regularly, are upgrading their own profiles due to the other people's marks.
Make purchases at the sex shop . The company has many partners, including the big sex toys shop. Thus, every member can buy various goods with large discounts. More importantly, the purchases are completely safe, i.e., no matter what you buy, it will show up as "innocent" items in the credit card statement.
Fling mobile app
Forget about it, buddy. There's no mobile app. But it doesn't mean you can't arrange a hookup date on the go. Fling has a damn good mobile version of the site where nothing differs from the desktop one. Just check your internet connection and search for juicy kitties!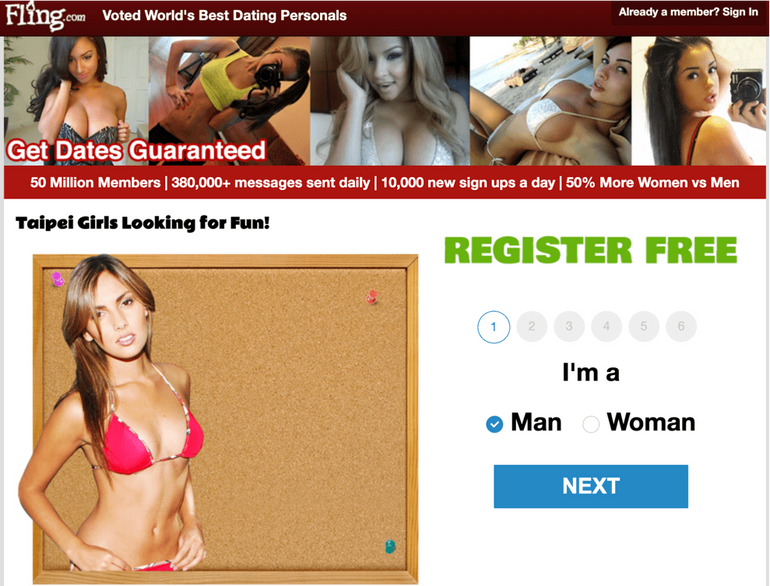 Is Fling a scam?
Dude, are you 13? Every mature man knows he's responsible for his life and actions. If you send money to a stranger, so she can buy herself new stockings to impress you on a date without even seeing her at least for once — what are you waiting for from the site? Administration promises to do everything possible to prevent fraud, but how the hell can they trace every fucking scammer? You can trust the site, but don't be an idiot yourself as well.
Fling Hookups Summary
To sum up, Fling.com is still the largest adult dating website for people seeking some fun and no strings attached. Various features help find potential partners or have some good time on the site. Security and anonymity are the company's top priorities: every visitor of Fling website can be sure that his or her personal data, including photo and video materials, can never be shared with any third parties. The access to all materials is limited as well. Even the purchase you make in the sex shop becomes completely "innocent" in the credit card statement. In overall, this is not the site where you can find your significant other (but who knows?) but a great platform to explore your sexuality and find people with the same interests.
Not only me, but numerous Fling reviews prove chicks here are horny as hell and waiting for a strong hard cock. Don't you want to show them how adults fuck? Give the site a little test with a cheap trial period and then upgrade the membership. After all, don't you want to feel the pussy's smell finally?
Total Score
Contact Information
| | |
| --- | --- |
| Company: | Global Personals Media |
| Address: | 705 Washington Ave - Miami Beach, FL 33139 |
| Phone: | 305-998-7777 |
| E-Mail: | info@globalpersonalsmedia.com |
Free Registration
Frequently Asked Questions
1. What is Fling.com?
Fling.com is an adult dating site with more than 50 million members from different parts of the world. The platform exists for people of all sexual orientations and gender identities. If you look for causal relationships, then the portal will be perfect for you.
2. How to sign up for Fling.com?
The registration process on Fling.com could not be easier. It will take about a few minutes to complete. Enter your username, age, and gender, as well as the gender of potential matches. You also need to provide an email where you will get your verification letter. After that, upload your photos. Fulfill a short questionnaire if you want your account to be popular among other users.
3. How much does Fling.com cost?
A fling.com user can buy only one type of membership. But you can choose the duration of your premium period on the site. Pay attention that the longer the period is, the smaller the price is for one month you pay.
1-month Gold membership: 34.95 USD per 1 month, 34.95 USD in total.
6-months Gold membership: 11.66 USD per 1 month, 69.95 USD in total.
One-year Gold membership: 9.90 USD per 1 month, 118.80 USD in total.
4. How to use Fling.com without paying?
You can explore a few features for free on fling.com. There are a few of them. But still, the website offers you something that you can check and have an impression of. The following features and services are among the free ones:
Signing up.
Getting notifications about new messages.
Seeing the member who has viewed or liked your profile.
5. How to get free credits at Fling website?
You are allowed to buy a low-cost trial membership. It will be available for a specified number of days. Your trial membership will upgrade automatically to the standard monthly premium plan. It will happen this way unless you cancel it within the trial period.
6. How many people use Fling.com?
This adult dating site has been working for over a decade. So, it has united a pretty big number of users. They look not for serious relationships and marriage. Instead, they seek something light and with no strings attached. There are more than 50 million users from around the world. On top of that, more than 700.000 users visit the platform weekly.
7. Is Fling.com trustworthy and safe?
A big team of professionals works on fling.com to make sure that its users feel safe. All the data you provide, personal and financial, is protected. It is not given to third parties. But the website asks every member to be a wise user. Follow some simple rules of personal security - never share any info or send money to people you don't know.
8. Can you delete the Fling.com account?
Yes, you can easily make your profile inactive by going to Profile Settings in the My Account section. In this case:
Your profile will not appear in search results.
Other members will not be able to view your account or contact you.
You will not be able to contact people on the site or use features like video chat.
All photos, profile information, messages, and contacts will stay saved anyway.
9. How can I know that the profiles are real?
Fling.com verifies the profiles of its users. If the account passed this procedure, then it will have a nice looking badge. It indicates that a user is real. It is done by the support agents who verify accounts by simply viewing users on a webcam. Everyone should do it as it decreases the level of fraud.
10. Is Fling.com worth the money?
Yes, it is perfect for the price you pay to use it. It is a safe, reliable, and new adult dating site that provides high-quality services. Features such as video chats, live cams, and even its sex shop make the experience more enjoyable.