WantMatures: Is It Worth It For MILF Lovers?
WantMatures has been up for years. Yet, it hasn't made any significant strides in its population. It caters exclusively to MILFs and men who love MILFs. The problem with this is it limits growth in the user base and could choke off the already dying company. They also aren't very innovative, as they have limited features. If you really need more info on if this is a site you should use, keep reading this WantMatures review.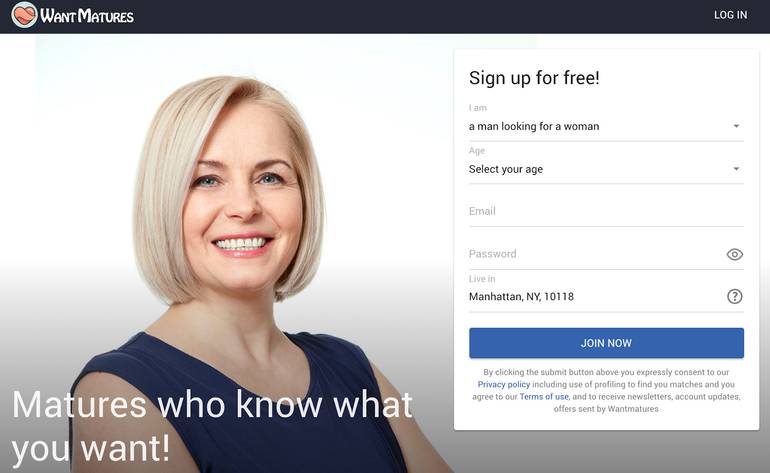 Great for MILF hunters
Easy to use UI
Website is inaccessible without an account
Majority of messages are from bots
Limited features
Mediocre pricing scheme
What is WantMatures?
WantMatures is a dating/hookup website meant to connect you exclusively with cougars and MILFs. The minimum age of women on this platform is 29, and the upper cap is 78. If you're into older women, this platform was designed with you in mind. The website is very simple in design, which makes it easy for anyone to use. However, you can't get into it without an account, and a lot of the users reek of being bots.
Member Structure
Member Structure
Members geography
43,000 from USA
Members activity
75,000 active weekly
How do you get started on WantMatures?
You get the option to sign up for WantMatures on the launch page. This is imperative because you can't browse the website without signing up. A form pops up asking for your gender, age, email and password. Your location is automatically filled out, but you can manually change it to give a different location of your choosing. This is good if you're planning on traveling and want to set up hookups in another city at a later time.
Once you've filled out the form, you need to wait for the verification email. Either tap on the blue "Confirm Email" button, or look for the activation code. Using this code on the popup at the WantMatures website activates your account as well.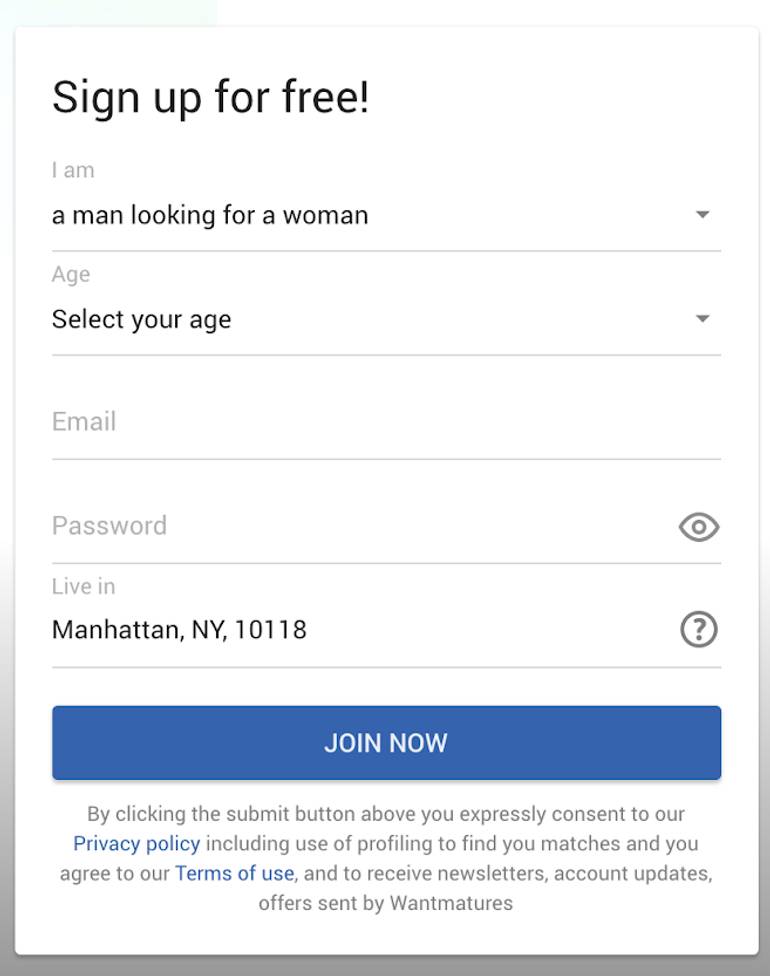 After your account is activated, you can begin creating your profile. First, you 're asked to add a photo. Clicking on the drop-down menu at the top right of the page brings up a little datasheet about you. You can fill it out with basic physical characteristics about yourself, as well as create a witty status and change your screen name.
What features does WantMatures have?
WantMatures is lacking in unique features, but here's what it does have:
Mass Messaging
In theory, this is a great idea. You could create a flirty message and send it to tons of women at once. It saves you from having to create a message for each chick you like and makes the ladies aware of your presence easily. However, in practice, it doesn't work so well. You can't create your own message. Instead, you have to randomize the message you send from a couple of prewritten ones. If you were a lady being hit on by cookie-cutter openers, knowing that it's a mass messaging service, you wouldn't feel special. You'd know it's lazy and wouldn't message that guy again.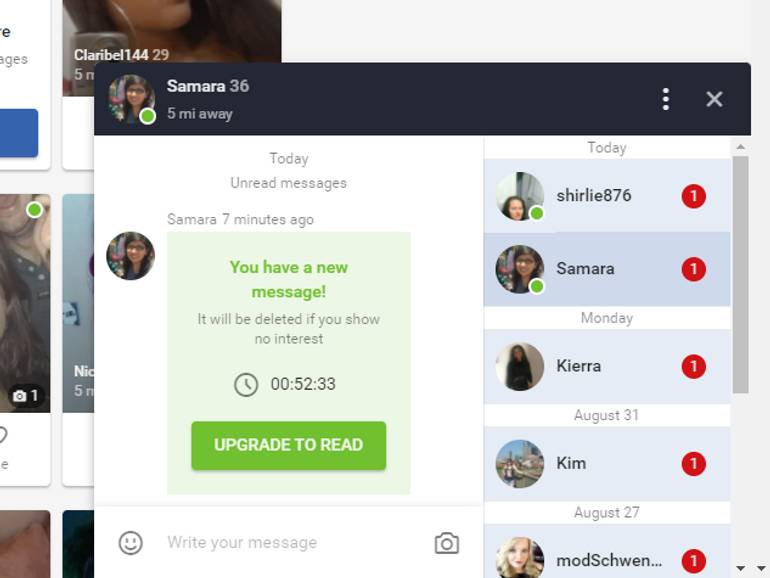 Search filters
The extent of WantMature's search filter functions is sad. It simply shows you who's online and who isn't, and lets you distinguish based on some physical features. Many dating platforms let the users list out hobbies and sexual interests, which makes it easy to find chicks you vibe with intimately. That isn't a thing on WantMatures.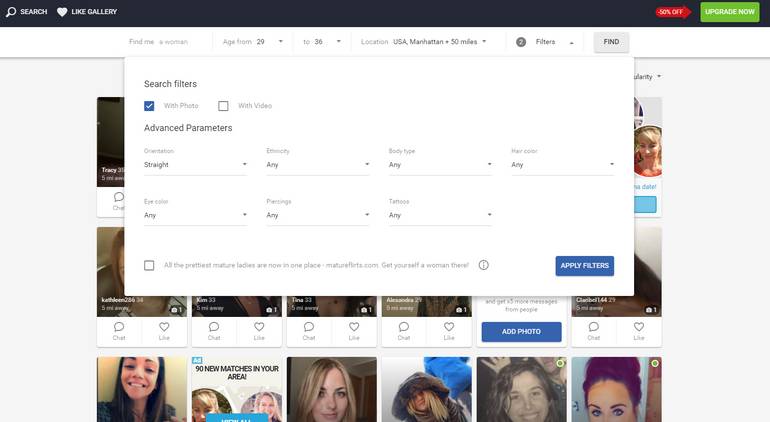 How much does WantMatures cost?
WantMatures has steep prices compared to other users, especially when contrasted with the bonus features offered:
With such high prices, you'd imagine you'd be getting tons of neat features. However, this is not the case. WantMature's big "draw" for bringing in paying users is giving them access to full-size photos. That's not a joke. That's really their biggest argument for buying premium! You'll be able to see a user's photo in max resolution, as well as see what kind of person they're looking for. You can also share videos and pictures in private messages, which is neat.
Is WantMatures legit?
Many of the profiles you come across on WantMatures seem to be bots. The very moment you create a profile, you'll get hit by dozens of messages. This is awfully suspicious because you have just signed on the site and have no presence there. You don't even have a profile picture or a detailed bio yet. Still, these supposedly hot ladies send you messages asking to meet up, sext and more. You will get spammed by these messages. Some messages can be viewed by free accounts, while others ask you to upgrade to a premium account to access them. These locked messages have a timer on them, but it seems arbitrary. Even if you let the timer run out, the messages don't get deleted.
Should you use WantMatures?
Even if you've got the hots for cougars, there are got plenty of better alternatives to use. Larger dating platforms that aren't exclusive to cougars offer just as many MILFs to bang, with better features and pricing. All you need to do is use any of the larger hookup platforms and set the search filter to show chicks of your preferred age group. This way, you've got the best of both worlds!
Total Score
Contact Information
| | |
| --- | --- |
| Company:   | NorthLock Holding Ltd |
| Address: | P.O. Box 146, Road Town, Tortola, British Virgin Islands |
| Phone: | 1-800-848-5413 |
| E-Mail: | support@wantmatures.com |
Frequently Asked Questions
1. How to use WantMatures without paying?
To use WantMatures without paying, you need to create an account. Once verified, you can start browsing the site. The extent of a free account is simply viewing different users, checking out their photos, and using some of the features available on the site like the search filters.
2. How to get free credits on WantMatures?
WantMatures does not offer free credits. However, it does offer regular discounts on its membership plans, as well as popup offers like an extra day on a membership plan.
3. How do WantMatures credits work?
WantMatures does not have credits. Instead, users can purchase premium memberships which are valid for certain periods of time. These memberships allow users to use the website without any restrictions for that time period. You can send unlimited messages and view pictures.
4. How long does it take to have my profile approved?
After you create your account, you have to verify it before you can start using the WantMatures platform. A message will be sent to your email with a verification link to click. This process will not take more than 5 to 10 minutes.
5. How much does WantMatures cost?
WantMatures can be used for free. But for the optimal experience, a premium membership is recommended. Premium memberships can be purchased at $0.99 for one day, and all the way up to $45.55 for three months. Bear in mind that these subscriptions are monthly recurring subscriptions, which is only mentioned in the fine print. Remember to cancel your subscription if you don't want to wake up to extra charges!