All You Should Know About Maturescam Live Cam Site
If you're hungry for mature experience, you'll definitely be into watching MILFs going all the way with their dildos, interactive toys, and kinky stuff. Maturescam.com is a perfect spot for you to meet them, get to know their dirtiest desires, and help fulfill them all. It's a slick, simple, and stylish platform where you'll find deliberate and well-groomed model profiles, lots of sexy mommies, and great pastimes. Why don't we look deeper into it?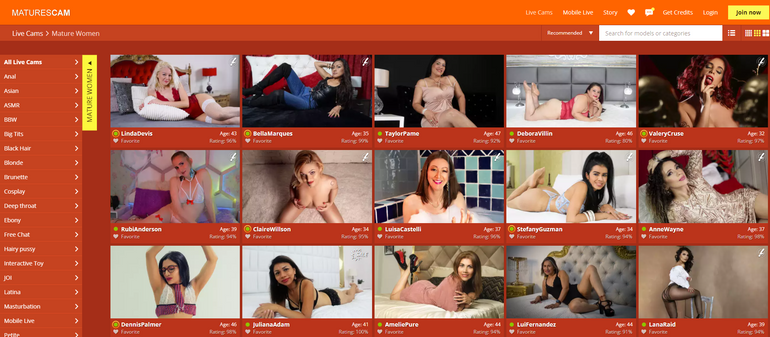 Simplified design
Useful model status icons
Over 20 search features
Interactive toy controls
Various show types and broadcasting platforms
Paid Premium content
Payments for credit packs required upon registration
Limited number of communication tools
No search by location
Maturescam is a top place to find as many slutty MILFs as possible. There are not only hot pieces of ass aged 30+ but also lots of cool features that will make your journey down the MILFyland more exciting and outstanding.
Member Structure
Member Structure
Members geography
51,000 from USA
Members activity
69,000 active weekly
Top features of Maturescam.com
Maturescam provides a full range of features that'll make your experience even better. Here, you'll find old hotties who fit any preference and fetish, who'll blow your mind away with all those tricks. But it's not only MILFs that add to your experience but also the website's features. Let's see the main ones!
Private shows. What webcam site could gain much popularity without a private show feature? Most hot MILFs here are real sex machines and can go really dirty while on a 1-to-1 cam show with you. Don't underestimate them, these chicks know how to leave a great first impression. In their profile bios, you'll see what they prefer to do in private rooms, so you might use some ideas from there or come up with your own. But before you do, ask if a woman's ready to perform this—otherwise, it'll be just a bone-killer.
Multiple search features. From appearance features to show types, you'll find whatever you're looking for on the left sidebar on Maturescam live cam site. VIP shows, Cosplay, Deep Throat, Interactive toy, and many others are waiting for you here. Try experimenting with performances, watch something new, and let your emotions burst—these bitches will make you cum instantly!
Model previews. I usually thank god for two (technically three) things: boobs and model previews. Thanks to these small status icons, you may see if the model's worth watching. For instance, you see a model's rating, how many people left their reviews, her age, online status, and some other indicators like if it's a mobile broadcast, a new model, or if there's an interactive toy control available.
Various show modes and content types. MILFs on this website may perform from basically any spot on earth: their kitchen, shopping mall, karting center, while riding a bike, etc. How come? They're using a smartphone, and there's even a whole section dedicated solely to that. This is useful for the guys who prefer watching some boobs on a smaller screen at work, while on the road, or whenever it's more convenient to use the phone. Plus, these gals can even post stories here showing how they're doing. And yes, they also upload various photos and videos (both free and paid) so that you could see more and jerk off looking at their photos when your favorite chicks aren't online.
Various interaction tools. Virtual gifts, surprises, private chat rooms, mic and webcam on—here's how you may interact with Maturescam models online. They're happy to see people's faces and have kinky fun. Plus, it's a great way to gain some trust points from a MILF of your dreams.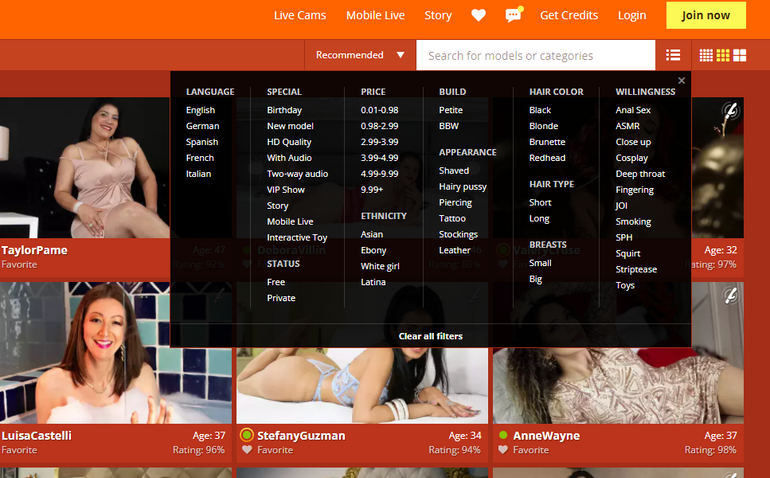 Models on Maturescam.com
Hot Latinas, pervy Asian, hot Slavs—you'll find any type of woman here! With such a big variety of models and show types, you won't leave this website for a while, that's for real. And yes, they use interactive toys just like their younger colleagues. These MILFs love playing with their sex toys, using BDSM techniques, and even perform such shows like hot waxing or oil spills (which are literally hot and risky). What makes these sluts hotter than youngsters is that they know what the man wants and how to please him in the most passionate and perverted way possible. You don't lead the way—these babes know where to go. Oompf, that just gave me a boner!
If you're having trouble finding a perfect MILF to watch at first, here are the top-3 oldies who'll impress your weenie (no BS, I totally spaced out when I saw those perky boobs and busty asses):
Pricing on Maturescam live cam site
To get all sorts of satisfaction with horny mommies on Maturescam, you gotta spend some money here. You won't be able to use the platform even when you've registered an account if you haven't paid for the credit package first. These packs aren't too expensive and offer an optimal amount of credits in each of them. Credits will help you communicate with the hotties and shower them with love and affection through various gifts and emojis.
If you're eager to start using Maturescam.com and explore the world of kinky MILFs right away, here's the price list to begin with. What's cool is that you don't necessarily need to pick one of these packages. Maturescam allows you to enter a custom amount if you want to test the platform first. This feature is available right below the main credit packs list. Just type in the suitable amount, and you'll see the final price in a sec.
Maturescam live cam site is a nice platform full of juicy pussies, hot MILFs, and nasty shows that blow everyone's minds away. Here, you'll enjoy easy-to-follow site navigation, great interaction tools, moderate prices, and a good time together with slutty chicks. If you think older women can't do anything sexy, get ready to be proven wrong!
Total Score
Contact Information
| | |
| --- | --- |
| Company: | JWS Americas S.à r.l. |
| Address: | 44, Avenue John F. Kennedy L-1855, Luxembourg |
| Phone: | (+352) 20 88 27 91 |
| E-Mail: | help@maturescam.com |
Free Registration
Frequently Asked Questions
1. How to get free credits on Maturescam?
You receive free credits when you purchase a credit pack for real money. It's a nice feature since you get more credits you actually pay for. To get free credits, you should be a newly registered member. Once you've got a new profile, you receive a bonus amount of credits. You may also use a coupon code for that matter. You're also able to receive a coupon code or extra credits after a specific amount of purchases, and you'll see how many of them are left in your account menu.
2. How do credits work on Maturescam?
Credits work as a virtual currency here. They allow you to order private shows, tip models, order performance and interact with the models and content they upload. Credits also help you unlock premium photos and videos invisible to free users and send gifts to your favorite models.
3. What payment methods does Maturescam accept?
Maturescam.com accepts various payment types and over 50 cryptocurrencies including Bitcoin and Ethereum. You may also choose from debit/credit cards, WebMoney, and Paysafecard. All payments here are encrypted, so you won't risk losing your private information and payment details.
4. How to do cam to cam on Maturescam?
If you've decided to go on a private show with a particular model, make sure you have enough credits first. Top up your credit balance and go to a page of a desired model. Below her streaming screen, click on the "Start private show." After a model has confirmed your request, you may start chatting.
5. Is Maturescam legit?
Yes. Maturescam.com is a safe and legit platform where you'll only interact with real-life models, enjoy lively communication, and be sure about your private data safety. It offers encrypted payments, 24/7 live support, and no extra fees or hidden commissions for usage—it's a transparent and reliable website. Here, every model goes through verification, and all the pages are moderated to protect both visitors and performers from abusive behavior.