Peekshows.com Review: Saucy Babes And Dirty Cams
Got a penchant for live cam sluts? You're wasting your time on those other sites with basic bitches who think spanking their butt counts as kinky. You want real whores, chicks that know how to please their men. Peekshows is where you'll find it, and buddy, you're never leaving once you get there. You're gonna be stroking that dick thinking it's their holes wrapped around you. Get ready for a wild ride.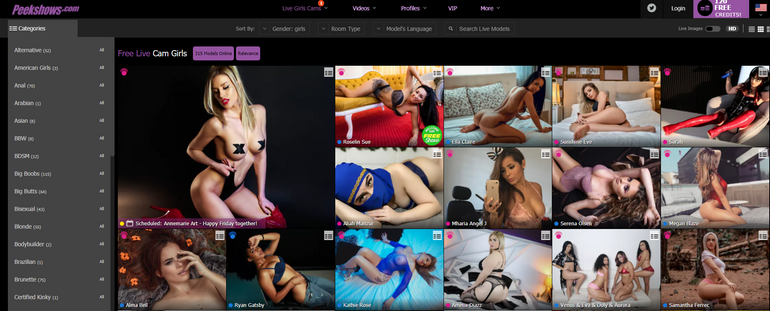 Tons of different shows
VIP benefits
Availability of Feature shows
Video thumbnails
Generic cam site aesthetic
Low ease of navigation
What features does PeekShows have?
This ain't any old run-of-the-mill sex cam site. Peekshows com has standards, and they back it up with hot babes and great features.
Feature Shows
The sexiest camwhores perform here, and it's affordable even if you're straight broke. Feature shows are hour-long scheduled shows. It costs just 30 credits per minute unless you're a VIP. Those perverts get free access.

Show Calendar
Are you a busy dude? You still need a wank, even if finding free time is hard. When you finally do get a moment, you spend an hour searching for the best chick to beat your meat to. The Show Calendar eliminates that. It shows you all the special performances scheduled for the week and even contests you can take part in. There's also a timer showing you how long it'll be till the next show starts.
Flirt Rewards
This system rewards the most active and social pervs on Peekshows. The more you message cam stars, talk to other users in public chats, tip, and flirt, you'll get Flirt points. You can redeem these points for special promo codes, video passes, and plenty of other prizes.
Member Structure
Member Structure
Members geography
233,000 from USA
Members activity
86,000 active weekly
Top 3 cam models on Peekshows com
How much does credit packages cost?
Depending on how much you're gonna spend, you can choose any from the following packs:
What show types are available, and how much do they cost?
If you thought it's just free and private shows, you're dead wrong bucko. Peekshows is elite, and they're gonna smother you with options the way you'd want a big titty chick to smother your face:
Party Chat. These are public shows that anyone can join for free. You can tip the camgirls to get a bit of extra action though.
Standard Shows. These are the Peekshows girl privates, where you cam with your favorite whore for 30 to 60 credits per minute.
Premiere Chat. Premiere models are the top chicks of Peekshows com. These bombshells can put Vogue models to shame, and private shows with them cost 70-500 credits per minute.
Multi-User Show. It's a private chat, but there's more than one viewer. Only paying members can watch, so think of it as an exclusive club. It'll cost 10-120 credits per minute.
Feature Shows. The most popular chicks perform scheduled shows, you can join for 30 credits per minute. The best part? It's free for VIPs. Each feature show is one hour long.
Group chat. The cam girl creates a credit goal viewers can contribute to. Once it's attained, all that jerkers get to watch a private show with the model, where their contribution is basically the payment for a ticket.
Offered show. If you're into bargaining, this is for you. You can negotiate a price and time for a cam show with a model, and if you both agree on the specifics, the show starts!
Voyeur mode. Is the slut you wanted to watch in a private show now? You can peek in with voyeur mode for 10-40 credits per minute, but you won't have audio or text chat. This is the only show type that doesn't have a VOD available.
How do you become a VIP member?
If Peekshows keeps your cock hard and balls empty, consider becoming a VIP member to get all the tasty bonus benefits. Click on the "VIP" tab at the top. It'll cost $39.95 and 150 credits per month. What does it offer you?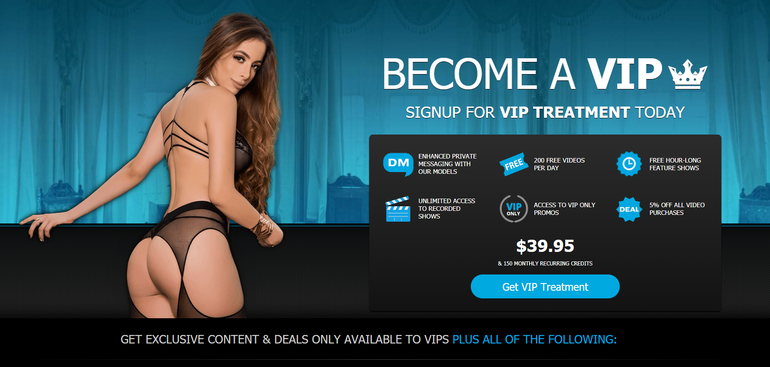 VIP Exclusive benefits
Free hour long feature shows
200 free videos per day
Enhanced private messaging with the models
Exclusive content and deals
VIP Inclusive benefits
Send and receive pictures directly from models
Change your font color in chats to stand out from the crowd
Enjoy free video previews on all videos
Use larger screen sizes and emoticons in chats
Enjoy unlimited free chat and personal nicknames
Get free credits for referring customers and new performers
Join multiple fan clubs for the cam girls
Get notifications when your favorite chicks start streaming
Earn and spend flirt game points
Is Peekshows a good place for your horny cock?
From first sight it might look like a generic cam site. Good news: that's the only downside. Everything else about Peekshows.com is excellent. The vast number of show types to suit your needs and budget, the Flirt Rewards to bolster the community, and whores of the highest class and dirtiest manners. It's a guy's dream come true, so why aren't you living it yet? It could be you getting ravished by those camsluts!
Total Score
Contact Information
| | |
| --- | --- |
| Company: | VS Media, Inc |
| Address: | 4607 Lakeview Canyon Rd. #338 Westlake Village, CA |
| Phone: | 1-800-685-9236 |
| E-Mail: | customerservice@vsmedia.com |
Free Registration
Frequently Asked Questions
1. How does peekshows.com work?
Peekshows is a cam site where you can watch a majority of the shows for free. There's also lots of show types that require payment or are free with VIP membership. You can also purchase videos created by the models and send tips and gifts to them.
2. How to get free credits on peekshows.com?
When you first create an account on Peekshows, you'll receive 120 credits. You can also receive credits for referring paying viewers and for bringing in new cam girls to perform.
3. How do credits work on peekshows.com?
You can use credits on Peekshows to purchase a variety of different shows. Or you can spend them to purchase gifts for models, send them tips, or buy a VIP membership.
4. How to get credits on PeekShows?
After you've created an account, click on the drop-down arrow on the top right, next to your account balance. Select the option for more credits, and choose a package that suits your needs. Your credits will appear in your account shortly after you make the purchase.