SexLikeReal Review: Why Did It Fall So Short?
Extremely well-designed
Lots of content besides cam shows
Dedicated app available for VR headsets
Premium doesn't grant you complete access to some videos
Some models aren't enthusiastic about the shows
Despite being a good premise, SexLikeReal falls short of delivering the experience everyone desires. It's made for VR headsets, but there aren't enough models performing to bring in variety. Those who do perform don't have the best equipment, and you feel like you're just watching a normal cam show. That's not the experience you paid money for. Let's get into more details and find out whether this platform is a good suit for you.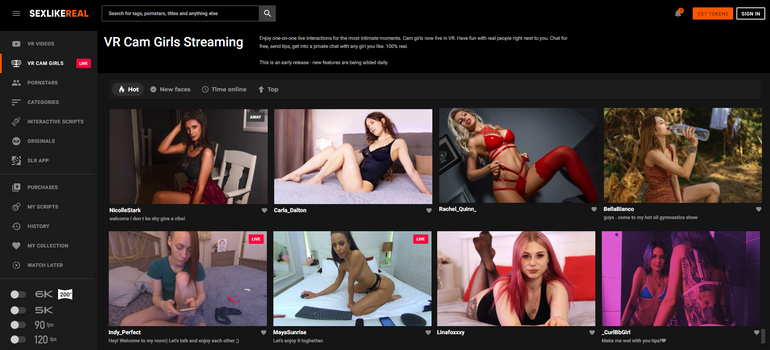 Member Structure
Member Structure
Members geography
352,000 from USA
Members activity
178,000 active weekly
Which SexLikeReal cam models should you definitely watch?
These ladies are the few you don't wanna miss out on:
What can you do with a SexLikeReal free account?
Creating a SexLikeReal account is a convoluted process, to begin with. Once you've created an account, you only have access to the cam shows. The other aspects of the sites such as the interactive scripts, VR videos, pornstars, and original shows are locked so only SexLikeReal premium members can access them. They've got all these goodies, but they're locking it behind a paywall. Some other platforms might offer the same services for lower prices or even free, bud.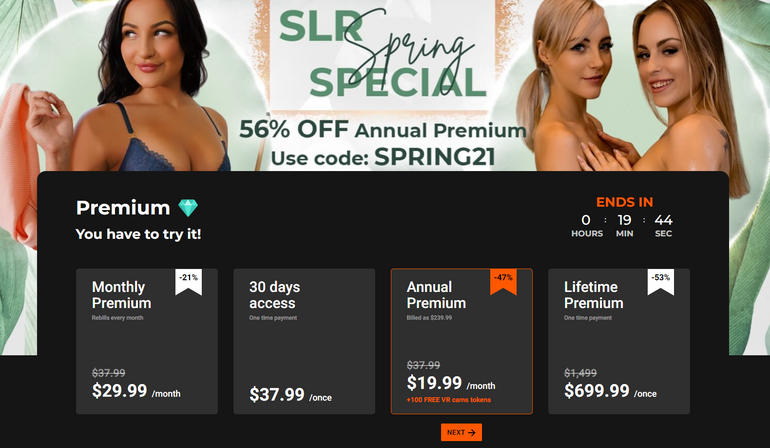 Why doesn't SexLikeReal live up to the hype?
Despite being heavily marketed as a VR cam site and being made compatible for VR headsets, SexLikeReal has one big downfall. All the cam models broadcast their streams using normal cameras. When you put on the headset, you can only watch one perspective, and it isn't even a POV. Very few models put in the effort to make the shows look interactive. When you're watching a cam show with a VR headset, you want to feel involved, as if you're in the room with the cam girl. That just doesn't happen on this platform. Ladies will lay down on their beds with the camera on their desk, and you realize you may as well be watching on a normal monitor. You'd be a dummy to see all that, and still want to spend money on a membership.
How many models are on the platform?
There are usually around 20 models performing at any time, but the traffic the site receives is low. The highest number of viewers a chick gets is usually around 13. Compare that to other sites where each cam girl can have thousands of viewers, this doesn't look impressive. You don't wanna be one of those chumps that fell for sunk cost fallacy, right?
Are the model profiles on SexLikeReal any good?
The most important part about a VR cam show is to make it as close to real-life as possible. This is made even more real by getting to know your cam model. This is why it's disheartening to see there's no discernible model profile. There are dozens of cam girls, and the most you can learn about them without chatting is their age. Any other cam site you check will have at least a mediocre profile for models, but there's a complete lack of it here.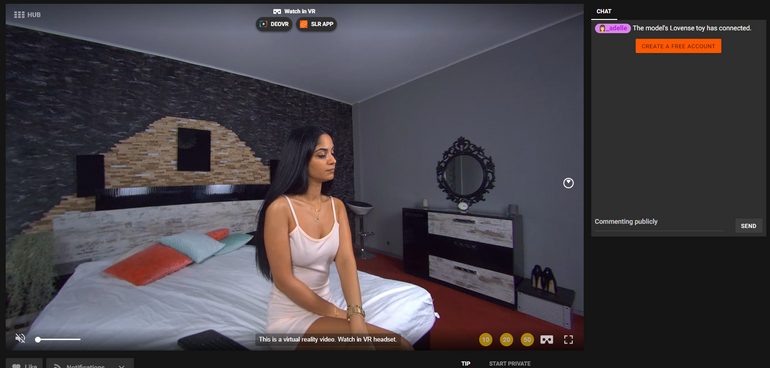 On the contrary, pornstars profiles are much more descriptive, and you can see how many guys like you have favorited them.
How to search for cam girls on SexLikeReal?
Being able to find the perfect cam girl for your wank session is vital. SexLikeReal disappoints because it doesn't have any sort of categories for cam girls. But you can use dozens of tags to sort all porn videos out. Some examples are cum showers, BBW, gagged, and many more.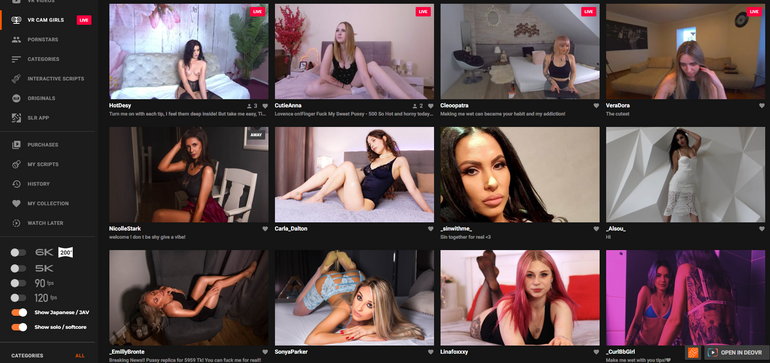 How expensive are tokens on SexLikeReal?
You can use tokens to purchase videos, give tips or get private sessions with VR models of your choice. Here's how much it costs:
The acceptable SexLikeReal type of payments are through credit cards like VISA and Mastercard, PayPal, and Discover. The site also accepts payments made using various kinds of cryptocurrency.
How does the SexLikeReal premium work?
Getting a premium account grants you access to most of the VR porn library. You get over 14,900 videos with real pornstars, and you can watch videos in resolutions up to 8K, with 120FPS and a field of view of 200. These are the payment plans you can choose from:
Monthly subscription which is rebilled every month: $29.99 per month. You get 100 free VR cam tokens as a bonus.
30-day access as a one time payment: $37.99.
Annual subscription: $239.99, at $19.99 per month. This also gives you 100 free VR cam tokens.
Lifetime subscription: $699.99 and +100 free VR cam tokens as a bonus.
SexLikeReal offers only VR cams and VR porn. Since most of the cams are very generic and look like you're watching a normal cam show on a computer, you may as well find a site with better features. Pay this one a visit and make your own conclusion.
Total Score
Contact Information
| | |
| --- | --- |
| Company: | SLR Premium subscription |
| E-Mail: | sexlikereal@support.com |
Free Registration
Frequently Asked Questions
1. What is SexLikeReal?
SexLikeReal is a camgirl and professional porn platform dedicated solely to serving customers with VR headsets. Anyone can watch them even without a VR headset, but the whole platform is purely designed around giving a real-life experience to its viewers.
2. How to register on SexLikeReal?
Launch the SexLikeReal page, scroll the page to the bottom, and then tap on "Free account" at the left segment of the screen. Fill out your email, username, and password. You'll be automatically logged into your account.
3. How to watch private on SexLivePrivate?
Open the VR Cam Girls tab on the left of the page. Select a cam chick you like, and open her stream. Below their stream, there's a button to start a private session. When you tap that, it'll show you how much you'll have to pay per minute, as well as the minimum amount of time you have to spend in the private session with her. If you're okay with the prices, you can request a private session, and wait for the cam girl to accept.
4. How to remove an account on SexLikeReal?
After launching the website and signing in, tap your username at the top of the screen, and select "Profile". Next, select "Account Settings" and you have the option to delete your account at the bottom of the screen. Once you input your password and confirm, your account will be permanently deleted.