SoulCams Webcam Platform: What Is The Site About?
Hundreds of models registered on the platform
Free videos and cam shows
Regular contests available to vote in
High prices on private shows
Lack of unique features
SoulCams is a webcam site trying to compete with giants, though it doesn't offer anything new to the table. It has a selection of pretty cam chicks, but there's nothing in the way of unique features, or even bustling traffic. It offers many token packages which look appealing at first glance. But compare it with the prices you're charged for private shows, and you'll realize it's a rip-off. To know if this is the site a stud deserves, read on.
Member Structure
Member Structure
Members geography
272,000 from USA
Members activity
167,000 active weekly
Who are the most popular SoulCams models?
These are the most followed SoulCams models of the past year:
Why can't SoulCams compete with other cam sites?
There are 2 main reasons you'll pick one specific cam site over another one: they either have lots of exclusive models you prefer or unique features which set them apart from the competition. SoulCams has neither of these. It's clear to see this site doesn't receive much traffic because even the most popular cam girls only have 185 followers. The site doesn't have any exclusive models, and the only really fun features it offers are some contests, which plenty of better sites also have. Though you can watch some videos posted by models for free, they never have any nudity in them. Would you really be the dummy who sticks around for a site with such low traffic and barely any nude scenes?
How many models are on the platform?
Soulcams.com boasts well over 900 registered models, but it's a feat to find even 10 cams online at once. At the time of reviewing the platform, there were just 6 cams online. These weren't even popular models, because the biggest one only had 15 followers. It's clear that both viewers and models have left this platform to find greener pastures. As a viewer, you don't wanna browse through twenty-something pages trying to see how many models are online. You've got your dick in your hand. You wanna open the website and start jerking off as soon as it launches. SoulCams isn't the place you can do that in. Many cam girls choose to stream on multiple platforms at once. A determined fapper can easily find the same cam slut on a better platform, so why should you settle for something that's not the best?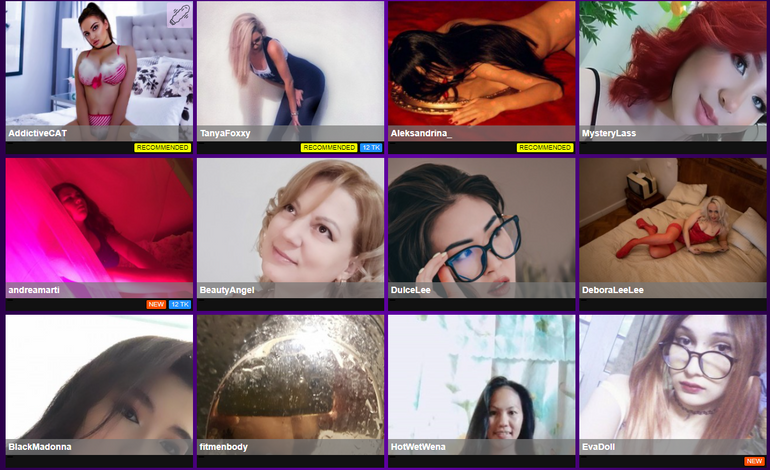 How detailed are SoulCams models profiles?
SoulCams does offer a segment below the stream to show off the model's profile but rarely is it filled out. The few remaining models usually have just one photo on their profile, which is their profile picture. The "About" section will be blandly filled out, with some girls not even mentioning their height or weight. It's almost like they don't care about retaining your interest. Even pervs have high standards! Show them you mean business by taking your business elsewhere.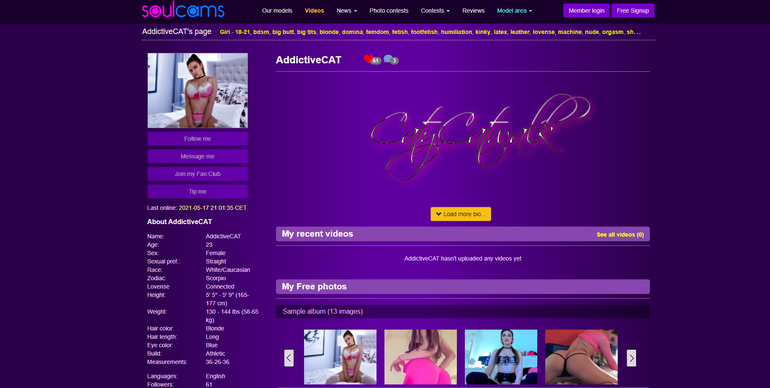 Is the search function reliable?
This platform doesn't have a search function to speak of. There's a search bar, but you have to know the name of the specific model you wanna watch for it to work. If your dick is hard, and you're aching to stroke it to an Asian babe, you'll have no choice but to manually go through each page, painstakingly checking to see if there's anyone who fits your criteria. That would easily kill your boner. It's a simple feature the team at SoulCams has overlooked. Some models will have tags on their profile, but clicking on them simply brings you back to the home page. They're just sending you in circles, and you're left there with a dick in hand.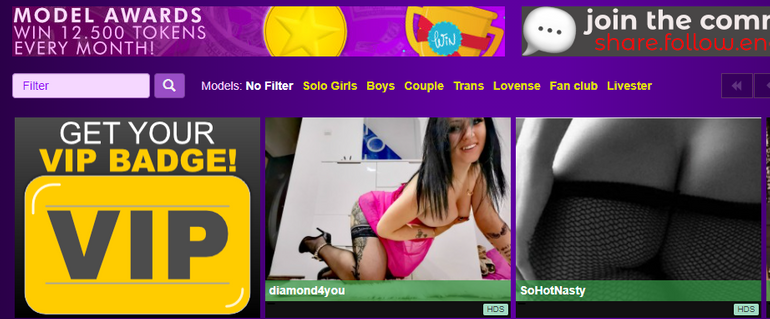 How much do tokens cost on SoulCams?
At SoulCams.com, you can buy tokens in packages :
You get 150 free tokens on top of your first purchase by buying any pack above 200 tokens.
While these token prices look attractive, remember that a standard private show costs 15 tokens per minute. You have to spend almost $1.50 for one minute of one-on-one action. That's just for one of the cheaper models. Some girls charge 100 tokens a minute for a standard private show, and 200 tokens for a true one-on-one session. This price gouging makes it hard to justify getting a premium account on the site, and you'd have to be a dumbass to put your credentials here.
Does SoulCams have a premium membership system?
Soulcams.com does offer a VIP membership system, but it's expensive to get into. At first glance, the site says the month-long membership costs just 300 tokens, which is $29.99. That's affordable, right? However, the fine print says you need to have bought 5000 tokens already to even get the opportunity to become a VIP. Suddenly, the price has gone up from $29.99 to at least $460. Bear in mind, once you've become a VIP, you still have to pay the same prices as basic members to watch private shows, purchase media and send private messages. It's just not worth the effort to become a VIP on this platform. Here are the benefits you get for becoming a VIP:
Receive priority customer support
Get a special badge and have your username highlighted in chats
Have a special sound played whenever you join someone's room
The value of your votes for contests/ratings are doubled
From the first glance, SoulCams webcam makes an impression of something fresh and new. But digging deeper, you realize not always new means quality. The site either lost his viewers audience or haven't earned it yet. Visit the platform to make your own conclusions.
Total Score
Contact Information
| | |
| --- | --- |
| Company: | Fluffy Stone Media GmbH |
| Tel: | +1 310 664 5810 |
| E-Mail: | support@soulcams.com |
Free Registration
Frequently Asked Questions
1. How to get tokens on soulcams.com?
Once you've logged into your account, click on the yellow "Buy tokens" button next to your username. It opens a popup showing you several packages to choose from, as well as multiple different payment methods. Choose a package that suits you, select either credit card, PayPal, or wire transfer in the payment methods, and click "Next". Fill out the details, and you'll receive your tokens when it's done.
2. How to get soulcams.com tokens for free?
Check out the "News" tab on the SoulCams webcam page regularly. There are new posts that discuss giveaways and promotional discounts which you can dip your hands into. The more often you check this section, the more chances you have to notice a possibility to save on tokens, especially during holidays.
3. How to do cam-to-cam on SoulCams?
Once you've selected a cam model to watch, open her stream. Click on the green "Show Cam2Cam" button to enable it. A popup will appear on your browser asking for permission to use your microphone and camera. Once you give access, you'll start broadcasting yourself with your audio to the camgirl. No one else will be able to see/hear you.
4. How does soulcams.com work?
SoulCams is a sex cam platform where you can watch cam models strip and tease viewers for free, or alternatively pay for one-on-one sessions to get some real alone time. Private sessions cost tokens which can be bought in packages.
5. How to delete a SoulCams account?
SoulCams doesn`t offer its users the ability to delete their accounts. Once created, your account will permanently be registered on their platform. It`s unclear whether SoulCams deletes inactive accounts.