Why We Can't Watch Spygasm Videos Anymore
This will be a no ordinary Spygasm review, and you probably know why. It was temporarily shut down in May 2019, but it doesn't seem like they're going to renew its work any sooner. Although it's been quite a short ride for the platform, Spygasm videos left a memorable mark in the webcam industry. Let's see further in this review why it's so and what we remember about this cam site.
►You can still enjoy horniest cam girls at CamSoda.com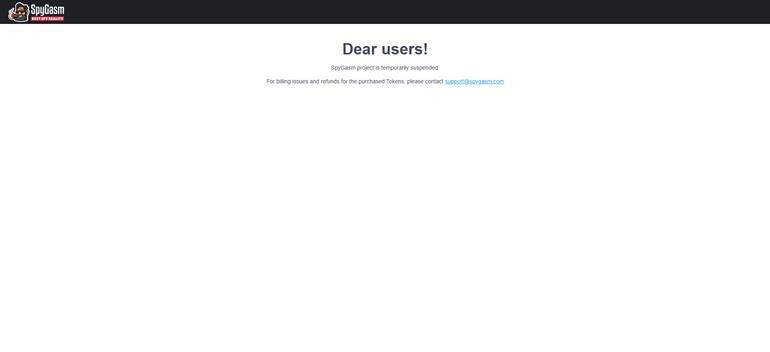 What the Spygasm cam site was all about
Spygasm was a project by the Bongacams team launched in 2018. The website operated in Europe and Colombia, where the administration moved all of the website's assets later on. It used to be a promising voyeur cam site with a slightly different approach to live cam shows than other platforms. Spygasm reviews claim it kicked off setting up 100 (later 150) cameras in 10 apartments so that visitors could see every drunk hookup, every kinky masturbation, or toy play on air. No pre-recorded videos, no fake actors—everything was real and really easy to approach.
Even though the website was such a success, its Premium subscription used to be surprisingly expensive for such a scope of extra features. For $40 a month, users got full access to all the rooms and streamers, private shows, full-screen mode, the ability to watch up to 4 shows at the same time, and so on. Considering the fact there was always something to watch on the website, lots of users joined a paid plan on Spygasm with pleasure.
Why was Spygasm cam site shut down
In May 2019, the website's administration removed all the data from the platform and left a short message saying Spygasm is now closed for an unspecified reason. However, the owners left a support email to ask for a refund and resolve billing issues. It provoked various conspiracies around this case, so people started guessing why such a successful yet fresh platform had to stop operating.
Some assumed the website was shut down by the police due to violence reports, some believed it's gone bankrupt. Eventually, the website fans got their reply. The Bongacams administrators stated there were some issues caused by registering documentation for the users. That's a huge bummer, but hopefully, Spygasm videos will come back to life soon and please us with more live shows and a spicy voyeur experience!
Frequently Asked Questions
1. What is Spygasm?
Spygasm used to be a voyeur cam site that provided live streams from over 150 different cameras in over 30 apartments. Visitors could see a variety of sex scenes, from traditional to hardcore ones, control interactive toys, and communicate with performers. It gained extreme popularity because of its unique concept of setting up several cameras in one apartment and observing what was going on in different rooms.
2. How does Spygasm work?
Spygasm wasn't an entirely free cam site, so you had to get a free profile and then purchase a Premium upgrade to enjoy the platform to the fullest. However, it still worked as an ordinary adult website where you could watch live voyeur shows, communicate with performers, send them tips, and even control interactive toys enabled by most of them.
3. How to register for the Spygasm cam site for free?
Spygasm has always offered free registration. All you had to do was enter your email, username and create a password. Although it didn't open up all the features, you still could watch voyeur cams, browse most of the streamers available, and look through the weekly digest to see the best-performing shows.