Mycams Webcam Site Review: Best Features Of My Cams.com
You can never get enough of adult cam sites, trust me. Every one of them is unique and has something cool to offer. Today, we'll talk about Mycams and its best features. It's slick and convenient, with a great interface and large model base. Let's dig a bit deeper and see why else Mycams.com is so popular and nice. Time to get to the study!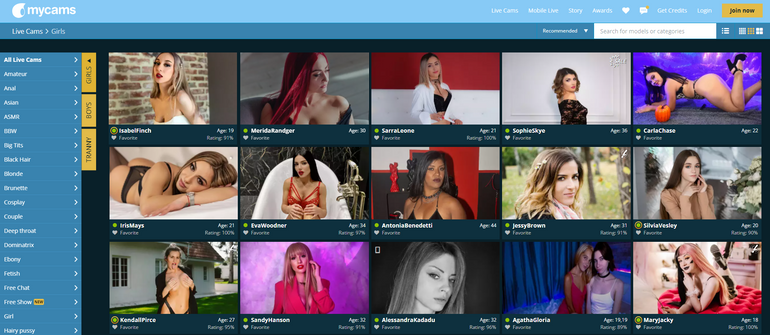 Helpful model thumbnails
Extra content uploaded by models
User ratings
Extended search options
HD cam quality
Some content requires payment
Pop-up ads appearing time after time
Credits required to proceed with registration
What you should know about Mycams online webcam site
Mycams live cam platform is a perfect meeting point for horny guys and sexy models who cater to your every need. It's a stylish and useful platform for newbies, professional models, and webcam lovers. What makes Mycams stand out is its great variety of search categories, deliberate model thumbnails, and custom payment options that allow you to choose the desired payment method and number of credits right away.
But that's just a brief explanation of what Mycams.com is. Let's have a deeper look at the platform and its main advantages. You're gonna love it, dude!
Member Structure
Member Structure
Members geography
33,000 from USA
Members activity
57,000 active weekly
Main features of Mycams
The platform is full of cool and useful features every dirty pervert on the planet will love. You get advanced search features, all types of models you can ever think of, and unlimited opportunities in communication. Here's what else Mycams.com can offer you: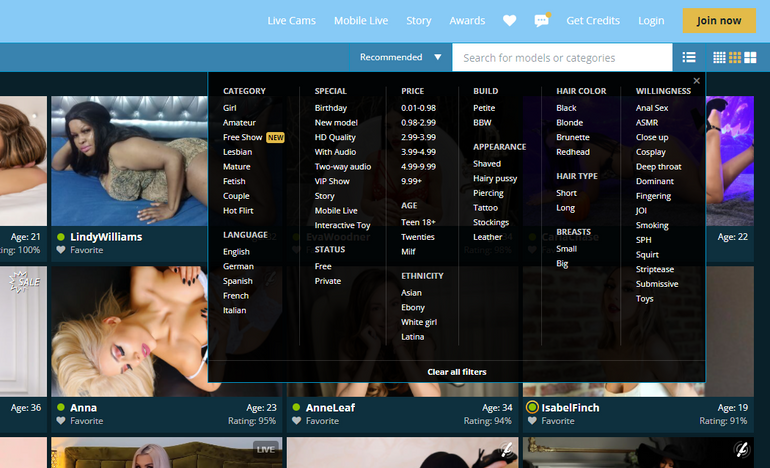 Diverse model types. No matter if you like gals or dudes or get turned on by trannies, Mycams live cams have them all! You easily switch between these three model types and enjoy dedicated categories of your choice.
Multiple search categories. If you're picky as fuck, you'll love search tools represented here. Mycams webcam site took care of convenience and fast search for all its members, so you'll see any type of models available here right on the left sidebar. There, you'll find any sort of features, physical traits, fetishes, and show types that will match any taste and preference.
Various ways of interacting with models. Here, you're free to choose any way you want to interact with the models (you can do it even without their participation!). Mycams.com allow you to send emojis and gifts to your favorites, drop them a message, request private shows and performances you'd like to see, and even see some private content uploaded by them. Many models share both free and paid pics or videos, so if you want to see not only nice selfies but action too, you should pay. Still, it's a nice way to encourage more visitors to see the model's page. Who knows what they'll upload next!
Top Mycams models
Here at Mycams, you'll find any type of model you've ever thought of. Even if you're more into horny guys or love watching trannies go bananas, you got this! Mycams webcam site encourages everyone to participate in this celebration of life, so you get three main categories and a lot of "subfolders" where you can specify your desired model's fetishes, physical traits, type of show, etc.
Mycams live cam girls have various tags and characteristics, so you search them by such features as Petite, Submissive, Squirt, VIP show, and so on. It's cool the platform doesn't limit itself to only physical traits and basic fetishes, so you'll find exactly what you want here with no waste of time.
Even though you can have fun with basically anyone here, most Mycams site users are more into girls, hence there are way more female models and dedicated show categories. And yes, I couldn't help but search for the kinkiest bitches around. These ones are the coolest, no matter if you're a newbie or an experienced webcam lover—these gals please anyone they see in their rooms!
Pricing on the Mycams site
However sucky it sounds, you can't use Mycams without buying credits and without registration. Here, you practically can't do anything (except for watching) if you're a new member and want to use the platform for free. Hence, the website's team decided to simplify this for you and added an instant payment page where you may get a suitable amount of credits once your email, nickname, and password are good to go.
Below, you'll see the price list for credits at Mycams.com. All payments are encrypted, and you can use various payment methods. WebMoney, credit/debit cards, Paysafecard, and over 50 different cryptocurrencies work well on Mycams. Oh, and if you don't want this many credits, you're always free to set your own desired amount to make sure you have enough stuff to meet all the models you want at once.
Mycams webcam site is truly nice. Here, you'll find sweet features and convenient payment options. It'll show you not only the best gals in town but also dudes and trannies for a more diverse and fun experience. Ready to explore the world of horny cunts and badass webcam shows? Time to turn Mycams on!
Total Score
Contact Information
| | |
| --- | --- |
| Company: | JWS Americas S.à r.l. |
| Address: | 44, Avenue John F. Kennedy L-1855, Luxembourg |
| E-Mail: | dpo@jwsinternational.com |
Free Registration
Frequently Asked Questions
1. How to go private with a model on Mycams?
If you want to request a private show with any of the girls, go to a profile of the desired model, and click on "Start Private Show" below her webcam screen. Before you enter the private show, make sure you have enough credits. Private shows are always paid, so you'll need to top up your balance first. During a private show, you may order whatever you want, but only if it's what a model wants to do too.
2. How to view other models on Mycams?
If you want to go past the models feed and find the best babes, go to the top-right corner of the main page. There, you'll see sections like "Awards," "Story," and "Mobile live." These categories will show you different models in various modes. For instance, you'll see more girls streaming from their mobile devices together with the chicks of the week in four nominations. Here, models are rated by users, every voting is fair and limited in time.
3. How to change Mycams mobile number?
In your profile settings, you may edit your personal information. If you left your contact phone number there but want to change it, you can easily do it. Type in the new number instead of the previous one and don't forget to save your new settings. This way, you won't miss any updates from Mycams.com.
4. How do credits work on Mycams?
Users buy credits on My Cams.com to communicate with the models, tip them, order private shows, and send them gifts. Once your purchase is successful, you may use your credits with no limits. If you want to send a tip or a gift, do it in the model's showroom where you'll see all of them. It's easy to do in just a couple of clicks.
5. Is Mycams legit?
Yes. Mycams.com is a legit, safe, and reputable adult cam site. Here, your payments and private information are encrypted and protected from fraud, models are all real, and there are no hidden charges or extra fees at all. Mycams is a decent platform with 24/7 live support, website moderation, and an anti-spam policy, so both you and the models are 100% safe from any abusive or fraudulent activity from the outside.