What is Visit X: a Scam or a Legit Webcam House?
Free model galleries
Free cam2cam in live chat
HD webcam chatrooms
Multilingual website
Own TV and magazine
Advanced search filters
Splendid opportunities for Premium users
No free chat
Prices in euros
Sorting by price is unavailable
Number of peeks is limited
The website is only partially translated into English
Visit-X is an old-school German-based webcam resource, launched in 2000, with a unique pricing policy, free cam2cams, professional German porn models, and about 10 million users sitting there.
Swiftly growing in popularity around the globe, Visit X has proved itself as a safe site to have a nice evening on. The high-quality, hot German porn is what the Visit X review is about! Scroll down to find out how does Visit X work and what it can offer for both free and paid users.
How to create a free account on Visit-X?

Since loyal users admit that Visit X is a legit resource and it cares about your data, you can now stop worrying and check out how to create a free account fast. Follow the steps.
Free Sign Up
Visit the main page and find the button in the top right corner. You can sign up traditionally by just entering your nickname, e-mail, and password, or turn to Google authorization.
Verification
After you finish the previous step, go check your inbox. Visit-X sent a confirmation e-mail. Just click on it. When you open it, you'll see two options. Both will offer you to verify your account, but one will additionally suggest you collect your first free video clip. Choose any option you like.
What's next?
You can now watch videos and free clips as a rightful member. If you want to enjoy more opportunities, you can upgrade your account to the VIP level for just 9,95€/month. This way, all private videos will be free for you, and there will be no need to pay for them additionally.
VIP-account perks: should you upgrade?
Many Visit X reviews prove the great sense of account upgrading. Let's take a quick look at what Visit-X can offer to impress you:
Free Livechat Preview (20 seconds)
Unlimited access to Top 3 contest videos
Monthly 30 exclusive Vides (15€)
Free amateur videos and webcams
TV Premium Livestream & Shows (4,99€)
Late Night Show (4,99€)
Offer can be canceled monthly
Top Visit-X models to check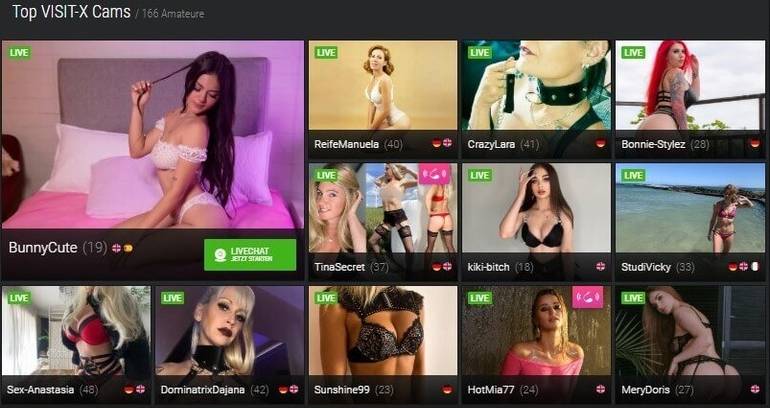 Finding a model from a certain category is quite easy there: find the "Cams" title under the logo on the main page, click there, and then click on the "Categories." There are about 60 different categories. You'll see an accurate list on the website and an extra list of fetishes on the left. Here are the top Visit X cam girls to have a great time playing with:
Barbiegirl (submissive)
LeniFetisch (anal/leather/footfetish)
Malina-Lay (BDSM/Dominatrix)
Besides those listed above, you can read a model's bio and reviews; check the gallery and videos. By scrolling deeper, you'll notice a model's current location on a little map. Next to it, you'll find quite detailed information about the model, with some infographics!
Just like on hookup sites, you'll be able to learn model's appearance, fetishes, and even character traits.
Visit-X shows

Visit-X offers different ways to find the desired section: by tag search or through the navigation on the website (which is pretty convenient, I have to admit!). A little magnifier will wait for you to enter a tag there, right at the top of the website.
There are about 60 categories to browse. You can find the classic ones (anal, foot fetish, milf, dominatrix, shemale) and also find the kinkiest offers on the bottom (tattoos, gays, leather, ebony).
Visit-X TV
You read that right, VISIT-X has its own free TV channel - accessible from all over Europe. Now you can enjoy the VISIT-X girls from home on your big-screen TV!
24/7 erotic program
Interactive, live program starting daily at 8:30 PM
TV series highlights at 10 PM
The best amateur girls
Visit X TV is an adult television displaying a certain top model at a certain time of the day. Users are offered to subscribe to the television for five euros per month and enjoy sex programs with the top-graded models.
Video quality
Most of the videos on Visit X.net are professionally filmed and have amazing quality. You can find a lot in HD as well. Even though the website swears all models are amateurs, they act, look, and broadcast extremely NOT like amateurs. The video can be opened on a full screen.
Chat options
To interact with the model, click on her picture in a chosen category. You'll see different options:
Toy control (optional)
Livechat
Voyeur cam
Message
The cellphone number to call a model.
To enjoy and comment on Visit X live cam performances, you need to obtain a VIP membership. If you're a basic member, you can only see a photo and a model's bio page. Still, monthly VIP membership isn't expensive and definitely worth trying to unlock all those dripping pussies. Thus, you'll be able to enter live chats, initiate private shows, and buy media.
You can also talk directly to the model on the cell phone and ask her what crazy things she'd do to your Bratwurst!
Pricing on Visit-X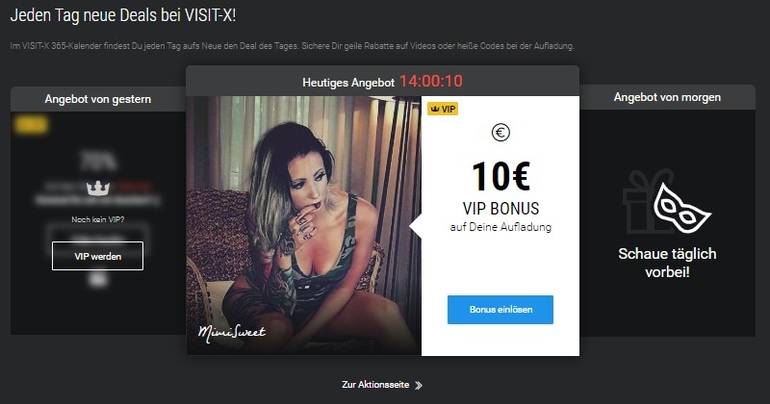 How much does Visit X cost? You may find it unusual that Visit X doesn't offer tokens, but instead, all prices are in euros. This stems from the website's age, but still, it's convenient, isn't it? Take a glance at the approximate price list.
Livechat with models: €1.60-€4 per minute
Voyeur cam: €1.60-€4
VIP shows: up to €20 per video
Video stars: up to €20 per video
Premium TV: €4,99/month
Here are the methods by which you can buy the bundles or make a deposit:
Visa/Mastercard
Sofort
Bank transfer
Paysafecard
Giropay
SEPA
eps
Paydirekt
Bitcoin
Instant access (Phone)
I found the Premium subscription way more reasonable to pay for since you're getting a great discount on every premium and non-premium video, along with dozens of features limited to non-VIP users on this excellent adult web cam.
Some extras Visit-X secretly offers
Wish to have a hot conversation with a curvy girl, but it seems too costly? Check the "New Girls" section. You'll be surprised. There are a lot of new, hot, nasty, and passionate cam girls who offer you the chance to estimate their skills for free!
Customer Support
The customer support is excellent and takes everything seriously—you can reach them for any matter, and they'll strive to help you. However, to get their help, you'll need to call directly), via e-mail or instant messaging. It can be easily done by clicking on the Support title in the footer of the page.
Is Visit-X good for models to earn and broadcast?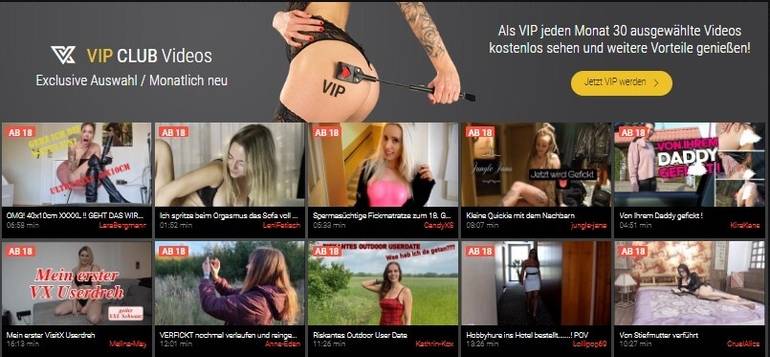 To become a cam model on Visit-X, you'll have to first . Models can earn up to €3,000 per month, while star models make massive incomes that may reach two times that amount. The website positions a model's career as a full-time job and offers new models the chance to go on top quickly with the help of advertisements. Visit-X also has a huge user flow (around 50 thousand per month).
Visit-X offers a partnership to every user. You can find it by scrolling to the footer under the title "Affiliate programs." The website offers its webmasters to earn 52% from the lifetime sharing and 10 euros per one valid lead.
Here's what Hookupgouru thinks about Visit-X
The big Hookupguru team was sincerely glad to review for you what is Visit X since we are big fans of this old good German webcam dom. We honestly deem Visit-X a fair resource of the highest quality, and we appreciate their striving to create an astonishing experience for every loyal member.
Total Score
Contact information
| | |
| --- | --- |
| Company: | VISIT-X B.V. |
| Address: | Krijn Taconiskade 424, 1087 HW Amsterdam, Netherlands |
| Phone: | 0800 300 000 77 |
| E-Mail: | support@visit-x.net |
Frequently Asked Questions
1. Is Visit X legit and safe?
The Visit-X is an entirely legit German platform. The website will be glad to demonstrate their licenses and certificates. Furthermore, Visit-X is deeply concerned about every user's safety hence the website is well-encrypted and will require you to pass the verification.
2. Is Visit X free?
It's partially free since you can enjoy the non-charged clips in a certain category or turn to the new models and have fun chatting with them for free as well. However, if you're looking to have a good evening with the Top-models, you'll need to pay.
3. Is Visit X a scam?
You certainly should! Visit-X has operated since 2000 and earned the trust of millions of users around the globe. Your data and your experience are in safe and reliable hands.
4. Is Visit X worth it?
If you love professional porn with exquisite Dutch and German models, you've found your real paradise. Enjoy the free and paid videos of the highest quality ever, or become a well-paid broadcaster and make a career with the support of Visit-X!