If you still haven't found your own jerk-off style, time to look for some new tips and ideas. And if you don't know where to look for them, stop right here. Here, you can find the good old and new ways to jack off and learn how to become a jerk-off pro. Believe it, you're not alone in this "true man'' stuff. Everyone masturbates and sometimes, it can be even more than just that. Let's see how it's possible!
Why do men jerk off, and why do they need it?
Jacking off is a quite healthy thing to do, especially if you don't have a constant (or temporary) sexual partner. This helps you last longer during sex and keep your wiener work properly for longer. If you have a hard-on but can't have sex with someone right now, jerking off will save you from erectile dysfunction and needless pain in your "thing". Plus, it's a great way to let off some steam and have fun, either with your partner, friends, or on your own. This is funny, but masturbation connects people. There are even jerk-off groups in sex clubs or on some online forums. So why not?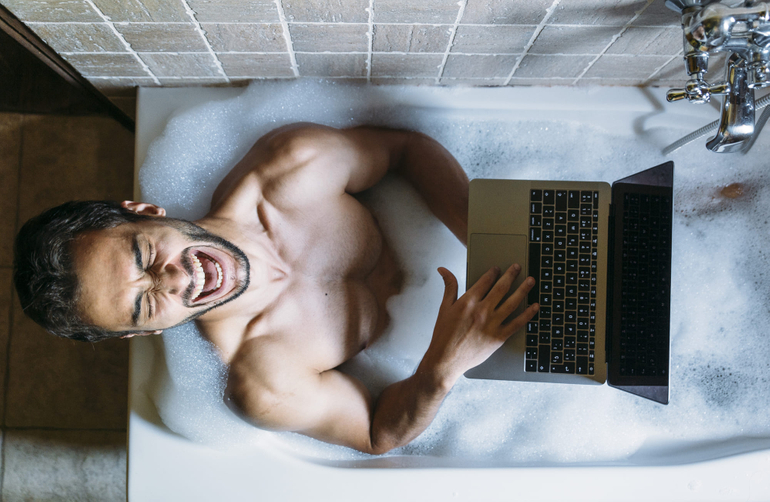 The best time and situation to jerk off
Sometimes, you can't wait for the perfect moment for a jerk-off. It happens when it happens. Hopefully, not in public! Imagine the perfect situation when jerking off is a perfect "accessory" for the occasion. Watching some hot-ass chicks performing a striptease on a webcam site? Or maybe watching some passionate sex video on a favorite porn platform? Mutual masturbation with a partner? There are no limits in your fantasies! And what about the timing?
It's better to jerk-off in the morning just when you get a hard-on to avoid painful moments later in the day, or in the evening when you're a bit tense and want to relax after a stressful day or when you're all alone or with some like-minded jerk-off dudes. Actually, you can do it any time during the day. Just make sure you're in the most comfortable situation for that and nothing (or nobody) bothers you.
How to make jerking off better?
There are some basic jerking off tips that can help you have a wonderful time whatever the occasion is. Make sure to include all of them in your pre-jack-off and during-jack-off steps. Try them all and find your own perfect formula for dick's happiness. Enjoy!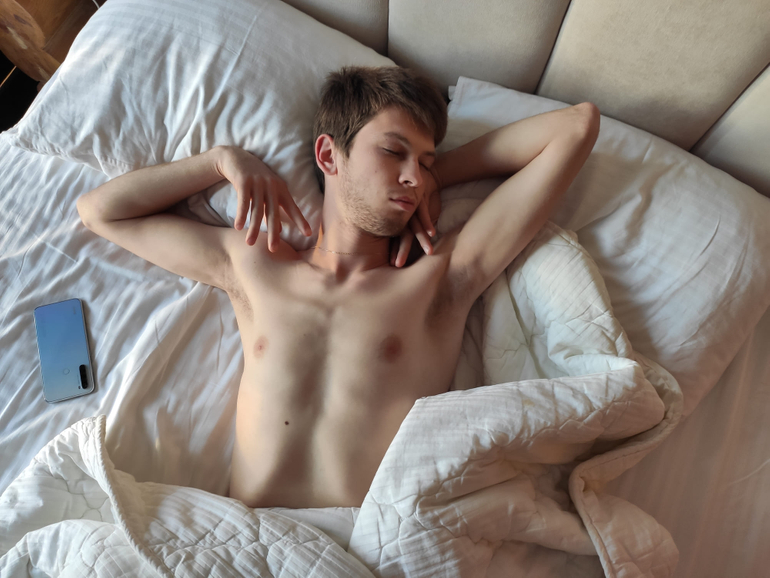 Get some quality porn or visit webcam shows
Don't be greedy and spend a few dollars on some good stuff. A good jerk off is a healthy habit if you don't do it 17 times a day. It's a great way to heat up, get a bit more energized, and visualize everything in a most detailed way. Go to your favorite porn site and browse the hardest sex videos you've never been brave enough to watch (or try in real life). You can also go watch your beloved webcam models perform the wildest tricks like butt plug plays, dildo tricks, or role-plays. Pay your favorite cunt to perform the best she can just for you in a private or group show with your friends. The more the merrier, huh?
Create the most comfortable atmosphere
Whether you love being all alone at home, or with your friends, or even if you like to show off on sex webcam sites, you should masturbate in the best atmosphere possible. Except for the places that aren't suitable for public jerking off. Try different occasions, either isolated or together with some like-minded people. Try to make it fun and cool, but be attentive to your surroundings.
Avoid interruption
What can be worse than intercourse or a jerk-off interrupted? This causes lots of awkwardness, unpleasant emotions, and all those weird looks at each other every time you meet with the interrupter. Plus, the inability to finish an act is no good for your weenie. So, before you get to "work", check if there's no one around who's not supposed to see your performance. Otherwise, offer them to join you! Who knows what it can lead to. ;)
Find the perfect mood for a jerk-off
The quality and effects of a jerk-off are directly dependent upon your mood, tiredness, and stress levels, as well as on how mentally prepared you are for this. Make sure you're in the right place, with the right mindset. There's nothing to be ashamed of, so just try to relax and think of anything good. You can even do some shots or have a good smoke to fully relax and get rid of all the negative thoughts. The more unwound you are, the more pleasure you get.
New ways to jack off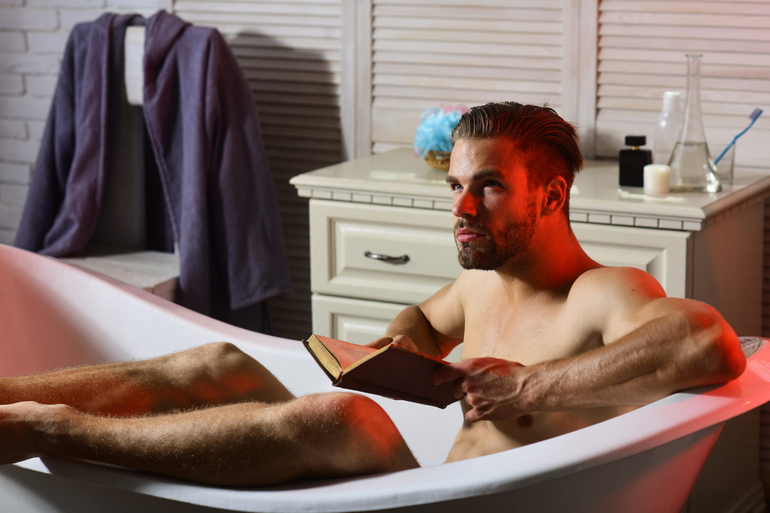 Ok, it's all clear, but how can you get something new out of an ordinary jerk-off? Below, I share the best tips on how to make jacking off better. Who's up for something new, dudes? Call the jerk-off party in!
Experiment with different lubes
Silicone-based, water-based, oil-based. So much to try! All these types of lubricants have a different effect on the way your little friend behaves. Some help you last longer, some lubes help you get a hard-on faster. Plus, did you know there are cooling or warming lubes? You can experiment with a variety of them every time and keep track of the effects. Which one is the best? Which is more pleasant to use? Maybe some cause uncomfortable feelings? They're mainly hypoallergenic but still, make sure they all work well for you. You can also ask your friends about the best brands, so you don't use a shitty lube.
Play with your "p-spot"
What a twist, huh? Not only playing with your wiener can turn you on. The P-spot is one of the most sensitive zones of a man's body. Why ignore it then? You can play with it or massage it before the jerk-off to warm up, or after the jerk-off to prolong the pleasure. This is a pleasant bonus that you can use even during the act to make your sense even sharper. If you have a partner, ask them to make you a P-spot massage, so that you can get the maximum pleasure with zero effort.
Explore your weenie
Touching yourself for educational reasons can't be shameful. During masturbation, you can find the most sensitive spots of your little friend, what type of touches and plays makes it harder. Try different speeds, kinds of movements, etc. This will help you explore more of your erogenous zones, make you more attentive to your body, and more aware of your abilities in bed. Even if you're just jerking off, this knowledge can help you while having sex with an actual partner. This way, you can spice up the night and at least someone will have it unforgettable.
Try different positions and locations
Wanking in the shower? How about doing it in another position rather than just lying or sitting? Or maybe you're riskier and want to try it in a public place where nobody can see you? Use your imagination and think of the craziest place to jerk off without being noticed or grossed. Ask the guys from the sex clubs or invent a venue yourself. You can jerk off almost everywhere and not get noticed. This is a good motivation to try your wanking skills and make you a professional. Try jerking off in a public bathroom, in the sports club, in the pool, wherever you feel like it! Try not to embarrass yourself but still, remain calm and don't be too nervous. Otherwise, your weenie wont get hard, and all your experiment goes to shit.
Get acquainted with toys
Sex toys are a great option for warming up and adding some spice to a jerk-off. You can get some nice men's toys like a butt plug or a fake vagina to practice your skills. After you try it, you'll feel that stretching your little hole is even more pleasant than you thought, and much better than it sounds. Plus, this is a good option if you don't want or can't massage a P-spot. Try butt toys first to make you feel comfortable with it, and then gradually include a sensual massage of your hottest spot. Feel it coming? Then you're doing it right!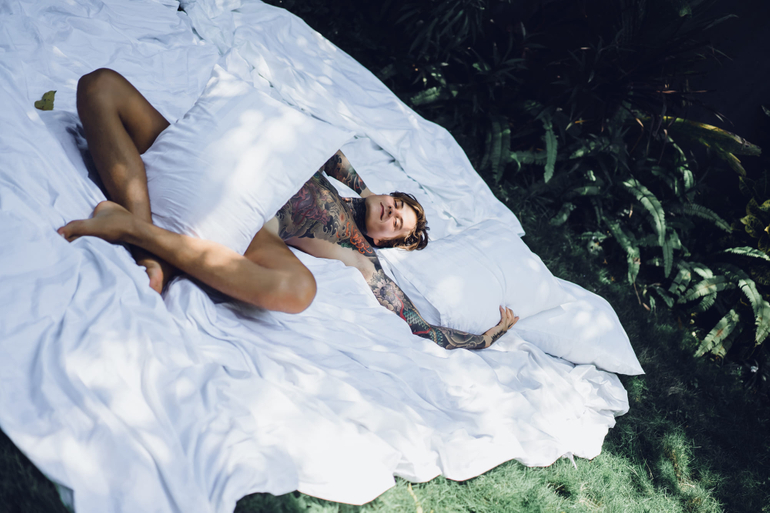 Take it faster, take it slower, and get it to an end
To make it all last longer, try approaching the very conclusion and then gradually slow down not to burst super-quickly. This is a good technique to train your penis to get used to a different speed and slow down when you need it. This is applicable for both wanking and actually fucking with someone. This is what the chicks do to prolong your pleasure during a blowjob, or during sex when you slow down a bit. The more you train, the longer you'll handle it.
Don't forget about intensity too. Trying different levels of intensity can also slow you down or speed you up. For instance, the tighter you hold your weenie, the faster you cum, and vice versa. Try mixing different speed and intensity levels to reach the highest point of pleasure. The most effective techniques are "fast and tight" and "slow but firm". It's all individual, so try all the methods to discover your own pleasure maximum. Plus, you can experiment with your partner or your jerk mates, try making a contest out of it, see who can last longer and who's the "fast player". This is a great way to entertain yourself and check how durable you are.
Join a sex club or a group masturbation session
You're deeply mistaken if you think nobody's as perverted as you are. Find a local sex club, join an online forum, go to a strip club, or find someone from your neighborhood who share the love for a good jerk-off. Together, you can either visit sex parties where you can simultaneously masturbate with other strangers, or arrange your own pervert party where you can invite friends or those good old strangers from a sex club. Turn off the lights, play a movie or some music, get different lubes, maybe some snacks (wash your hands before eating!), and get to the action! After such a session, you get more relaxed and confident. Plus, it's a great opportunity to find new friends and more like-minded people who can share some experience, advice, and secrets on better self-pleasing acts.
Release the animal!
That's very easy to last longer than expected while jerking off. And you don't even need a girl for a perfect solo night, just some creativity, a relaxed atmosphere, and a good mood. Try these best jerk off techniques and choose the tips that fit your weenie. Have a great fun night! Maybe find a jerk-off mate for today? Now you know it's not a shame at all, so off you go.