NaughtyDate Review: Don't Invest Until You Read HG Review
What's the verdict on NaughtyDate?
I see you're curious about NaughtyDate, but let me advise you against it. NaughtyDate is a relic of the past, and almost none of the profiles you see there are real. These are pictures of random people and stock images masquerading as users, and bots send messages from these accounts. If you wanna date real women, use a sites like WannaHookUp, AdultFriendFinder, OneNight Friend, Uberhorny or BeNaughty. They're legit, and you actually get what you pay for.
Recently I stumbled upon NaughtyDate, a local hookup dating site, and got curious enough to set out here and start browsing through it to find out whether is Naughty Date a real site. Unfortunately (because I liked the design), the website never justified itself. I prepared this Naughty Date review so you know what exactly the scammed websites look like. Let's read on and find out is NaughtyDate legit only for bots and scam bags, or should we give it a chance?
Best for:
Those who love to pay for bot chatting
Those who are ok with aggressive ads
Those who don't need detailed profiles without blurred private photos
Those who are satisfied with limited communication tools
Not for:
Those who look for a quality sex dating site
Those seeking casual relationships and one-night stands
Those using mobile hookup apps
Member structure
Member Structure
Members geography
563,000 from USA
Members activity
41,000 active weekly
How to create an account on NaughtyDate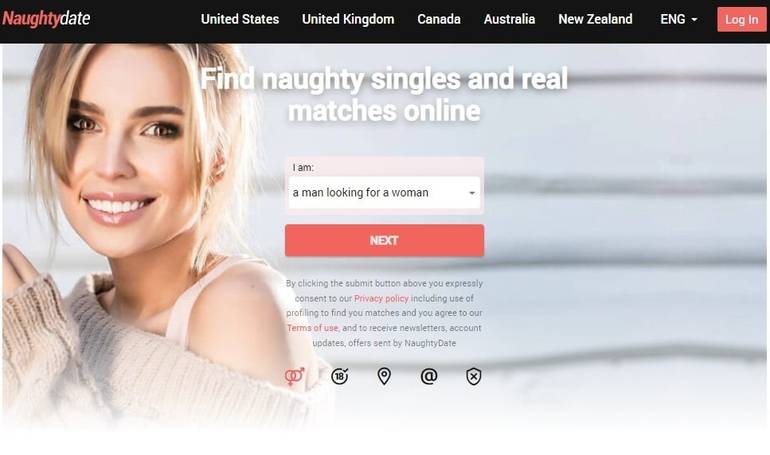 Let's begin the Naughty Date website review with the registration. NaughtyDate was geared toward people looking for quick sex. It's even designed so you think so. To create the account where you're asked to give your email, password, city, and age, and also mention who you're looking for. The website EVEN asks you to verify your email (what a hypocrite).
You're also encouraged to answer some questions about your appearance (body type, piercing, weight, height) ethnic origin, and education.
Are NaughtyDate female profiles good?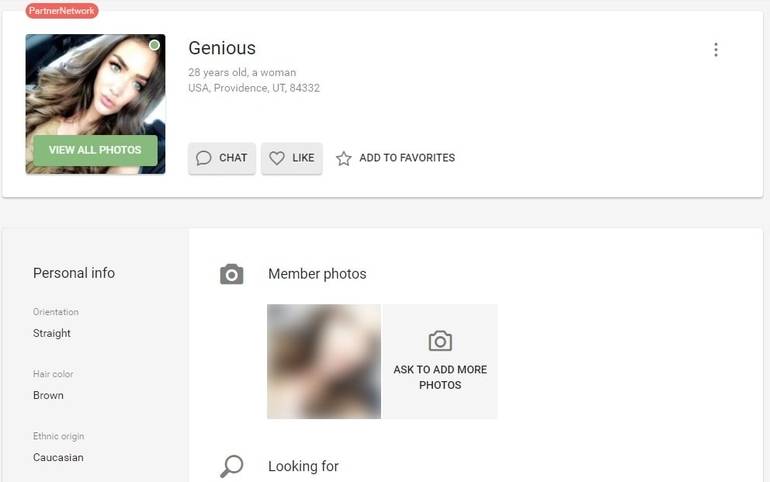 My favorite part of the Naughty Date review is the profiles. The website itself is well designed and truly has wonderful navigation—it could've been a perfect outlaw plan if not one single pitfall, the one I'm gonna highlight next. But first the profiles.
Whenever you scroll the main page you see "regular" profiles of girls from your country. The images look shady: some are blurred, some are too dark, and no one looks like a goddamn Megan Fox. But! When you click on the profile's thumbnail to learn more about the sexy dame, you get:
No extra about the person.
Maybe basic info, like city, age, and sex preferences.
One or two "private" photos, blurred, but you still can recognize a blurred copy of the profile picture.
The button, allows you to chat and unlock the blurred privates.
Not all members provide the info on who they're looking for
Honestly, if I wanted to scam someone, as an owner of Naughty Dating sites like that, I'd at least add a description to the profile, besides the stolen photo from someone's Facebook. Thus, if you wanna get real sexual content, in particular porn pics, you better opt for top-notch porn dating sites
Chat options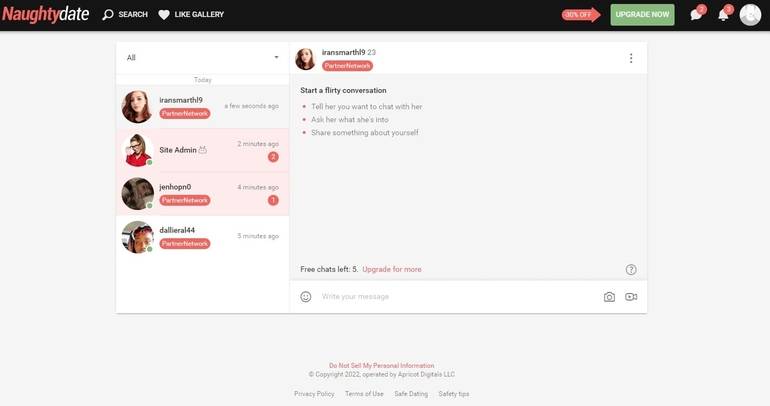 The chat won't get unlocked until you're a premium user. The bots would tease you to answer them. To be honest, bots dwell on all poor-quality adult dating sites but here AIs are the only users. I saw the emojis and attachments features in the small version of instant chat, that's what you're supposed to get after you're a VIP member. In general, NaughtyDate.com doesn't offer anything extraordinary, just a basic set of features.
Send short flirty messages to initiate conversation
Send winks to people you like
See who browsed and liked your profile
5 free chats for the newly registered members
Attach photos and videos
I should note that all free members get about 10 messages and invitations to chat within an hour of creating a profile. This indicates that Naughtydate is scam website. Such a "popularity" of newly registered users can be explained by "Staff Profiles" used to attract people. However, once you upgrade your membership, you don't receive many messages anymore.
How to use NaughtyDate for hookups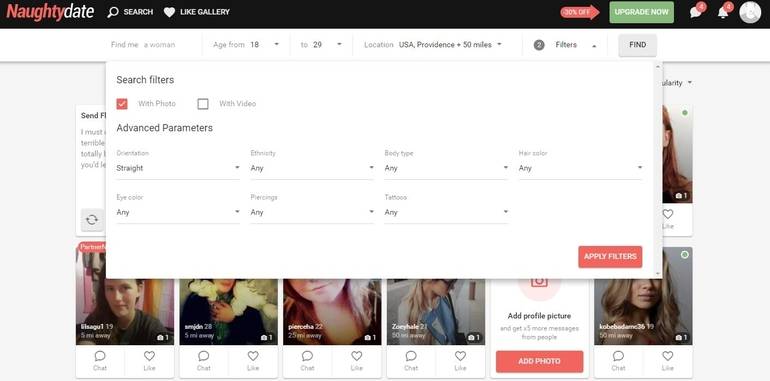 NaughtyDate is a relic of the past, and almost none of the profiles you see there are real. These are pictures of random people and stock images masquerading as users, and bots send messages from these accounts.
How much is NaughtyDate a month
Guys from the NaughtyDate scam site give no shit about the quality of their profiles, but when it comes to banking options, their variety, and accessibility, here's where they sweated. There are the most popular payment options available, and you also have a 30% discount as a limited offer for the subscription. Here're the prices:
1 Day - $0.99 per day
1 Week - $0.39
1 Month - $0.96
3-Month - $0.53
Free features
Browse someone's profile;
Edit your profile;
Contacting the support center;
Use filters.
Paid features
View privates;
Chat;
Interact with the users;
View the full profile.
How to delete NaughtyDate account
To delete your profile, navigate to your account and find the "My Setting" tab. There, at the very end, find the "Remove my account". Then:
Input your password;
Scroll down and choose the box
Choose the reason for your leaving;
Click on "Yes I'm sure" again in the new window;
Confirm the deletion of your account in your inbox (or at least try).
Customer support
Customer support would answer you within a day via email. They would answer any of your questions, but never those related to refund—you ain't getting your money back, even if they guarantee it in their Terms of Use.
Hooking up with bots or is NaughtyDate a scam?
Since bots are the only users of NaughtyDate, you can go enjoy the robot party. In five minutes, no matter how full your profile is, you're gonna be flocked with bots, eager to chat with you. You're not gonna find a single soul down here.
If you wanna date real women, use sites like:
WannaHookUp

AdultFriendFinder

OneNightFriend

Uberhorny

BeNaughty

SmokeandPoke

HornySpot

SweetSext

Passion.com
They're legit, and you actually get what you pay for.
Naughty Date review: Your questions answered
If the opportunity to communicate with fake profiles is your biggest dream, let's see what else interesting I can summarize in this Naughty Date review.
Is NaughtyDate good?
Nah, not good. Is NaughtyDate safe? The darkest street corner in Detroit is safer. They have a great design that many legit websites could use, but that's the only advantage of NaughtyDate.
Does NaughtyDate have an app?
It doesn't but it boasts of its convenient cross-platform web application which is simply, translating in a human language, a web-version of their website.
How does NaughtyDate work?
NaughtyDate was developed to get your money, which you're eager to give in exchange for chatting with sexy bots. This is supposed to be a dating site for quick local hookups.
Is NaughtyDate reliable?
It's not reliable at all, you won't find a single human there. Don't give NaughtyDate a chance and don't spend your time down there. Go check NaughtyDate app reviews, you won't find any good (only those paid, tho).
Hookupguru's verdict
I see you're curious about NaughtyDate, but let me advise you against it. Don't. That's a total scumbag. I posted more legit websites and reviewed them for you, and you can choose one of them, but forget about the Naughtydate scam site and bypass it next time, seriously. Check out more of my reviews, tips, dating advice, and other stuff—become a hookup-guru yourself.
Frequently Asked Questions
1. Is NaughtyDate legit?
No, it's not legit as soon as all the chicks' profiles on the platform are scams and fakes, and each of them is looking for guys to trick and force them to buy a pricey subscription. So if you want to have casual sex with real people, don't use Naughty Date.
2. Is NaughtyDate free?
To use NaughtyDate to the fullest, you'll need to upgrade your membership to the premium one. This way, you'll unlock an extended search, premium support, the ability to share photos and videos in chat, unlimited chatting, and a few more extra services. In addition, NaughtyDate can trick you into buying a subscription on a completely different website.
3. Is NaughtyDate safe?
No, NaughtyDate isn't safe as the Security policy here is also deceitful. The platform produces bots and doesn't conduct any identity checks on its users. Since ID verification is optional, only a small percentage of NaughtyDate members submit official documents. This leads to a huge number of fakes.
4. Is NaughtyDate worth it?
<p>It sure isn't. If you're into dating bots—then welcome to NaughtyDate. Give all your money, invest in AI, and help machine learning, otherwise, I can't see why you have to spend your time down here.</p>