Hunt On The Horny Bitches And Fuck Them With WetHunt
Pros
Members are really into hookups
Hot nasty bitches
Nice interface
Cons
No app
Fake profiles aren't filtered
What's up, dudes? Your Hookup Guru is here for you again and I'm gonna tell you about a really interesting website. When I use it, I have this nostalgic feeling but enjoy the modern kind of use as well. I think I definitely have to add this to my review because some of you, my little horny perverts, will love it for sure! Do you want me to tell you about this shit?
Dude, don't fuck me up, tell me about WetHunt site!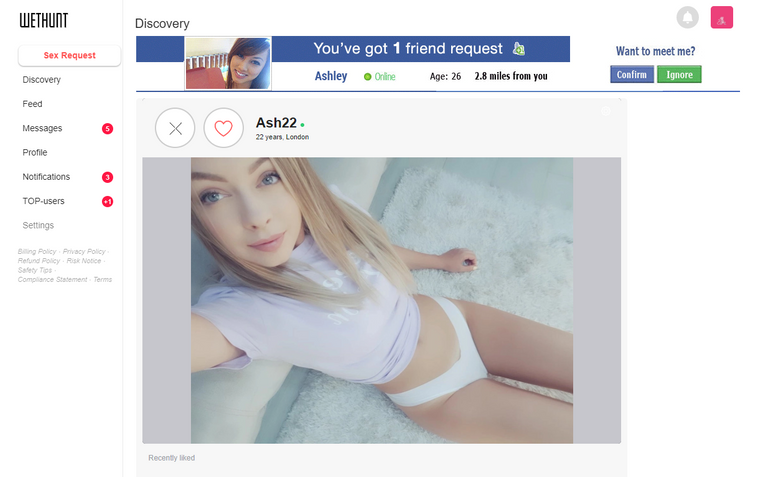 It's a fucking WetHunt and it's made for guys who like to make bitches wet. It's minimalistic and simple. There's all you need if you're a real man with balls. The registration process is as quick as your jerking off. I didn't even notice how it all happened… I typed my name and email, maybe my age too, and woah! I'm here!
When you open it, there's a kind of shit like everywhere: pornstars' pics, old girls' pics, and these all are supposed to seem like they're texting you. I hope this website won't disappoint me with this shit. Though when you click it, you figure out it's just an ad, not an offer to buy its subscription.
After WetHunt sign in, girls start to text you. You have to fill out your profile and add some photos to text back. I don't know how dudes feel on this site, but my dick is always up because of these pics of naked bitches. There's a big diversity of them but they all look really hot. Now let's see every page of it.
Wethunt Costs and Prices
If you're full of sexual dreams and need someone to make it a reality, Wet Hunt is just one of the hundreds of ways for you to do it. Maybe these awesome girls who seem to be fake are actually real? They're just too hot to believe. Dudes, when some of you fuck such a bitch, text me and I'll make you ones of the champions of Hookup Guru! Go ahead!
Yep, what're the options on WetHunt.com , Guru?
The first one on the WetHunt dating site is the Discovery. You see a random girl's pic and have to make your choice if you like her (heart button) or not (X button). Then you see the list under it, where are all the girls you liked. I swear, 99% of them are just like wet dream angels who came down from heaven to gently suck my balls. Well, just a dream, let's move to the next options, haha.
Then there's the Feed page. I don't understand why I need it. It's a fucking hookup website, not a fucking Facebook, why?! There are just posts of girls who write shit like "I'm a newbie", or "I'm horny". Girl, everyone is horny on this site, that's why we're here! Are you waiting for a special dramatic invitation to fuck?! Yeah, I'm sure you won't find such WetHunt review in other blogs.
Or there was a girl who wrote "let's become friends". Really? I want to fuck you, not to be a friend. So, yeah, I didn't get this and I got no fucking idea why to have it here. The next page is Messages, finally! It's all minimalistic and I can't say anything special about it. But I like that simple style: just chats with girls and nothing else. This shit is for real dudes! Yeah, we don't need those pink interfaces and weird girly stuff.
The next one is the Profile. Here you can manage the information in your profile and add some facts about you. The main are your age, gender, language, and location. Then you can add your work info or education for the Wet Hunt dating profile. I'm curious who the fuck cares about your education on the hookup site?! Well, maybe someone who has a fetish on educated bitches and cocks?!
The notifications page is obvious as well. You can see likes, mutual likes, visitors, and "I like". When you scroll through hundreds of profiles every day searching for a good fuck, it must be a useful one. But there's a little blue notifications button in the upper right corner where you can get it quicker but not so detailed.
By the way, Settings here are just like a fucking Instagram. There are a lot of options as for a hookup dating site. You can manage all the email notifications, change a password, and all the other things we don't really fucking care about. But what we care about is can we really find a bitch here to spend this night? Hmm, let's do a little research.
Right, can I get a real hookup with WetHunt?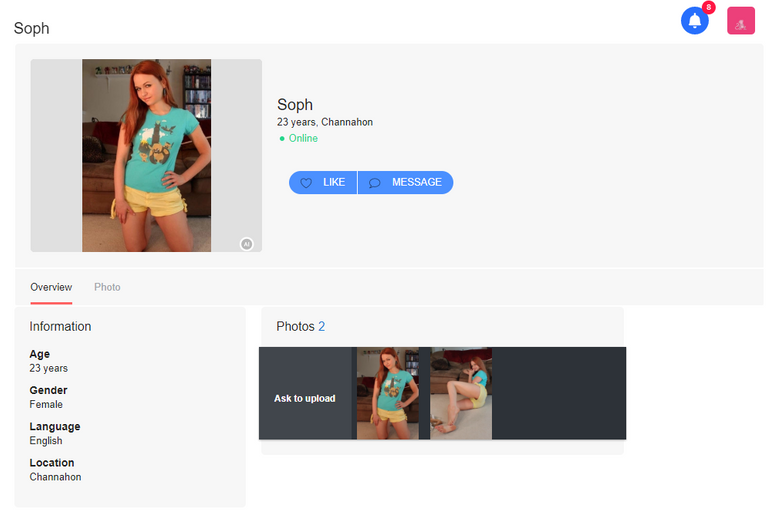 I don't know dude. It doesn't look like a source of real good cunts who are ready to jump in your bed and ride you hard until you both fall down in satisfaction. I don't like such platforms, but is WetHunt one of them?
I guess they're still tricky and make an illusion of a fancy girls' place but in fact, not everything is so luxurious. When you first sign up, you get a hell a lot of messages and requests. Doesn't it seem weird if you still don't have pics of you here? Right, dudes, they're trying to fool you. But we're smart guys and we know how it works.
There are actually a lot of pretty nasty girls who're really searching for a good fuck. You just have to ignore the first texts and start discovering real users. In this case, you'll definitely find someone. I can't say WetHunt site is the best place for hookups but still, it's a good one and it has to be in my collection.
Contact Information
| | |
| --- | --- |
| Company: | Digital International INC. |
| Address: | 1st. Floor Hadjikyriakeion Bld. 1 121 Prodromou Avenue Strovol Nicosia 2064 Cyprus |
| E-Mail: | support@digitalint.co |
Free Registration