SPdate Review - Will You Get Any Sex On Spade Website?
Don't you feel like a loser knowing every guy from your street hooks up regularly and you continue torturing your poor cock with your hand? Porn is always a good idea, but nothing is better than a juicy kitty. There are tons of them on Spdate and all are willing to experience new wild fuckings. Do you have something to offer them?
If you've never come across the Spdate site before, explore every tiny detail below. Is Spdate com worthy of your time and what can you find there? Do all members look for casual sex there? How to stay safe while surfing? Dude, I'll cover it all for you!
Completely free communication
Pleasant design
Horny chicks
UP profiles to entertain you
No mobile app
Spdate login
Even the most stupid jerk realize he won't get access to pussies without being an active user of the platform. For this, you have to register, my perverted friend. Nothing to be afraid of — only a few details are required to mention, so it won't take more than a minute. Provided you know at least something about computers. Indicate your name, age, location, gender details, valid email, and make up a reliable password. That's enough to start browsing Spdate site.
But you want to find a partner for sex, right? Not just hanging around. I hope you're wise enough and understand no one will fuck a guy with a completely empty profile. I mean, how chicks will know who offers them sex? So don't be a lazy ass and upload one or better a few photos to seduce babes. It might be your regular selfie or your cock's pic. If you choose the last variant, let it be at least hard, not a soft dick. Leave some short info about your preferences in profile and voila, hunt the pussies!
Spdate interface
Everything is so easy and intuitive that even you experience zero difficulties on the site. There are no buttons leading to nowhere, only the working ones and you can access them any time on the panel. Colors are calm, though dark. Grey theme is a fresh decision for platforms like that.
The only thing freaking me out is the ad. It pops up all the time no matter what page is open. It distracts me from my goal to find a chick and tries to trap me and make visit some other sex site. But, provided all the ad windows contain sexual animation, I don't mind getting an extra "wake up" for my cock.
How to search for hotties on Spdate.com?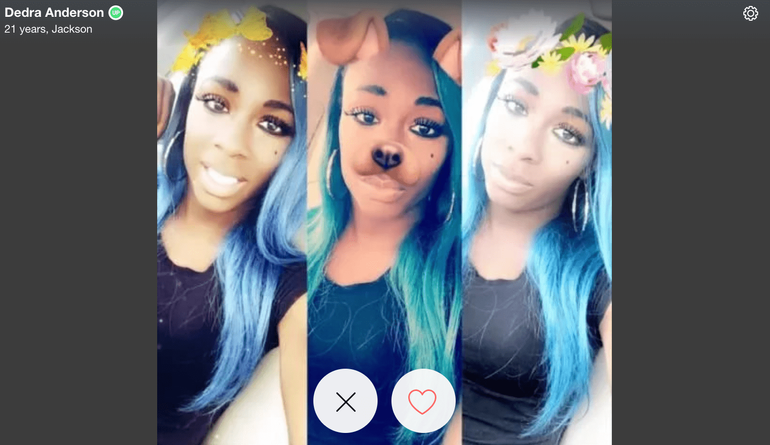 You'll get the whole list of available chicks right on the main page. It's that simple: you finish registration, browse the site, and already see a bunch of horny babes! What can be better? Ability to choose, dummy! And you don't have it on Sp Date. I was even mad when I didn't find any Search button as I like to filter all the profiles and select only those who influence my cock the best way.
But if to look at the situation from another angle, isn't this fucking amazing to try something every time? I mean, you just get a random chick, and their fantasies and preferences might be way different from yours. Isn't this a perfect field for experiments? So don't get upset and use the possibilities Spdate dating gives you, dope.
What about babes' profiles?

That's heaven, buddy. Entering the Spdate you feel like a gardener in the garden of sex. Girls aren't shy to post seducing photos where they show curvy ass in a bikini or long legs in heels. Though pics are mind blowing, the bios suck. I lack the little story of how this or that bitch loves to get fucked. Sadly, they indicate only location, age, gender, and language. So, rely only on appearance, my friend.
Another unpleasant surprise is UP users. I'll explain for dummies. This sign means a site's worker who initiates a conversation with you so you stay interested and hooked. The Spdate's creators claim it helps members not to lose faith when no one writes them. On the contrary, such activity raises the desire to search and chat with chicks. I'm not going to judge here and not saying Spdate is a fake, form your own attitude to this by yourself.
Member Structure
Members geography
31,400,000 from USA
Members activity
6,200,000 active weekly
Are there any real communication at Spdate website ?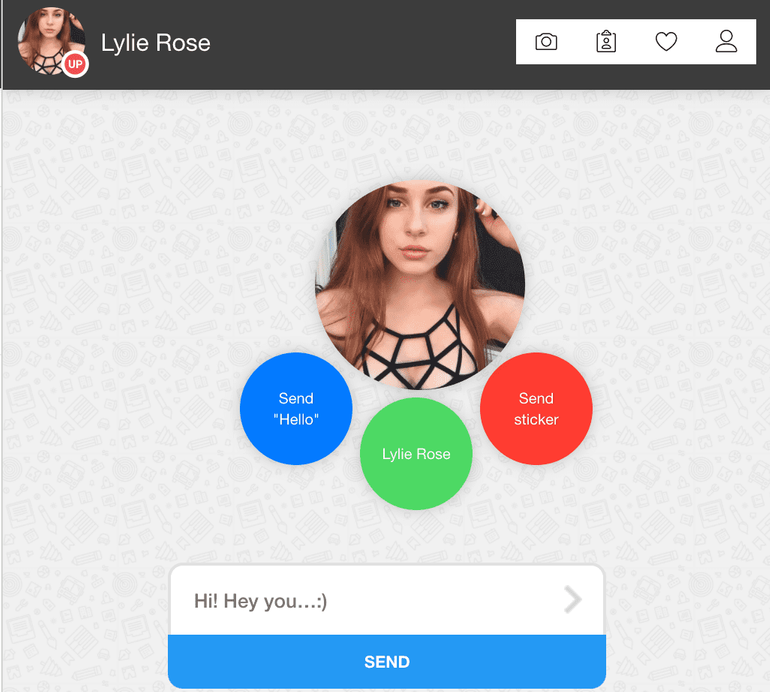 Time for dessert. All communication on the site is completelydamn free! You don't have to buy any fucking packages to upgrade the membership and enjoy extra features, everything is for your pleasure anyway. I guess only this makes Spdate com an awesome place for hookups.
Traditionally, you can find a partner for tonight in chat. It's the only way of interaction on the platform. Also, constant notifications won't let you miss any single message or new visit to your profile. Right in Spdate chat, you can add a chick to friends list, like her, and view photos or her profile. Also, you can send photos in chat! Don't hesitate to demonstrate how she makes your cock feel and ask for nudes as well!
Is there an app?
No, there's no mobile application for Spdate website, but who cares, nerd? Not to overload your smartphone's memory with many apps better enjoy the user-friendly mobile version of the platform. Nothing differs from the desktop one and you can reach any pussy in one click. Is there anything more to desire?
Is Spdate real?
Yes, why would I waste my time describing it to you here, jerker? Though the site isn't overcrowded, there are real girls looking for casual sex. I would say it's even an advantage as you have less competition and more chances to get fucked tonight!
Spdate admins take care of your safety and do their best to prevent fraud on the platform. But you better rely on yourself, because if you're stupid enough to send money to a stranger, what do you want from Support Team then? Use your brain, buddy!
Final word
It's obvious from this Spdate site review that it's waiting only for you! Many guys already cum because of real kitties every evening. Are you sure you want to continue cumming in your hand? Decide wisely, pervert.
Total Score
Contact Information
| | |
| --- | --- |
| Company: | Digital International Inc. |
| Address: | 1st Floor Hadjikyriakeion Bld 1 121 Prodromou Avenue Strovol Nicosia 2064 Cyprus |
| E-Mail: | support@digitalint.co |
Free Registration
Frequently Asked Questions
1. What is SPdate website?
This is a perfect dating platform for casual encounters. Sometimes each of us lacks fun for one night, so this is an excellent opportunity to find a partner quickly. It is one of the best websites for such purposes.
2. How to sign up for SPdate?
To do this, you need to go to the site and select the registration function. Answer some questions about your preferences. After this, you need to enter the necessary information about you. Then, confirm the email for security purposes. After that, start exploring the platform.
3. How much does SPdate subscription cost?
This website is entirely free! You don't have to find out about payment methods because there is nothing to pay for it. Try it and enjoy it!
4. How does SPdate website work?
To start meeting hot girls (or men), you need to register on the site and create an attractive profile. You do not need to add your nude photos at once - leave it for later. Next, you find interesting people and chat with them about everything you want...
5. Is SPdate legit?
Yes, this site is safe and secure. It has been working for many years. Also, it makes a profit from advertising. So, the administration does everything to keep users happy. They succeed in it even without offering expensive paid subscriptions to the users.
6. How to use SPdate without paying?
You register on the site and use the website as much as you want! It is entirely free for all users, so you don't even have to worry about how effective it will be. Try it now!
7. How can I know that the profiles are real?
Users on this site do not need to impersonate someone else. Your communication, in any case, becomes more intimate. So, a fake person will not be able to play this game for a long time. Yet, be careful not to run into scammers.
8. How many people use SPdate?
More than 100 thousand individuals from the USA use this site. Every day you can see more than 10 thousand users online. There are people from all the states, so you can easily find someone for today's hot date.
9. How to delete SPdate profile?
To delete your account, go to your account settings and select this feature. Remember that you cannot restore the profile. So, if you want to take a break, you can delete your photo for a while, and no one will disturb you.