Last update: Feb 06, 2022
37493
Haven't you dreamt about being a big boss who can have any chick he wants? I bet you stroke your cock to porn with such a storyline regularly. And now, you have a chance to try what it's like to be that cool guy in the Fap CEO game.
What the game is all about? How to play it, and is it free? You get all the answers in this Fap CEO review. Enjoy!
Free download
Access to communications platform
Awesome graphics with incredible design
Simple gameplay and user-friendly interface
Available for PC and Android
Only sexy females available
No customization options available
What is Fap CEO?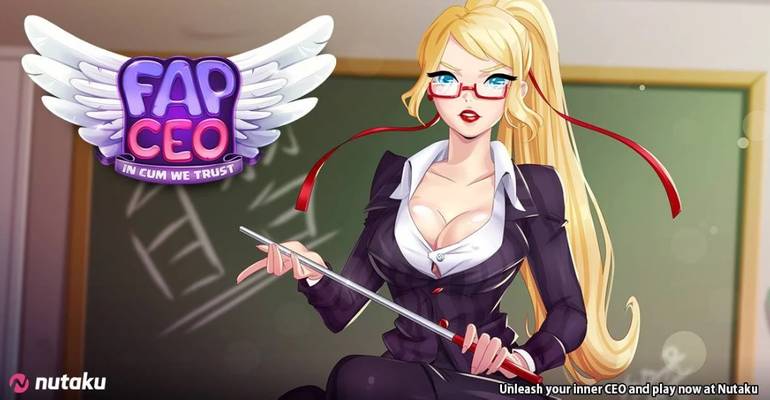 With the advance of technology, people got more access to all sorts of entertainment, including gaming. Adult games are not something new and revolutionary anymore; however, there are many new features to consider. For a sex game to be a smashing success, it has to have a solid balance between the explicit content and game mechanism.
SITE OF THE DAY
Uberhorny
If there is more porn than actual video game, you could just look at some videos instead of playing. If there is too much strategy or button pressing, you will get bored quickly. There is an awesome solution to these problems from Nutaku, a true leader in the world of free hentai games! That is Fap CEO!
Fap CEO is one of the best free downloadable sex games available on the market today. Developed by BoomBox games and available at Nutaku, this game has already attracted many users. The gameplay is built around the CEO of the company who hires beautiful ladies to work in customer service by earning money, promoting your business, and recruiting more attractive females. It features high-quality graphics, bringing unique details to every character. Playing this game is a great way to take your mind off work, relax, and spend some time easier.
Fap CEO members
All continents and time zones represented
English, Spanish, German, French, Polish, Chinese, and Japanese speakers
18+ age limitation
Thousands of visits every week
The website doesn't provide any statistics on the number of downloads of every game. Since the creation of Nutaku in January 2015, the platform has accumulated more than 9 million signed up users and more than 25 million overall downloads.
Fap CEO doesn't have an in-game online chat, but all users are welcome at Fap CEO's Discord to share their opinions and thoughts and engage in discussions. Since the game's community is international, respectful behavior and fair judgment are keys to successful membership there.
Game process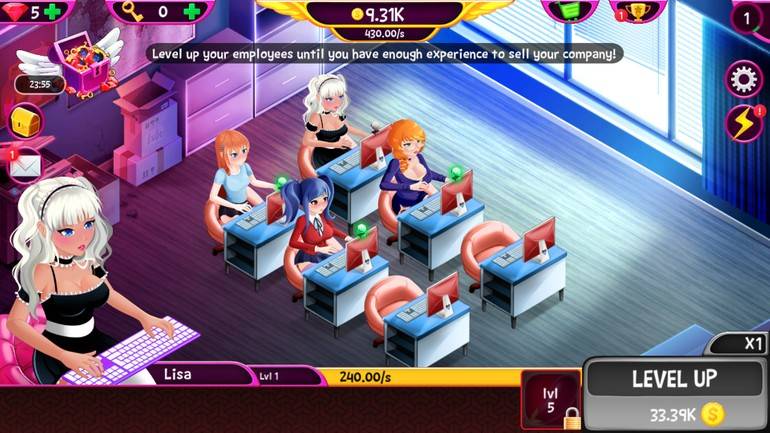 Fap CEO is a simple click game that doesn't need any professional skills from you. Once you download it, you only need to find spare time to play Fap CEO. Basically, Fap CEO is an office where young attractive ladies provide customers with some explicit fap content. You, as a CEO, should do everything you can to ensure the growth and development of the company.
You may wonder when some erotic content kicks in. Throughout the game, you can communicate with your sexy employees and clients. Replying to the emails can be lots of fun here because of multiple-choice questions, innuendoes, and hot pictures you can unlock in the process. The developers have done an awesome job creating the characters, concentrating on the crucial body parts, and making them a true pleasure to watch. Throughout the game, you can give gifts to your ladies and decorate your CEO office in the style that suits you the most.
Every female has a nice developed story you can learn when hiring them. By building your relationship with the girls, you will get more money. Their arousal will make you rich. Every time your company reaches its maximum level, you can sell its stocks and purchase a bigger business. With every update, you access more and more beauties with erotic uncensored content to make you much happier.
Creating and filling in your profile
To download the game, you don't need to create a profile, but you can get one just out of the interest. To do so, you need a valid email address, a unique username, and a secure password. You don't need to verify your account, but every user gets 100 free gold for that.
Your profile should be filled in with the basic information, such as gender, date of birth, country, occupation, hobbies, and an open 'About me' section. Feel free to upload an avatar and connect your Nutaku to your social media profiles as well!
Another benefit of having a profile is keeping track of your actions. You can see separate tabs for downloaded and mobile games you have previously played. There, you can also store messages, lists of the followers, and other beneficial things.
How to play Fap CEO?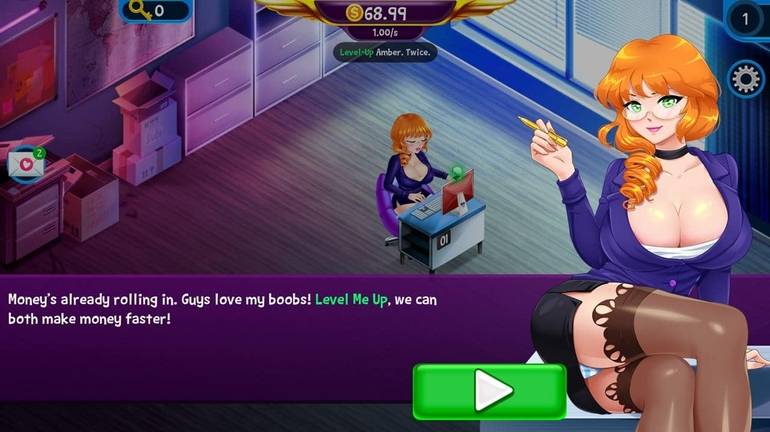 It's probably one of the easiest games to play for gamers of any experience. Yes, you'll have no problems with understanding how everything works, even if you haven't played anything on the computer or PS in your life before.
Your key goal in the Fap CEO game is to hire various sexy chicks that will help your webcam company to grow! And while playing, your cock will definitely grow too.
There will be informative and helpful tips during the game so that you won't experience any troubles understanding what to do next. The gameplay is logical and engaging. Just click the corresponding buttons and proceed with the game!
Bonuses and extras
You also get access to daily quests, missions, and global events. They are the following:
Clicking events: you get points for clicks and discover new girls
Mission events: you complete particular tasks
Card events: you play random card shuffling games
Daily Quest events: you perform required actions every day.
Playing options
Nice developed gameplay
Simple user-friendly interface
Available for Microsoft PC and Android devices
There is a slight difference between playing online and offline. Online version has more ongoing bonuses and events, while downloaded application goes with the flow of the game's scenario. When playing online, you can participate in various seasonal events, like holidays.
Fee-based services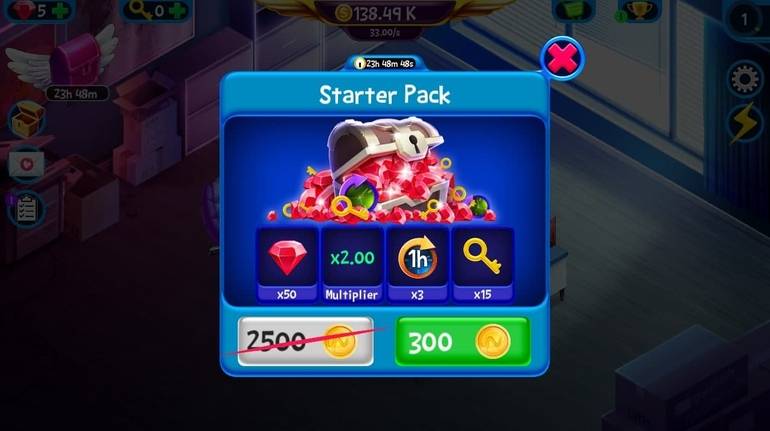 While the game is completely free, you can also purchase many items for extra payments. For example, multiplier, event items, keys, and time skips can be bought here. The game's currency is called Rubies, and you can receive them for your actions.
You can also buy Rubies with the help of Nutaku Gold. The prices are the following: 10 rubies = 100 Gold, 50 rubies = 500 Gold, 220 rubies = 2,000 Gold, 390 rubies = 3,000 Gold, 700 rubies = 5,000 Gold and 1,500 rubies = 10,000 Gold.
As for the Nutaku Gold prices, for every thousand of gold, you pay $10. The company accepts such payments as Visa, MC, Discover, Diner Club, JCB, Maestro, Qiwi, WeChatPay, AliPay, UnionPay, and Cryptocurrency.
Is Fap CEO safe?
Playing Fap CEO online, you have nothing to worry about your safety.
When downloading the game, you don't even need to create a profile if you don't want to. This way, you stay anonymous and none can have a chance to steal your data.
But even if you decide to play the game online on Nutaku and register there, you're still safe. The platform is very responsible when it comes to its users' privacy. Your sensitive information is never shared with third parties, and all the transactions you perform in the game are encrypted.
Frequently Asked Questions
1. Is Fap CEO free?
Yes, it is a free game. Still, you can purchase different things for extra payment.
2. How many members does Fap CEO have?
It is really difficult to count the exact amount of users this particular game has. If trying to point out it in general, Nutaku has more than 9 million registered users all over the world.
3. Is messaging free?
There is no direct messaging between the users inside the Fap CEO game, but signed up users can chat at Nutaku website or in the Discord channel.
4. Does Fap CEO have any coins?
This game has currency called Rubies, which can be purchased with Nutaku Gold. 10 rubies = 100 Gold, 50 rubies = 500 Gold, 220 rubies = 2,000 Gold, 390 rubies = 3,000 Gold, 700 rubies = 5,000 Gold, and 1,500 rubies = 10,000 Gold. Every thousand of Nutaku Gold will cost you $10. Rubies can be used to buy upgrades of the girls, background, and boosts.
5. What can I do to keep my account safe?
Just follow universal internet safety rules: don't give anyone your personal information and report any suspicious activities to the Support team.