Last update: May 18, 2022
175026
What To Know About XXXCyberGames Before Playing It?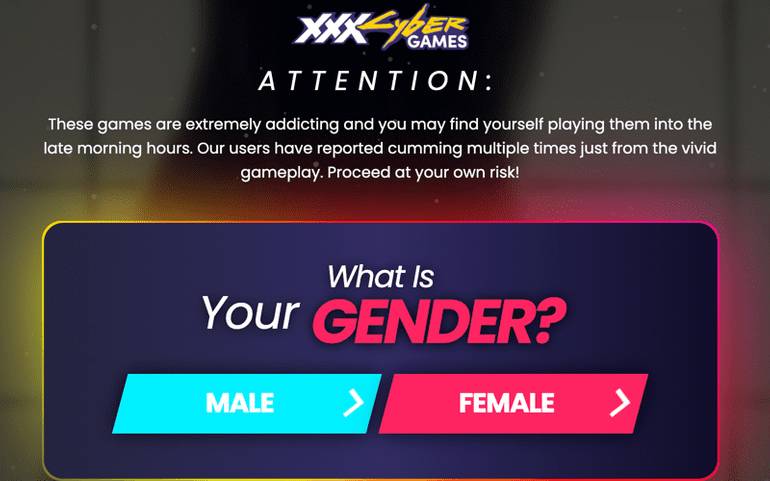 Any avid wanker sooner or later comes to a moment when nothing makes him as hard as before. Porn is good, but it's not as arousing if you watch it daily. What to do then? Try adult sexy games, bro! And XXXCyberGames is a good one to start with.
What does XXXCyberGames adult game have to offer? Are there any peculiarities? What about the price? Read this XXXCyberGames review to get answers, my perverted friend.
Realistic gaming characters
Engaging scenario
Ability to play on desktop and mobile
Intuitive interface and pleasant design
Teasing audio background
It's obligatory to share credit card details to start playing.
The game has a fixed price to be paid monthly.
Overall impression and design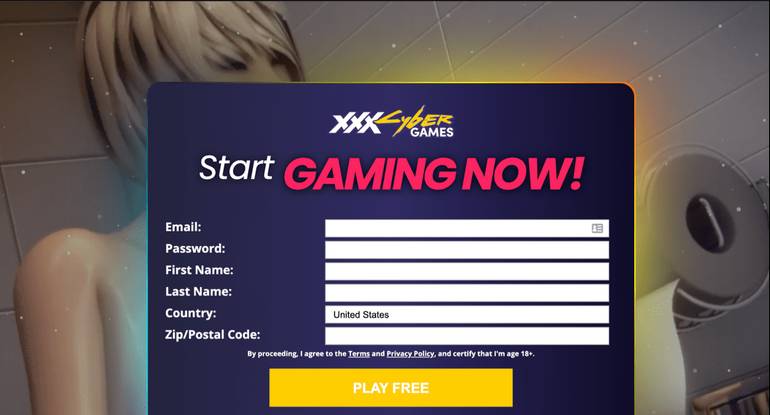 Well, you understand you've come to some kind of sex heaven when you open XXXCyberGames for the first time. From the very first second, you see seductive animation in the background—a hot chick is jumping on a guy's cock and her ass cheeks look too sexy to resist. Yeah, your dick will get hard that fast.
Gaming characters, in general, are pretty realistic, which makes you fantasize about all the sluts during the play. What's more, you're set in a playful mood right from the beginning—you're to answer a few questions. This is done to make sure you're at least 18 and warn you the game contains the scenes of hard sex. Amazing trick to make new gamers join, I think.
How to play XXXCyberGames?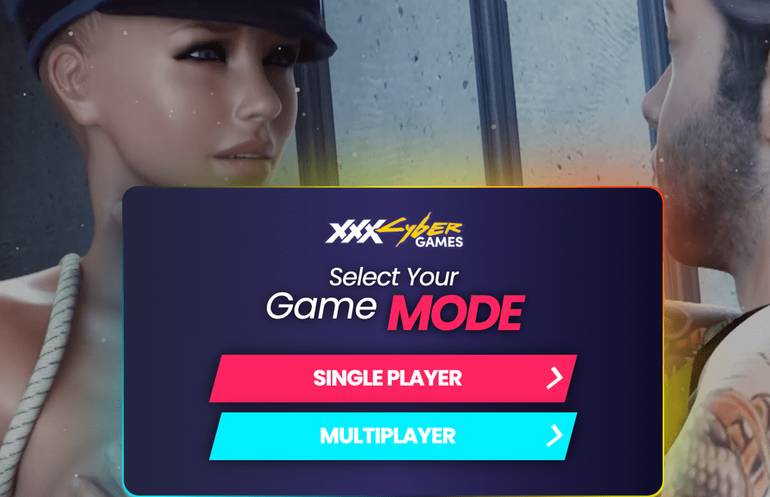 To start playing XXXCyberGames online sex game, you first need to create your gaming character. This is a typical procedure for all porn games online, so no need for you to freak out, dude.
For this, select your gender, sex partner (male, female, or trans), your sex partner's body type (thin, average, athletic, thick), your game mode (single player, multiplayer), and your preferred device (desktop, mobile, tablet).
Then, provide your email, name, country, and zip code and make up a strong password. This will create you an account. Registration in XXXCyberGames is completely free of charge.
But to proceed with playing and unlock all those sexy asses waiting for inside the game, you'll also need to indicate your credit card details. This is done to make sure you're a genuine person and is older than 18.
Prices
Though, giving your financial credentials is obligatory to start playing, you're still not charged anything at that stage. By providing credit card details, you unlock a free 2 days trial. This allows for unlimited playing on any device.
But after the trial period ends, you'll be charged $39.95 monthly.
If you're sick and tired of everything going on in porn, such games as XXXCyberGames will be a good way out. Here, you get a completely new kind of pleasure and teasing and can combine your love for games and sex in one. Pay XXXCyberGames to check yourself.
Frequently Asked Questions
1. Is XXXCyberGames free?
Partially, yes. It's free to create an account and as a new player, you receive a free 2 days trial. Still, after that, you'll be charged $39.95. And this is the price to pay monthly if you want to continue playing the game.
2. How to create account on XXXCyberGames?
First, answer a few questions that aim to make sure you're aware of the sexual content waiting for you in the game and prove you're at least 18. Then, provide your email, name, country, postal code, and make up a password. After, indicate your credit card details.
3. How legit is XXXCyberGames?
XXXCyberGames claims to be a legit and secure adult game. They use 256-bit to ensure your financial and private data (such as email) are safe. Moreover, there's nothing illegal in playing XXXCyberGames.