Last update: Sep 04, 2020
70263
Review Of The Narcos ХХХ Game – Most Badass Porn Game
Narcos XXX is hands-down one of the most powerful porn games on the internet. This is as wild as sex can get.
First thing, the game is built on the Unity engine. The WebGL API technology allows you to continue gaming without plugging. This means that you can fuck or watch all you want without downloading shit that you don't need. So, you won't be adding anything that can be potentially harmful to your PC but at the same time can give your dick the time of its life.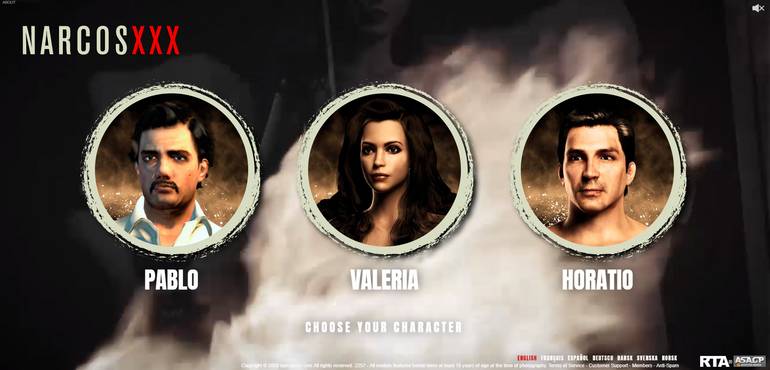 Once the game is done processing, you get two options: 'instructions' and 'start the game. Start with the instructions because you'd only be screwing up the game without it. The game uses the standard WASD movement setup. That means, your left click is fire and the right click is to kick doors. Also, G is for Grenade and R is for reloading. Easy-peasy! Once you know the movements, you can begin the game.
So, obviously, there are both good and bad points. The good news is that you get what you're looking for here. There's no false deliverance promises. You come for a mind-blowing shag and you get that. The bad news is that while you do it, make sure you are using an incognito tab. That's all about it. Nevertheless, here is a more elaborate description of the positives and the negatives in Narcos XXX review.
Sexual awards for users
Exciting challenges
Annoying music during sex sessions
What's the fuss about Narcos XXX game?
Narcos XXX is a fictional game based on a Colombian drug lord named Pablo Escobar. Basically, this fucker is the 'King of Cocaine' who runs the Medellin Narcos Trafficante Cartel and mostly fucks different women and shoots men.
Personally, guys love a nice plot in a porn game. The thing about porn plots is that you get to set yourself in a role that is cooler than who you are. Scenes from Narcos XXX have that super-macho exuberance that horny guys dolize. The plot begins with a guy on a boat fucking a chick bent over. But, then, the military surrounds the compound. The guy gets arrested along with two naked guys with huge cocks. Soon enough, the guy is behind the bars with a gun in his hand. Basically, it's time to escape this shithole. Now, this is where you get the reigns of the game. Until this point, it was the initial storyline. What happens after this is all on you. You can either make all the wrong decisions and fail or you get to be the ultimate Pablo Escobar.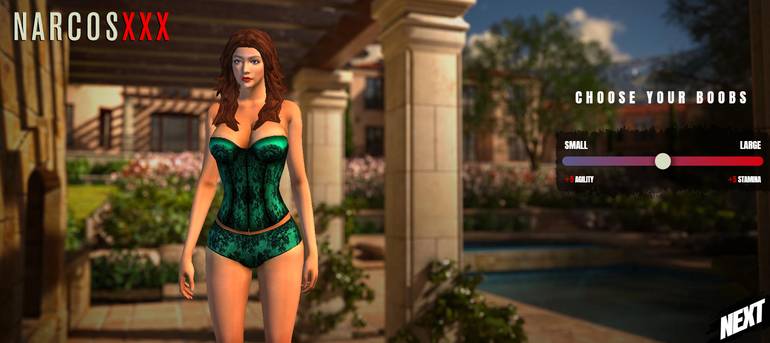 The rewards are everything sexual. You save the girl and you are awarded the kinkiest of fucks. Narcos XXX has done a splendid job in combining porn with thriller. The whole idea of getting sexual treats for every good job is erotic as hell. You need to move your mouse left and right to decide the speed at which you want to fuck the brains out of the girl or get your cock sucked. There are numerous scenes where you get to please your popsicle, and they're definitely going to challenge the beast in you.
One of the best things about this game is that it doesn't spoon-feed everything. There are challenges that you have to fight your way through. If you want the pussy rewards, you will have to work on the aiming skills and maintain the health bar. The girl of the game is every bit slutty as you can imagine. She is the horny chick everyone wants to bone. Guys absolutely love that about her.
Bro, the Narcos XXX gameplay is sic!
Yup! It totally is! Narcos XXX gameplay is mad optimized. It almost gives the Resident Evil vibes same as that of PlayStations. It also offers you the choice of either playing it on a full-screen or on a minimized window. Guys find it feasible as per their requirements.
Moving on to the tasks, the first one is to take down the guards and follow the blue arrows around the prison. You can use the barrels when it comes to killing these officers and guards. The efforts made in this porn game to present powerful gameplay are quite impressive. This is something quite unusual because porn games, in general, don't give a crap about such details.
In short, you'll be moving from one room to another, all the while taking down assholes coming on your path. Then, the game will drop a key which is pretty much the key to salvation. Well, that's enough spoilers given. You can continue ahead and seriously, it's no rocket science. So, quit looking for spoilers.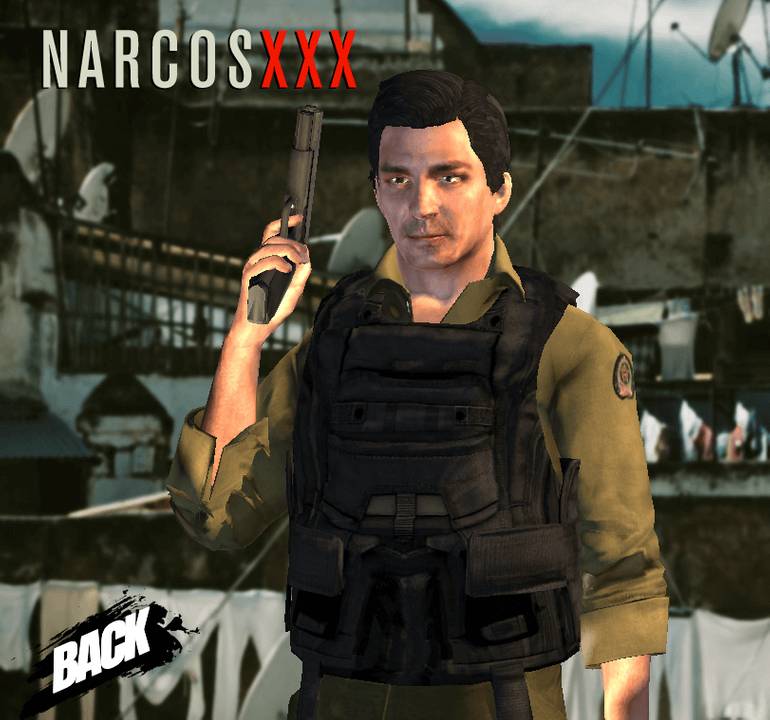 Narcos XXX Pricing Policy
Membership
1 Month
$39.95
Of course, Doofus! Why would anyone give free services after building such an amazing game? You want free games, you can always try those low-grade rubbish porn that can't even erect a pole right. Choose this game if you want the A-Class experience.
The game gives a 2-day free trial but you'll need to add your credit card info to verify your age. After that, you'll be charged $39.95 on a monthly basis. The membership includes porn games, porn videos and everything that's going to amaze your perverted head.
Conclusion
Overall, when you can't decide whether you wanna game or watch porn, this game gives you the best of both worlds. Just a prior-warning though, make sure you're not working because this game is too addictive and your boner won't escape.
Frequently Asked Questions
1. What does a Narcos XXX membership fee include?
No. The membership fee includes drool-worthy bonuses. Hundreds of exclusive games are laid down for you and your little friend. If you're a fan of Hentai, you're in for a feast! Experience Japanese porn games first-hand. You certainly went cray-cray playing those.
Along with games, you also benefit thousands of porn DVDs. Even the titles of these DVDs are going to make you hornier than ever. Big Phat Wet Natural Titties and Lesbian Couch Crashers are the new favorites. And the best part? They are all in HD.
2. How's the Narcos XXX gameplay?
The gameplay is the winner here. You go from shooting heads to getting laid bitches in a jiffy. More shagging means more rewards and there are so many hot chicks ready to spread their legs for you. Some bonk for money, some for drugs and some just love to get fucked because you are a rich, powerful fucker.
3. Who uses Narcos XXX?
Hell yeah! Narcos XXX sees more than 1.6 million visitors on a monthly basis. That's more than any dorky fucker can wish for. Most of these visitors are from the USA. The game is also catching up in China, Brazil, Germany and India.
4. What about the system specs?
You can play this game on Google Chrome but it has a record of performing equally smoothly on Opera and Firefox. You test it on Safari as well and it works just fine there too. You're going to need Flash and a strong computer with a good memory. Any decent system will allow you to enjoy the game smoothly. Else than that, your internet connection should run without breaking and you're good to jack off and shoot your way through the game.
5. How are the graphics of the Narcos XXX game?
Narcos XXX graphics are set to impress your cock. They are visually stunning and will have your motor running in seconds. Another thing about the graphics is that the details have been captured quite well. You'll have the girls bouncing on you in human-like fashion and you can almost feel their jumping tits on your face.
6. Is Narcos XXX easy to use?
This website looks easy. The layout is somewhat like that of Netflix. While most want their porn games to look pretty, Narco XXX focussed on being efficient. You don't need to be a genius to understand the website. Members will find what they want without running on a search rampage. Even then, if you need help, you can click on the My Account option in the top right corner. Let the support know what you're looking for, and they'll help you out.