CHYOA Review 2019
Possibility to complete the stories written by the other people
Free-to-use system
Nice readable font
Humor and satire stories
Perfect design
Public and private stories
Pros
Pleasant interface
Big community
Complete guide on how to use the site
Search by categories
Font formatting is available
Active forum
Tags to search for the needed content
Cons
Some stories have low quality
Total Score
Member Structure
Member Structure
Members geography
483,000 from USA
Members activity
31,000 active weekly
Our review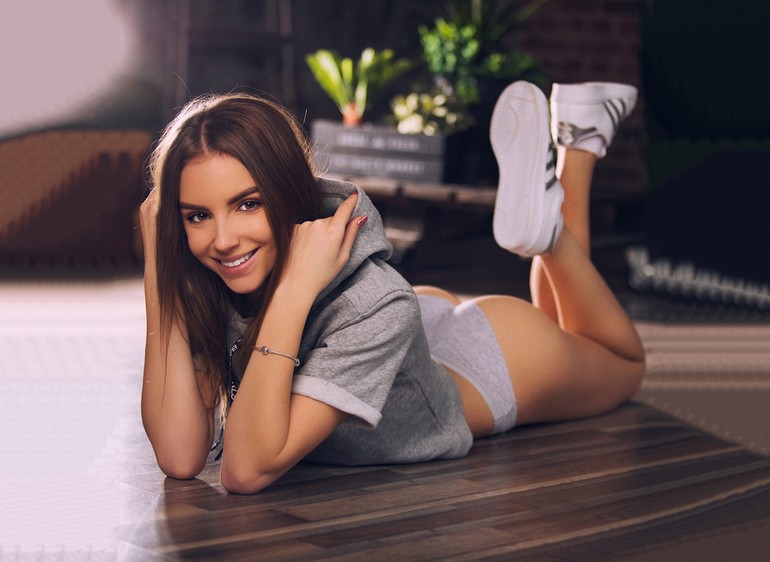 Chyoa.com is quite a unique website that offers people not only to enjoy arousal stories by talented authors but to participate in completing them too. There are tons of sex literature on this platform, and you can write your end or just a part of the story you like. It is an amazing possibility for those, who just started the writing path or want to make the most desperate desires to come true in texts written by someone.
This platform is a little sister of Literotica - a legend in the world of erotic writing. However, Chyoa is getting more and more attention recently because of its great navigation, thousands of open-ended stories, and active community. It seems like the little sister may outrun her legendary relative in the nearest future.
The site offers plenty of erotic fiction categories for any fan of text porn. There are writers from different countries, and they can post their works on their native languages, but the majority of the stories are in English.
CHYOA members
The community is very friendly
Plenty of users
Members are from all over the world
There are thousands of registered members of chyoa.com, and they are constantly uploading their works. More than 11,000 of exceptionally well-written stories by those talented people are waiting for you, your comments and likes. Almost all the members speak English, so you will be able to communicate with any of them.
Registration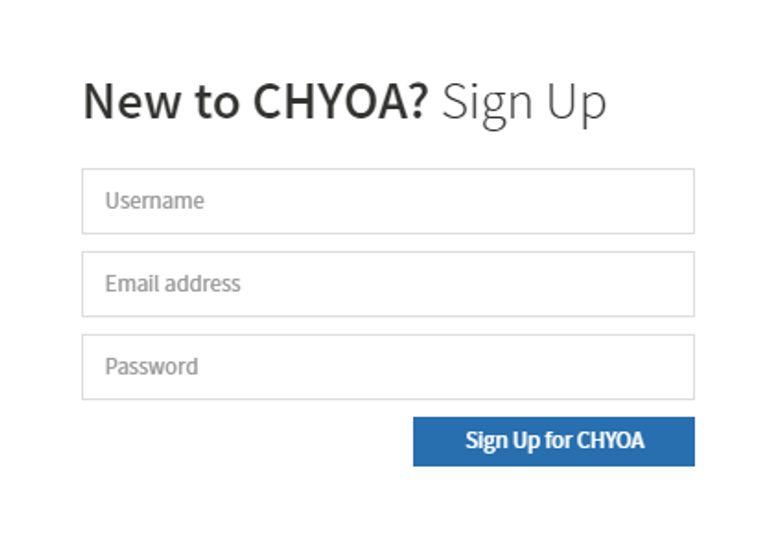 Registration takes a few minutes
To become a member of the site is free
No profile verification by the administration
The site requires only basic data: your name and email. After entering this information, you should check your email and confirm your registration. The moderators will not verify your account or identity, and will not demand any documents to register. You need only several minutes to become a member and start to write and post, or read and save to Favorites the stories you like.
Start conversation
Forum is free to use
Making contacts via direct messages
Comments and likes are available to express opinion
You can make contacts for free on chyoa.com. You can write direct messages to any user of the site, and there is no possibility to customize your messages settings. You can only remain silent if you do not want to talk.
The site offers the members to use the forum to communicate with people, contact administration, express complaints, and discuss the works of their favorite authors. There are comments as well, to share your thoughts immediately after the reading of a chapter; or you can just leave likes if you want to support the authors but don't feel that you need to write something.
Profiles

Profiles are very detailed
Users can upload photos
Members can see the recent activity of each other
List of Favorites (authors or stories) is also available on profiles
Chyoa's team is making everything for people to express themselves and explore the other members' personalities. You can reveal some info about yourself using the section About that offers to fill out the following text boxes:
Gender;
Birthday;
Location;
Homepage. Here you can put an external link to the site with your works if you want to. The site does not prevent the links exchange between the users, so feel free to leave any data you want;
What you usually do when you are not writing erotica;
What you like to do when you're not reading sex stories;
Your favorite sex words;
Your reason to write erotica;
A few words about yourself.
Members of the site usually do not upload their real photos, and there is no possibility to upload albums; yet, you still can see the main userpics of the users. Additionally, you can explore the sections named Recent Activity, Stories, Chapters, and Awards. If you want to know more about your favorite writer, you can visit these sections and see whether or not this person is active on chyoa.com.
Mobile app
The site has no mobile app yet, but you can access the Chyoa.com via your smartphone or tablet using browser.
Free services
Reading, posting, uploading main photos, any types of communication, and all the other services are completely free on chyoa com. Members' review say that such a nice site offering free-to-use system is a gift, as a lot of similar platforms are either cheap-looking or demand some payments. Chyoa is a great combination of the two essential things for readers and writers, and it explains why this platform is so popular and gets financial support on Patreon.
Appearance and interface
Only a few months ago, the site represented old-school pages with no color accents and hard-to-read font. However, the administration of the site has developed a new design recently, and now it looks amazing. Everything is well-thought, from different text formatting to empty spaces between the frames with texts. The main page is especially good, it contains everything you may need: guides, categories, search, recently updated profiles, and works. You don't need to click endlessly on the unknown links to find something you need. Additionally, no annoying ad or picture will prevent you from reading and writing, but you will still feel comfortable scrolling pretty pages.
There is an interesting detail about the reading process: you will always see the details of the story you see, i.e., category, tags, author, comments, likes, etc. Is it a positive or negative feature - it's only you to decide.
Special features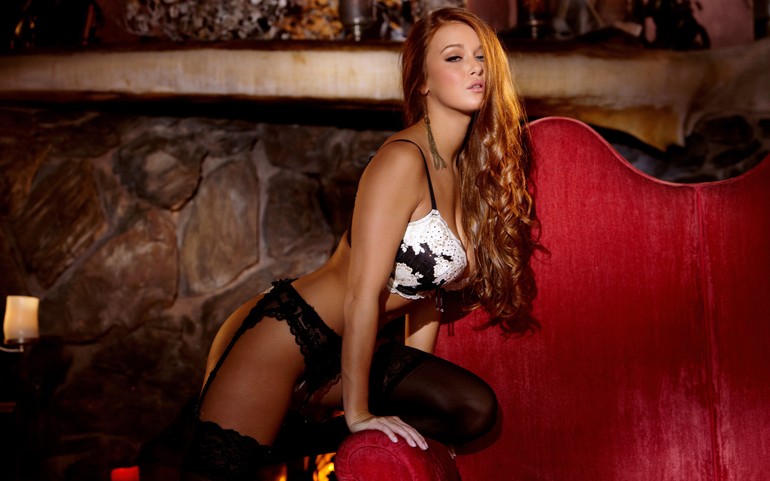 Rich Text Editor toolbar
Among all the erotic stories sites, Chyoa stands out as the most convenient and comfortable for reading and editing texts. Rich Text Editor toolbar allows the authors to make their texts more diverse and colorful by using different formatting types. Such an approach grants the readers another level of satisfaction, as such simple thing as highlighting the text may delightfully affect the minds and hearts. You will experience something new if use this toolbar, so try to play with fonts and formatting and get/offer new emotions.
Invisible choices in game mode
This is a unique feature that gives the full interaction with the story you read. Some authors make a huge work, writing tons of text for you to participate in it too. You can make choices during reading, and those choices will open different parts of the story, so you can build your version of what's happening. You can read one work numerous times, making different choices, and it is great! There are not so many such texts, yet their number is growing.
Contact Information
Free Registration
Frequently Asked Questions
Is CHYOA free?
This site is completely free.
How to create a profile on CHYOA?
You should enter your email, as well as to create username and password in corresponding text boxes during the registration. After that, you need to confirm your email and fill out your profile. You can leave the profile empty and enjoy the porn texts being faceless.
Is CHYOA safe?
The platform is safe for your Internet activity and personal life because you can use fake names and photos and be anonymous online. The platform is safe for your works as no one will steal them: every work has the publication date, so everyone will see who has posted the chapters first. Additionally, the administration takes care of the authors (and readers) and helps them solve any problems. It is safe for your money, as chyoa.com demands no payment, so no transactions are needed.
How can I delete CHYOA profile?
Only the administrators can delete the accounts. To leave the site, you need either to write a letter to the team via their contact email, or to create a thread on the chyoa.com forum. The admins will give answer to your request within several minutes, and the profile will disappear from the site within the next 24 hours maximum.
How many members does CHYOA have?
The platform may boast of thousands of registered users who constantly post articles, and hundreds of thousand visits per month.
Can I use CHYOA anonymously?
Yes, you can. Take any name you want and upload any userpic: the majority (if not all) of the members do not want to reveal their identities.
How can I know that the profiles are real?
They are real, as the real people write stories, but the users usually do not upload their real photos and show their real names rarely. Enjoy their stories and remember that your favorite author may turn to be not a beautiful blonde, but a 40-year-old man with exceptional imagination.
Is messaging free?
Yes, you can communicate for free. Use forum, personal messages, and comments to the stories to make contacts.
How long does it take to have my profile approved?
There is no profile verification, so you can start your activity on the site immediately after the email confirmation.
What can I do to keep my account safe?
The site has no special protection measures, so the safety of your account is your responsibility. You should not send your password, address, or any other data that may lead to blackmail or any harm. Just keep your data in secret, and no one will steal your account or works.