Indian Sex Stories Review 2019
Minimalistic website with user-friendly interface
Over 17.000 authors
Over 50.000 erotic tales
Complete privacy guaranteed
Communication with webcam models, live shows
Pros
Lots of categories including gay sex
Publishing and reading stories is completely free of charge
Over 50.000 sex stories in English and Hindi
Regular updates, about 10 posts added daily
Indian girls' erotic photos
Immediate access to Indian Sex Cams
Cons
Mobile app is not available on Google Play Store or App Store
Total Score
Member Structure
Member Structure
Members geography
762,000 from India and USA
Members activity
52,000 active weekly
Our review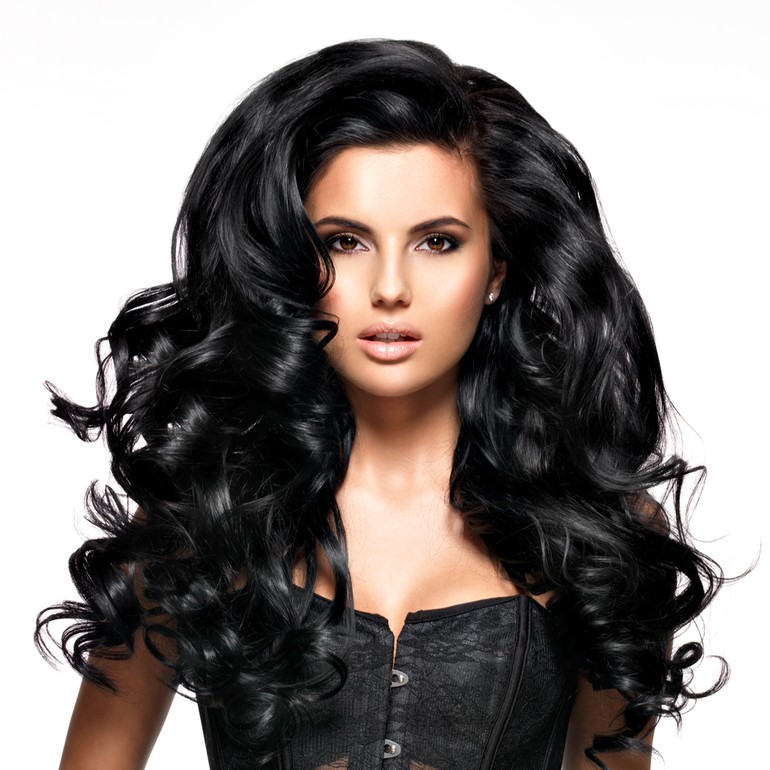 Indian Sex Stories is an adult website created for people who like to read erotic stories and for the authors who write their own tales and want to publish them. The site was launched 17 years ago, and since then more than 50 thousands stories were edited and posted.
There are no taboos on ISS – members can post and read nearly all types of erotic tales in English and Hindi. Currently, there are over 50.000 stories written by 17.000 independent authors from all over the world in the site's database. Each story is carefully checked by editors – the administration makes every effort to provide the site visitors with an opportunity to enjoy the best content. Check out our IndianSexStories.com overview to learn more about the platform.
Indian Sex Stories members
Over 17.000 active authors
A huge number of registered and non-registered readers
Members from India, UK, and the US
Most authors remain anonymous, so we cannot say anything about the ratio of men to women. Nevertheless, there are over 17.000 active authors on IndianSexStories.com, and most of them are from India. The rest are from English-speaking countries, in particular, from the United Kingdom and the United States.
Registration
Immediate registration
Only valid email required
Opportunity to publish stories right after registration
No need to use your real name
Complete anonymity
Any adult user can sign up immediately: just click on 'Submit a story' and then on 'Create an account.' After that, you need to provide your email and create a username, check your inbox, find the email from ISS, click on 'Set your password' link, create a password, and then log in. The whole procedure takes less than a minute. After it is complete, you can publish your own erotic stories on IndianSexStories.com.
Start conversation
Post comments
Send personal emails
Communicate with Indian webcam models on DSC
IndianSexStrories was created for people who want to read and write Indian erotic tales. Although this is not a forum or a dating site, members can communicate with each other by writing comments or sharing personal emails. It compensates for the lack of regular text chat. The site visitors can also interact with webcam models by clicking on 'Indian Sex Cams' – you will be redirected to Delhi Sex Cams where you can choose a model and communicate with her in Text, Video or Voice Chat.
Profiles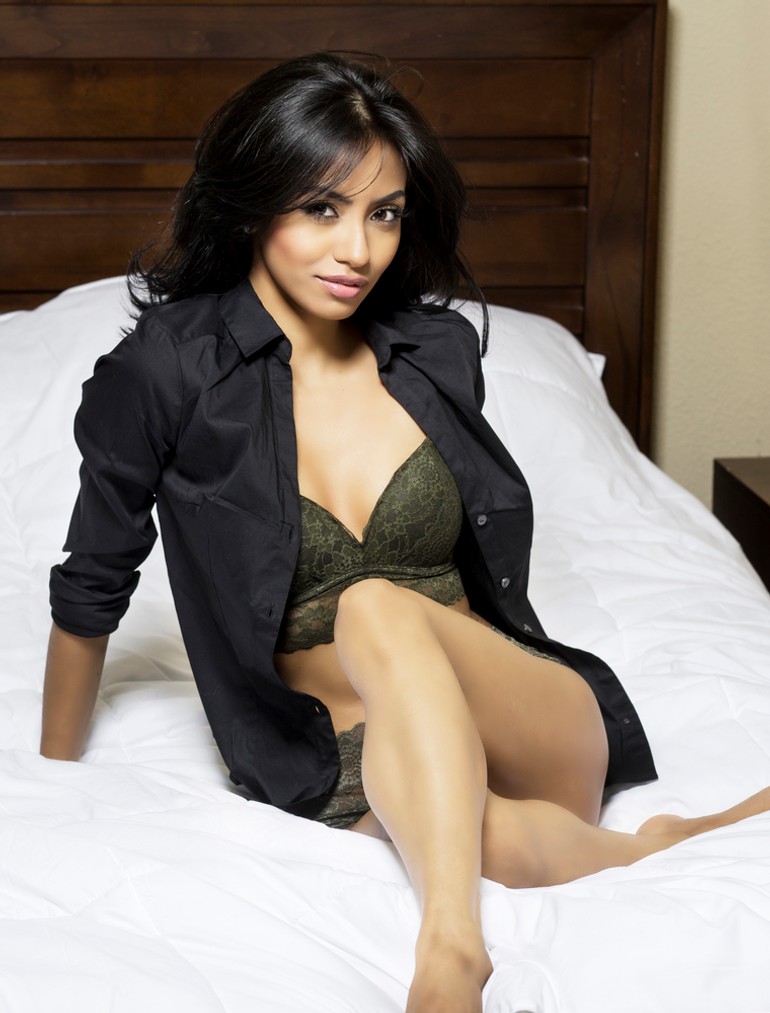 Simple profiles
Only username and email required
No personal photos or videos
A member can set up a profile in a few seconds. Even though it is not very detailed, you can manage it by adding and changing your personal information. A member cannot upload photos or share personal data. If you like an author and want to know more about him or her, you can see only his username and self-description. You can write some comments and even ask for an email address to know this person better. We don't think that lack of personal info is a disadvantage. The platform assures anonymity, and that's the good news for most contributors and readers.
Mobile app
You can find Indian Sex Stories mobile app on Apkpure.com. However, it is compatible only with Android devices. Currently, users cannot find it on Google Play Store or App Store.
Prices
As we have mentioned above, posting and reading stories on Indian Sex Stories site is completely free of charge. However, if you want to interact with the girls broadcasting live on DSC, you will need to buy some credits. There are 6 types of premium membership, but you cannot just pay for the best plan with the lowest prices. As a member, the more credits you buy and spend, the less you will pay for the next credits. In other words, you start as a Bronze member, and if you are using the services regularly, your plan will be upgraded to the next level. The prices for credits are as follows:
There are also a few credit packages to choose from:
9.95 USD package
19.95 USD package
29.95 USD package
49.95 USD package
99.95 USD package
245.95 USD package
The better your membership plan is, the more credits you get, for example, Bronze members get 10 credits for 9.95 USD, and King members get 20 credits for the same amount of money.
Free services
Read erotic stories
Publish your own tales
Get your stories checked by professional editors
Comment on other authors' tales
View Indian sex photos
Fee-based services
All services provided by ISS are free. However, you can access DSS to communicate with Indian models or just watch hot shows. We have already described the types of Premium membership, credit packages, and prices above.
Appearance and interface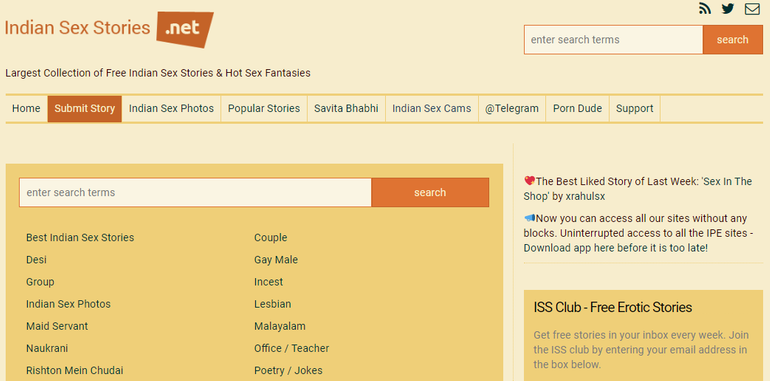 If you expect IndianSexStories.com to look like Pornhub, you will probably be disappointed. It has a very simple, minimalist design and a very user-friendly interface. All site visitors get immediate access to all the functions and categories. Two clicks are enough to find what you were looking for and even to sign up. The site is really easy to use, and even though the design may seem a bit outdated, ISS still has everything a good site with sex stories is supposed to have: great interface and tons of top-quality content.
Special features
Indian Sex Cams

Indian Porn Empire is the company that owns lots of adult websites, including IndianSexStories.com. On ISS there is a separate section called 'Indian Sex Cams.' If you want to see hot Indian girls after you read some erotic tales, just click on the button and enjoy communication with hotties on Delhi Sex Chat, which is also a part of IPE network. However, unlike reading and publishing stories on ISS, watching live shows or interacting with girls in Voice or Text Chat costs money.
Telegram channel
Telegram is one of the fastest messengers that provides complete privacy for all users. You can upload it in the App Store or Google Play Store and subscribe to ISS channel. This will allow you to receive the best stories in real time, read some interesting and hot posts and be aware of all updates and changes.
Contact Information
| | |
| --- | --- |
| Company: | Indian Porn Empire |
| E-Mail:: | support@indiansexstories2.net |
Free Registration
Frequently Asked Questions
Is IndianSexStories free?
ISS is completely free for the authors and readers. You can sign up for free, submit your stories, and if they meet all the requirements (plagiarism free, no grammar and spelling mistakes), they will appear on the site. You can also read the stories by other authors for free. However, if you want to watch some webcam shows in the 'Indian Sex Cams' section, you will need to buy some credits.
How to create a profile on IndianSexStories?
Find the 'Submit a Story' section on the main page, find 'New Author Registration' button, click on it, fill out the fields, submit the form, open an email sent to you, and confirm your email address. Registration is completely free.
How do IndianSexStories credits work?
If you visit ISS to publish your own stories and read the stories written by other authors, you do not need to buy any credits. However, if you also want to enjoy communication with hot Indian girls in Voice Chat, Text Chat or Video Chat, you need to click on 'Indian Cam Sex,' access Delhi Sex Chat, go to 'Add Credit' page, choose the package and provide your credit card details.
Is IndianSexStories safe?
The site uses SSL encryption and does not disclose or sell the users' information to any third parties. The third parties may process the data of users only if they provide certain services such as hosting, app development, maintenance, etc. Hence, the site can be considered safe.
How can I delete IndianSexStories profile?
A member cannot delete the profile, but you can log out and cancel his or her subscription at any time.
How many members does IndianSexStories have?
Currently, the site has over 17.000 members from all over the world, but most of them are from the English-speaking countries and from India.
Can I use IndianSexStories anonymously?
Yes, you can use ISS anonymously. All authors have aliases, and even though some of them are famous in the community, nobody knows their real names. You do not even need to provide personal data to create an account or confirm your identity. Providing an email is enough to use all the features.
How can I know that the profiles are real?
The platform was created for the authors who usually prefer to remain anonymous. Still, they are real people who create high-quality content. As for the webcam models, you can see and hear them in Chat, and more importantly, they all confirm their identity before they start working.
Is messaging free?
Commenting stories is free of charge. Some authors also share their email addresses, so you can contact them via email, the does not have any restrictions when it comes to interaction between the members. However, if you want to talk to real Indian ladies in Text Chat on DSC (Delhi Sex Chat), you'll need to buy one of the credit packages.
How long does it take to have my profile approved?
You can set up a profile in a few seconds. You only need to follow the link in the email sent to you, reset the password and log in. Right after you do this, you can publish your tales.
What can I do to keep my account safe?
Although the administration of the website makes every effort to protect members' data, you need to create a strong password to protect your account. We also recommend you not to share your personal information with other members. All users can discuss any topic in real-time comments system and/or exchange the email addresses.