AltScene Review: Don't Invest Until You Read HG Review
Hookupguru's verdict
So, what's my verdict? Put it this way, if AltScene were a person, I'd rather jerk off with a cheese grater than spend another minute on this site. Between the blatant bot spam and the lackluster profiles, AltScene is like a flaccid dick at a gangbang—utterly useless. The interface is as outdated as granny panties, their customer service is about as helpful as a cock ring on a eunuch and their chat rooms are about as lively as a morgue. Why waste your time on AltScene when you can score real hookups on WannaHookUp, AdultFriendFinder, OneNight Friend,  and BeNaughty?
Best for:
People who get off on being cock-teased by bots
Those who enjoy sifting through a sea of fake profiles
Anyone who loves the thrill of not getting laid
Not for:
Anyone who actually wants to stick their dick in a hot tattooed freak
Those who enjoy meaningful conversations with real, breathing humans
Folks who'd rather not waste their time on a site that's about as fruitful as a eunuch's balls
I see your pursuit to find voluptuous goths to knob on your cock never falters, my hungry jerker. What is AltScene?AltScene – the alternative dating site for those who are looking for a bit of extracurricular fun with emo bitches and punk sluts. AltScene boasts about being a haven for the unconventional, a pit stop for the extraordinary, promising to get you laid with some alt hotties. But hold your horses! Is AltScene legit? AltScene isn't all it's cracked up to be. I investigated to find out how does AltScene work. Strap in, my jerker, come find out more with me.
Member structure
Members geography: Mostly US members Members activity: Lots of inactive profile Gender Rating: 6:1 Male to female ratio Starting price: Free
How to create an account on AltScene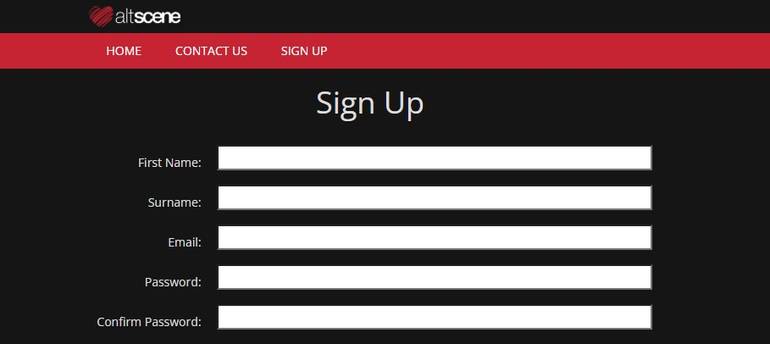 To on AltScene is a real ball-buster. They had me jumping through hoops like a circus lion on steroids for well over ten minutes. Here's the lowdown:
Your name
Email
Age
Location Sexual Interests
After all that crap, they make you write a goddamn autobiography with the "About Me" section like you're the next Hemingway or something. It's a fucking alt dating site, not a literature contest! And when you're finally taken to the outdated homepage, you're left wondering if it was all worth it. Newsflash: No! Especially with so many better sex dating sites to choose from! Sure, they promise you'll "Find your perfect match," but the profiles seem faker than snow in Dubai.
Are AltScene female profiles good?

I'll give it to you straight, the profiles on AltScene are as far from prime cuts as you can get. Most of these birds are well, homely, starving for a bit of a romp, and are far from the hot goth chicks of your dreams. If you're on the prowl for a nubile emo nymph to tango with, best set your sights elsewhere.
Is AltScene real? On the rarest of occasions, maybe. If you've got a thing for butterfaces with piercings and dry texting bots, then this might just be your twisted paradise. But don't hold your breath. These profiles are as enticing as Russian propaganda videos. Navigating through the sea of fake profiles and bots that infest this site is a total ball-ache, and I really asked is AltScene a scam.
Chat options
So, you're itching to connect with some big tidy goths on AltScene, eh? Well, brace yourself for a fucking letdown. You're about to find out why is AltScene free:
Flash 'em a wink (Basically a lazy-ass 'hello')
Send a friend request (Who are we kidding? This ain't Facebook.)
Shoot 'em a message (Probably your best shot at getting some action)
Now, they've got this chat room feature, usually stashed behind a paywall on other sites. But don't get your hopes up, my hungry jerker. This chat room is as lively as a graveyard. During my time there, instead of the promised hundreds of active users, I ran into a meager 10 or 20. Feels more like a ghost town than a buzzing chat room. My guess is most of these fuckers don't know how to delete AltScene and just left their accounts hanging.
Extra special features
Alright, my jerkers, let's dive into the "special" features this shitshow AltScene parades around:
Photo Albums: They let users upload as many dick pics, tit shots, and bad tattoo snaps as they damn well, please. Great, if you're into cringe-worthy nudes and facepalm-worthy body art. These are tossed into albums, some of which are as titillating as a dead fish.
Who's Stalking You?: You can peep who's been checking out your profile, like some kind of weird digital voyeur. If they haven't slid into your DMs yet, you can send 'em a wink or a message.
Forum: They've got a fucking forum, trying to act like they're some kind of community. You can post about anything, from your fave sex positions to the lamest pick-up lines you've ever heard. Posting is as easy as your ex.
How to use AltScene for hookups

If you're hellbent on trying to find a hookup on this dumpster fire called AltScene, here's your fucking roadmap:
First off, you've got to pimp your profile. Spill all the dirty beans about what weird shit turns you on. Don't be shy, show off those whatever alt shit you've got going on - you wanna try to attract those punk girls
Next, you're going to have to wrestle with their laughably crude search filters. I have no idea really how many people use AltScene, but good fucking luck finding someone who matches your tastes amongst the sea of desperados and fakes.
Now, if by some miracle you manage to find someone that doesn't look like they fell out of the ugly tree and hit every branch on the way down, you've got to initiate contact. Send 'em a wink, a message.
Finally, you could try and arrange a real-life meet-up. But considering the quality of users on AltScene, I wouldn't hold my fucking breath.
They say they're making it easier for like minded single people to meet and get to know each other. My advice? Save your time, your energy, and your dignity, and look somewhere else.
How much is AltScene a month
You're probably wondering how much this shitshow costs, right? Is AltScene worth the money? Well, brace yourself, because the price tag on AltScene is... drumroll, please... a big fat fucking zero. And guess, what, it's still not worth it! They oughta be paying you to use this embarrassment of a dating site.
See, while they might not be grabbing your cash directly, they're making money off you in other ways. This site is riddled with more ads than a late-night infomercial, all thanks to their 'free' model. So while you're trying to find a date, you're gonna be bombarded with shitty ads for penis enlargement pills and cheap sex toys. Fucking brilliant, right?
And if you're wondering about payment methods, well, there aren't any, because there's nothing to fucking pay for.
Free features
Create a profile
Upload unlimited photos
Send unlimited messages
'Wink' at other users
Check who's been snooping around your profile
Сommunicate in the forum
Oh, and there's a chat room too, but it's about as lively as a Mormon house party. So, enjoy these 'free features', you masochist.
Paid features
Now, this is going to be the shortest section of this whole fucking review because guess what? There are no paid features. Zip, zilch, nada. Because the site is 'free'- you're only paying with your sanity and time instead of your hard-earned cash.
How to delete AltScene account
Let's be real, after a quick tour around this shit show, you're probably ready to jump ship. So, how do you escape this alternative hellhole? Get your cursor over that 'Help' menu and pray for deliverance. At the bottom of that list, you'll see the 'Delete Account' option. Click that sucker and kiss this disastrous mistake goodbye.
Deleting your account on this piss-poor excuse for a dating site is like getting a tattoo removed. It hurts like a bitch, and you'll always have the shameful memory of that time you thought it was a good idea, but you're never gonna reactivate AltScene account after deleting it.
Customer support
So my conundrum - my profile is swarming with bots, fake profiles, and I'mfrustrated as hell. I'm thinking, "Right, let's get some bloody help." I navigate my way to 'Help' and then click on the 'Contact Us' section, praying for a live chat option or a phone number, but all I find is a sodding message box with my email address for them to reply to. What the fuck is this, 2005?
Anyway, I swallow my pride, type out your woes, and hit send. I wait for eons, all while my inbox is getting spammed by 'Sexy666' who can't even spell right. And when I did finally get a response, it was some pre-written, generic crap that doesn't even address my issue. If you're looking for a helping hand on this site, you're gonna have better luck teaching a dog quantum physics.
Hooking up with bots or is AltScene a scam?
AltScene claims to be a haven for alt-loving horny devils, but once you're in, you realize it's a bloody boat fest. I mean, who are they trying to fool? Their bots are about as subtle as a boner in skinny jeans. And there's no way to filter these soulless machine wankers out. It's like trying to find a diamond in a goat's ass. Sure, you might eventually find something shiny, but you'll be covered in shit by the time you do.
So, is AltScene a scam? Well, if it quacks like a duck and walks like a duck... you get the idea. Steer clear, my horny jerker. Grab your dick and double-click on some of these websites that'll get your alt dating fix:
WannaHookUp

AdultFriendFinder

OneNightFriend

BeNaughty

SmokeandPoke

HornySpot

SweetSext

Passion.com
AltScene review: Your questions answered
Is AltScene good?
If by good you mean a shitfest, then yeah, AltScene is fucking spectacular. In terms of actually getting you laid, it's as useful as a condom with a hole in it.
Does AltScene have an app?
Nope, these twats can't be arsed to develop an app. So, you're stuck trying to navigate their shitshow of a website on your phone.
How does AltScene work?
It works by luring you in with the promise of dating emos and punks, then bombards you with bots and fake profiles. It's like a bad porno plot without a satisfying climax.
How to find someone on AltScene?
Good fucking luck. Trying to find a real person on AltScene is like trying to find a clitoris in the dark. But if you're feeling lucky, you can try using their piss-poor search filters.
Is AltScene reliable?
This site couldn't even reliably get a guy laid in a brothel. I wouldn't trust it to deliver a pizza, let alone a quality goth girl.
Frequently Asked Questions
1. Is AltScene legit?
No it's not. It's got more bots than a Transformers convention and half as much action.
2. Is AltScene free?
Yeah, it's free. But remember, you get what you pay for. And in this case, that's a big, steaming pile of dogshit.
3. Is AltScene safe?
Safe to waste your time, maybe. But if you're actually trying to find an alt chick to bang, I'd recommend investing in a good antivirus. You'll need it for all the bots.
4. Is AltScene worth it?
Is getting blue balls worth it? If you like being frustrated and horny with no relief in sight, then by all means, sign up for AltScene. Otherwise, steer clear, my jerker.