Last update: May 21, 2020
26922
Free using and sign up
160 pages of hot content
Well-developed mobile version
Safety of your data
Messaging with no limits
You can send messages for free
Communication in a forum
Different categories and filters to simplify the process of searching
No paid functions
No possibility to download games
Our Review
Comdotgame service was launched a few years ago to allow its members to relax after a hard day and have some virtual entertainment with exciting and spicy adult games. The variety of games is so large that you will never be bored at this service. If you try one, you won't be able to stop searching for more of them. You can even find there some games based on your favorite cartoons, but the concept isn't childish anymore.
As there is something for everyone, you can use this service despite your gender, age (if you are 18 at least), nationality and preferences. The idea of games but not videos help you feel engaged, be the creator of the plot, not the observer.
Comdotgame members
Million of members
You can find here users of all genders
The community is quite international
There is the age limitation
Members of all ages
Comdotgame can boast of millions of members who are real fans of anime and games presented here. With a great range of different products, this website attracts people of different fetishes. That's why here you will find not only a woman and a man looking for games based on hot actions with the opposite sex, but also people who prefer the same gender. As well as all games and instructions to them, blogs and forums are in English; there are a lot of people from around the world. The community is active, and thanks to chats and forum members can communicate, share their impressions and experiences. Although there you will come across people of different ages, there is the age limitation. So, it does not allow people who are under 18 to visit this website.

Registration
Free registration
It won't take a lot of time
You don't need to answer additional questions
You will have to enter the working email
The process of approving your account is really quick
Luckily for you, the registration on Comdotgame.com is free. Even more, you won't be unexpectedly charged at any time of your use. Be sure that the process of sign up is not time consuming because you need to enter just a few things:
Your username
Email
Password
On Comdotgame they promise that they will keep your account safe. By the way, if you forgot your password or username, you can always restore it without any problems. Here you don't obligatory need to set your account or answer additional questions. Everything that is needed is your nickname and confirmation letter that will help you to use entirely and write in chats.
Start conversation
Well developed searching engine
Messaging without limitation
Free discussions on the forum
You can write any user you want
Play games without paying
When you finally got used to the site, click all possible buttons and just look around, you can start the thing why you are here. To look for games, you can use several ways:
Search
Featured section
Recent games
The most popular among members
Adult
As there is quite a lot of section to find a popular game, you can browse it all and choose the most preferred way. For example, you can use a searching tool where you will need to enter the first letter, syllable, or word. The engine will help to find you all the videos that can fall under the category or tag you chose.
You also have access to the section "Featured." There you will find videos divided into categories. Every game has a sign that shows the level of difficulty. So you can think and select among the simple, normal, and difficult games.
In the "Recent games" you will see the latest games that have been added. In a "Popular" section, there are different games. The first ones are those that are rated really high by users. So, probably this page will help you with a choice of high-quality games. So many customers never make the wrong ratings at once.
Finally, in "Adult" you will find only the hottest games. It's interesting though that among hentai you can come across some innocent cartoon games. Before you choose, near every game there is a small thumbnail screenshot. And when you finally start playing, you will see buttons for Fullscreen, Comments, and Bump. There is also a list of comments, although most of these games are pretty low on commentary.
Finally, you can visit a forum or discussions and take part in it to start a conversation with other gamers and combine communication and gaming.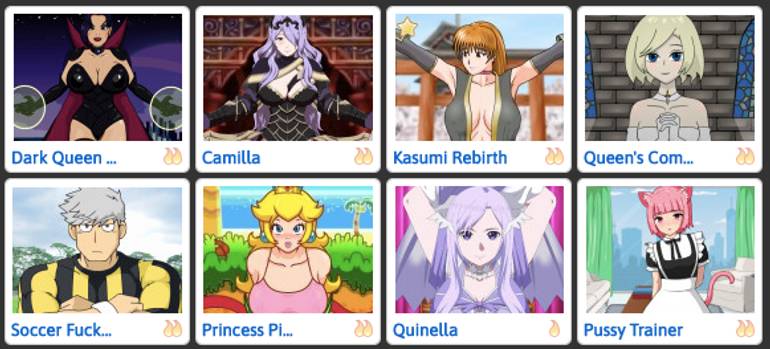 Profiles
In profiles there is no personal info
You have access to every member's profile
You can follow some of them
You can block the users so they are unable to text you
It's clear that as far as communication is not the main thing on Comdotgame.com, you won't find a lot of private details on members' accounts. Mainly users don't fill it and prefer to stay anonymous with strange nicknames. Look, when you use sites like this one, you don't want to get outed or meet some people you know by chance.
Despite this, you have access to all the profiles, and you can send messages to members. If you want, you can follow some people not to lose them. At the same time, there is a possibility to ban some people from writing to you if you find it annoying.
Mobile app
Unfortunately, Comdotgame haven't created a mobile application yet. It would help its members and give the possibility to use their website without any difficulties at every time in any place. But the creators decided that they will ensure a great mobile version instead. So, in any case, you can use it from different devices in a browser.
Prices
The most interesting about the prices is the fact that they don't exist. Yes, you don't need to pay for playing games here. Everything is free, lucky you.
Free services
On Comdotgame you can find such absolutely free functions as:
Exploring the site before signup
Registration
Use of searching tool
Viewing gaming sections
Writing messages
Using other profiles
Playing online-games
Creating chats and discussions
Writing in a forum
Appearance and interface
The whole interface is quite simple, but it needs some time to get used to it and find out where to look for the best games. The design is bright and ensures high-quality games. If you got lost, you would be able to find all the necessary tools and pages intuitively. Besides, the designers do new updates from time to time to keep the interface closer to trends.
Special features
List of favorite games
Here, Comdotgame has a handy feature that gives the possibility to save your most preferred games and add it to a favorite list once you are logged in. It allows you to waste less time because of looking for games you have already played and liked. Just log in and start your game immediately.
Contact Information
| | |
| --- | --- |
| Company: | Comdotgame |
| Address: | 65 Third Street #207, San Francisco, CA, 94107 |
| E-Mail: | webmaster@comdotgame.com |
Frequently Asked Questions
1. Is Comdotgame free?
Yes, it's absolutely free. Here you can do everything without paying anything. Starting from the signup and searching to playing games and writing on a forum.
2. How to create a profile on Comdotgame.com?
Enter your working email in the registration form, create a unique nickname and password, and your signup is complete. After that you can add more details to your newly created personal account.
3. How do Comdotgame credits work?
Here you won't find any credit system because everything is free. You don't need to pay coins or something else, just visit the site and play for your pleasure.
4. Is Comdotgame.com safe?
This website promises to protect you against any scam, fraud, and viruses. All your data is also safe and won't be used in the other way as just for you to sign up and log in.
5. How can I delete Comdotgame profile?
To close your account, you will need to visit a "Your account" section, click on "Close my account" and confirm that you want to do it.
6. How many users does Comdotgame have?
It's a bit difficult to count, but every month a million users visit this website.
7. Can I use Comdotgame.com anonymously?
Yes, you can use it in a private mode. The only private thing you indicate is your email. In this case, you have nothing to worry about because there are no chances your email info can be leaked or shown. So, the only thing that you will need to do is to create a good nickname with no info about you.
8. How can I know that the profiles are real?
To be approved, every newbie needs to get a verification email and confirm it.
9. Is messaging free?
Yes, you can send messages without any charges.
10. How long does it take to have my profile approved?
Once you click on the link in your confirmation email, you will be redirected to the main page of Comdotgame. At this moment, your account is approved.
11. What can I do to keep my account safe?
To keep your account safe, use reliable wi-fi and don't share your private information with other members and people you don't know.