Last update: Oct 24, 2019
27907
Stunning graphics and designs
Plenty of hot maidens
Great dialogues and models
Large virtual world
Simple user-interface
Tons of hot ladies
Amazing sex scenes
Interesting boss battles
Many challenges to complete
Free of cost
Some battles are too easy
Users have to wait before fighting again
It is difficult to build buildings in higher levels
Our review
Another game by Nutaku, Crystal Maidens, is an adult game that is available on the browser as well as Android. The game features curvy warriors, and there is some sort of dark force that is all over the land. The interesting story starts as you have been part of a disastrous shipwreck. Crystal Maidens have an addictive story and stunning combat scenes. Moreover, the combat strength can help you in leveling up your maidens.
The game has multiple features and functions that can keep users engaged. Even the sex scenes are appealing. There is a proper story to the game, and with stunning visuals and sounds, Crystal Maidens certainly is a must-try. Find out the features and different aspects of the game in this detailed review.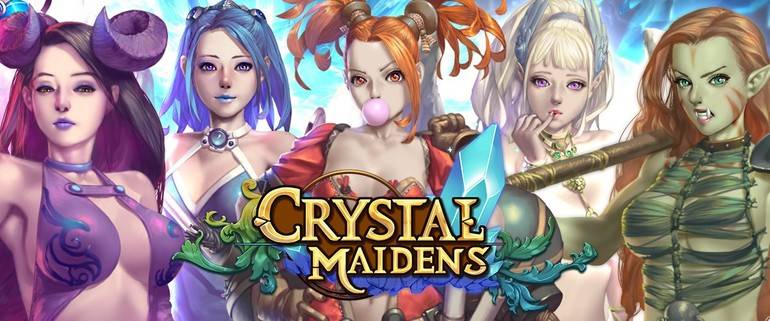 Gameplay
Interesting gameplay
Amazing story and build up
Stunning sex scenes
Levelling up comes with benefits
The first scene that will experience in the game will be on a beach. You will see yourself having your penis sucked by a hot naked maiden who has horns. The story is about this shipwreck that you were a part of, and then you end up on the shore where Nuka comes to rescue you. The story will continue as you will be required to conquer a dark wizard. As soon as you leave the beach, you will have the first interaction of Crystal Maidens when you collect a free item. Almost every gamer gets the same card here, card of Selena. She is also known as the Brilliant Duelist.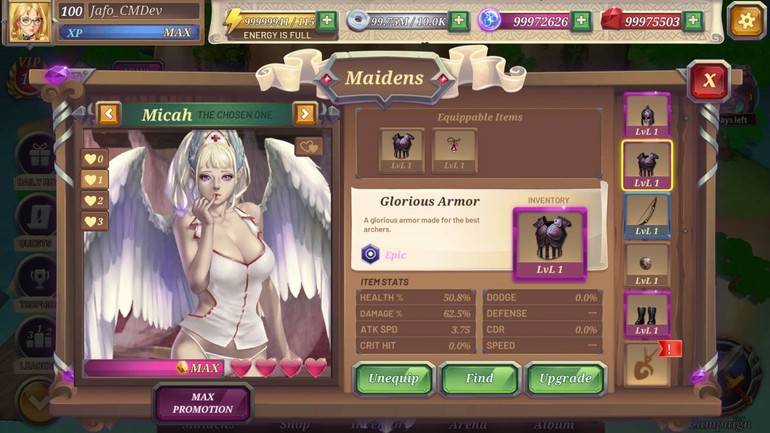 Gamers can also take the game to full-screen mode by clicking on the blue button that will be on the bottom right corner. The game has great artwork, and it is a much-polished game by Nutaku. The game is all about placing down the maiden who will then surge you into a battle. Gamers can also perform various attacks using the buttons that are available. However, as you keep unlocking or enhancing your character, you will see more options and interactions available to you. The initial games do not require users to do much. As one levels up, the game gets tougher and more funny.
How do you level up your maidens? To level up your maidens, you will be required to use gems. Using these gems, gamers can flirt with the hot ladies. Moreover, whenever you level up, there will be a 10 percent increment in the health points, defense, and damage. These maidens can also be equipped with wands or other weapons which can make them more powerful. Crystal Maidens has great animations and sex scenes. The girl who was seen in the first scene of the game will want to have sex with you at the beach. These fucking scenes are really hot and interesting.
Unlocking in Crystal Maidens
There are plenty of things that gamers can unlock as they progress in the game. They will get to unlock new maidens along with various other things. There will be plenty of things and aspects that the users need to understand before being able to use them. Therefore, it is important to go through the tutorial properly. This online adult game is not entirely about fucking. It requires the users to make strategies and think smartly. However, the maidens appear as though they are crazy warlords and run into the battlefield.
There are various ways in which you can unlock different items that will be useful for you in the game. So, make sure you focus on leveling up and getting new and crucial items in Crystal Maidens.
Features
Regular rewards
Ability to unlock maidens after 14 and 28 days
Crates have amazing goodies
Low prices
There are plenty of new features and rewards for every day in Crystal Maidens. On the very first day, you will be started with 500 silver coins, and the next day, you will receive five energy points. The rewards keep getting better as, on the third day, users will receive five red gems. There will also be rewards for 14 and 28 days, where you will be able to unlock the maidens Coral and Roxelana.
Even though this is a free game, there are various steps where you can use red gems to unlock crates. These crates have plenty of goodies and enhance the user experience. There are options for buying the normal and premium crate for red gems.
The game has a Romance Bar, which is just like a second XP bar for the maidens. However, it works in a different way. Whenever the bar is full, maiden will take off some of her clothes. Moreover, for every romance level that you reach, you will be able to unlock a sexy part of your maiden. As soon as you are able to unlock all the parts, you will see a hot and sexy artwork that you would want to fuck. There is also a part where your maiden can show some of her special talents.
Graphics
Clean and attractive graphics
A blend of traditional and western styles
The game has some of the best artwork and graphics. There is a traditional feel to the game that many gamers love. Moreover, the blend with western styles enhance the game and provides a unique experience. The entire gameplay with the graphics and design goes really well.
Pricing
The pricing in Crystal Maidens is pretty cheap. Users can purchase crates with money. If you purchase Nutaku coins in bulk, such as 20,000 coins, there are some great offers. The normal crate is available for just 5 cents each, and the premium ones are for 25 cents. There is also a premium items' crate, which is cheaper as it is available for 15 cents, but the crate will not have a maiden. Overall the pricing of the game is highly affordable and worthy at times.
Conclusion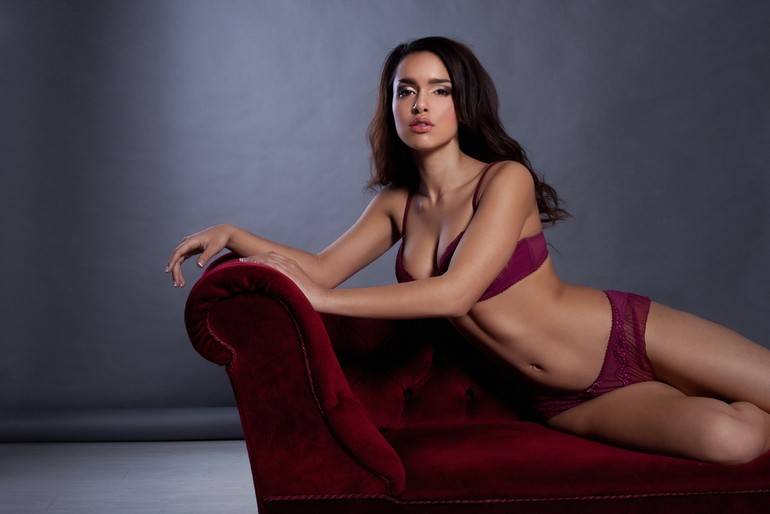 Crystal Maidens has gripping gameplay that is undoubtedly the highlight of the game. Users will enjoy the high-quality designs and graphics of the game. Moreover, since it is available for free, the excitement is real. The game is also available on Android for users to play on the go at any time. Nutaku has created yet another masterpiece with Crystal Maidens.
It is a game where you can enjoy collecting items, unlocking new and interesting challenges, and fucking hot and sexy girls. There are different maidens to unlock as well as ones who want to be fucked by you. The game is not entirely about sex, which makes an interesting storyline for adult fun. Try out this interesting adult game and find out if it is the right fit for you or not.
Frequently Asked Questions
1. Is Crystal Maidens free?
Yes, Crystal Maidens is a free game with optional in-game purchases.
2. How do conversations on Crystal Maidens work?
Users can click on the maidens to communicate with them. However, the communication in Crystal Maidens is not top-level.
3. Is Crystal Maidens game safe?
Yes, Crystal Maidens sex game is perfectly safe to play and enjoy.
4. How can I delete my profile on Crystal Maidens?
If you wish to delete your profile, visit the 'My Account' section. Click on the option that reads 'Close my account' and confirm it.
5. Do I have to pay for anything on Crystal Maidens?
Crystal Maidens has in-game purchases which are optional. However, these are available for low prices and can enhance the gaming experience for every user.
6. What can I do to keep my account safe on Crystal Maidens?
It is advised that you use a reliable WiFi network to keep your account safe. Also, do not share any of your personal details with anyone.