Last update: Aug 16, 2019
33057
A browser game
Only some of the advanced features are paid
No need to share your personal info during the registration
International community
Responsive customer support
Free signup
Friendly environment
Exciting plot of the game
Impressive graphics
Our review
If you always wanted to find a high-quality and interesting battle game with the elements of erotics, here you go. Fap Titans is the online adult game that took on the world. Fight monsters, become the hero of the kingdom and have a naughty girl on your side. What can be more cool? Probably, the fact that the website is free for use and play. You don't need to subscribe to the membership and pay big amounts to only throw a glance on the features of the website.
With lots of fans from the entire globe, Fap Titans is developing and increasing every day and provides a user-friendly approach and excellent service. If you are a real nerd about design, then you won't be disappointed. The graphics is great. The interface is comfortable. Everything is done to meet your requirements and make you happy.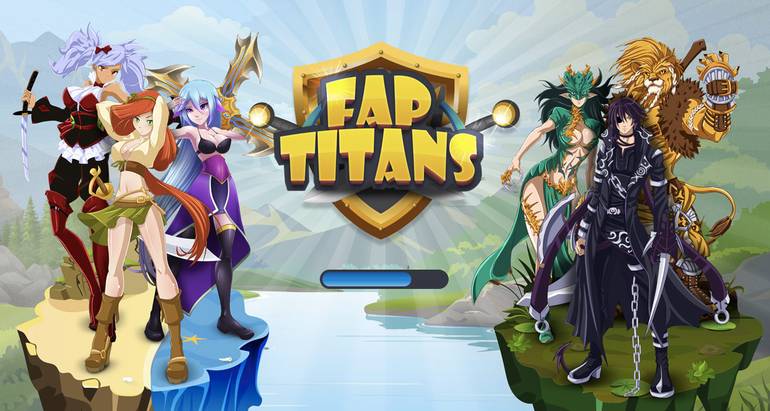 FapTitans members
Members from the whole world
Only 18+
Friendly atmosphere
Large community
Both men and women use the website
The international community and popularity among people from different countries made the creators of Fap Titans translate the website and a game into several most-used languages:
English
German
French
Russian
Chinese
Japanese
Besides, the representation of males and females on this service is equal. People of different ages find this game extremely interesting for them. So the age range is wide too.
If there are any problems or questions, all members can always contact the support team that really cares for the users and will solve everything. This thing, and frequent updates, show a user-orientated approach of the service.
Registration
Free registration
Not time-consuming signup
No credit card requirements during signup
No need to connect your account to other social networks
No questionnaire to pass
The registration on FapTitans.com is just a breeze. Forget about time-consuming sign-ups with lots of unnecessary questions about your name, last name, age, country, etc. Moreover, it isn't even compulsory. But when you sign up, you get some pleasant bonuses. If not, just pop in as a guest and use the same functions, but without a small gift.
To sign up, click on the button in the right upper angle that will redirect you to the sign up form. There you have to write the valid email address that will be used to identify you as a real person. It's all done to avoid the chances of fraud. Then you need to agree to Terms of Use. After you click on the sign-up confirmation, you will get a 4 number code. Enter it in the next form and your account is approved. After that, use your account as much as you want.
Despite the fact that registration is not obligatory, it opens more possibilities to enjoy the game. If you will close the tab by mistake, the service will save all your previous actions and achievements in the game. If you haven't created the profile yet, you will need to start from the beginning.
Start conversation
Start your journey just after you popped on the website
Follow guidelines
Change the language if needed
Use the feedback form if there are any ideas or questions
Buy advanced features
On FapTitans, you can start a game just after you appear on the website. You can sign up or continue as a guest. From the first step, a hot game girl will help you to figure out all the features, navigation, and your goals. The instructions are very detailed and will help you get used to the website.
If you have any questions, you can use a feedback tool that is situated in the bottom of the page. The customer service is really professional, so they will get you back as soon as possible. Besides, if you wantб you can try a paid feature that is not obligatory but will allow you to dive more into the world of this exciting erotic game.
Profiles
No details of other users available to view
Info about your achievements
Only email address is indicated on your profile
No nickname
No interactions among users
Profiles on FapTitans are not available to view to other users. As there is no public chat or forum on this website, the players can't communicate. Instead, they have plenty of opportunities to interact with the horny characters of the game.
On your profile, you have statistics that show such details of your game as:
Hero levels gained
Hero levels up
Max locations
Alltime monsters kills
Gold
Minion kills
Total gold
Gems
Rooms
Memory shards
Achievements
Mobile app
Although the mobile app for Faptitans.com has not been developed yet, you can still play the game on your tablet, smartphone or computer. It doesn't matter the device you use, the quality of the product will still be the same. Usability does not suffer because of this, and you can enjoy playing.
Prices
The pricing on Fap Titans is fair and transparent. They use the credit system, so you will play only for the functions you buy and use. The transactions are made through Epoch payment service that is really secure. You can pay via MasterCard, Visa, QIWI Wallet, or Diners Club. The prices of credits, which here are called diamonds, are:

Free services
The majority of features on FapTitans are absolutely free. Among free services, you can use:
Registration
Possibility to play a game
Contacting customer support team
Viewing your progress
Access to your statistics
Saving the game when you leave
Getting some bonuses thanks to the signup
Fee-based services
All paid features are advanced functions that help to play in a more efficient way and get to new levels more quickly. For example, gaining more power or opening new places that wouldn't be available without coins.
Appearance and interface
The overall appearance of the website is really good. All features are divided into sections that help to find them and generally navigate on the service. During your first steps, you will get some pieces of advice and instructions on how to play. Speaking about design, it's very nice and doesn't scare off how it often happens on the other websites. On faptitans.com, you will enjoy high-quality graphics and interesting characters.
Special features
Free diamonds for sign up
To sign up or not is up to you. But we really need to tell you the registration gives you free diamonds and the access to some features that you would have to buy in another case. So, don't miss a chance to catch a freebie.
Contact Information
| | |
| --- | --- |
| Company: | Fap Titans |
| Address: | Czech Republic, Prague, Street, Namesti Pratelstvi 1518/2, Hostivar, 102 00 |
Frequently Asked Questions
1. Is Fap Titans free?
Yes, you can use the website and play a game and pay nothing for it. You can sign up, browse, contact the support team if anything, and it's all without paying a penny. The only paid features are advanced ones that brighten up your game, but at the same time, they are not obligatory to buy.
2. How to create a profile on FapTitans.com?
To create your account, you will need to write your valid email address. After that, you will get a confirmation code. Just copy it, fill it in the text field in the registration form and put a tick near "I agree to Terms of Use." At this moment, your account is created.
3. How do Fap Titans credits work?
Fap Titans uses a credit system that means that you will buy some credits (which are called diamonds here) and use them for purchasing features. You pay only for the one you choose. No membership or other hidden unexpected charges.
4. Is Fap Titans safe?
Yes, you can use it with no worries about your safety and safety of your data. It's also protected from viruses.
5. How many members does FapTitans have?
The website can boost over a million members. The new players join daily.
6. Can I use FapTitans.com anonymously?
Yes, for this, just use the service as a guest and visit it through an incognito tab.
7. How can I know that the profiles are real?
Every member should enter his or her valid email address and then confirm a code. There is no communication happening between the users, so, in fact, it doesn't really matter here if the people behind the profiles tell the truth about themselves.
8. Is messaging free?
Unfortunately, there is no feature that allows you to write messages to other users.
9. How long does it take to have my profile approved?
It takes about some instants and depends on how quickly you will enter a confirmation code.
10. What can I do to keep my account safe?
Use reliable sources to log in your account on the website and don't share private details with strangers.