Last update: Oct 24, 2019
24784
Easy to play game
10 unique characters
Dating multiple waifus is allowed
More than 50 animated scenes
Daily challenges
Simple user interface
Large and active community
Amazing simulation
Fun in choosing your style
Ability to customize your house
Long tutorial
Loud sounds
Our review
Pocket Waifu is a game similar to Tamagotchi, which is one of the biggest games of the 90s. Pocket Waifu is free of cost and rich in a story game that is available online on browsers as well as applications. There are plenty of stunning scenes, interesting characters, and sex that is waiting for every user. The game was developed by Nutaku, which has plenty of adult games available on the site. There are more than 50 sex scenes in the game, along with challenges.
This free game provides users with daily rewards when they complete their missions and challenges. Find out the attributes and play specifics of this interesting game. Also, get to know what makes this intriguing dating simulator so popular. Here is everything you need to know about Pocket Waifu.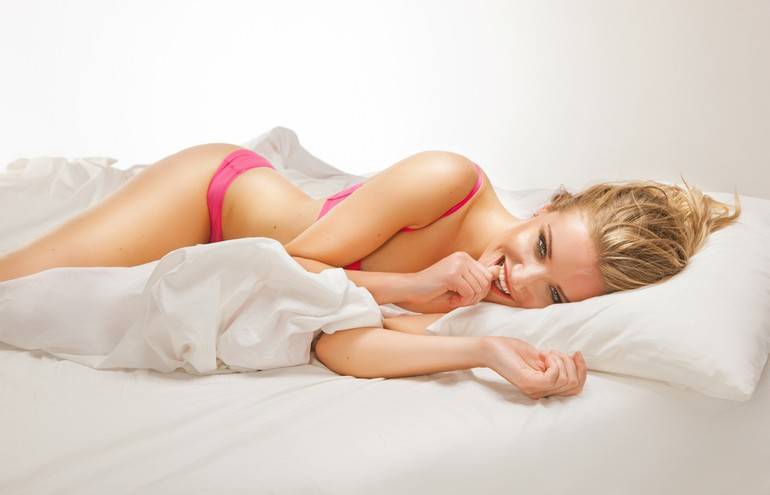 Starting
Find the detailed tutorial
Remember that completing the tutorial will get you rewards
Go through the tutorial with hot Andrea
As soon as you start the game, you'll be greeted by a sexy and busty redhead, Andrea Brizana. She will take you through the tutorial, and even though the tutorial is long, it is necessary to understand the game. Andrea has big tits with piercing and bat wings. Going through the tutorial will enhance your gaming experience, and more importantly, you will get rewards. You will get the option to allow Andrea to teach you a few tricks regarding fucking. This will surely make you satisfied. Right after this, you will meet Mary Green who will take you to the bathroom for her clean up. The starting of Pocket Waifu is certainly interesting and will keep the new users engaged and looking for more.
Gameplay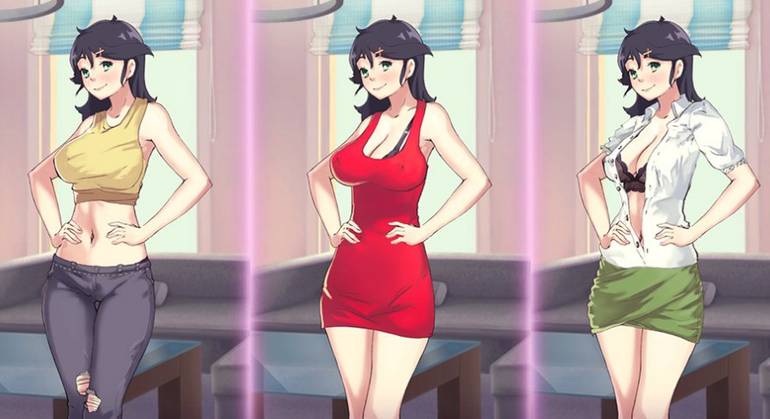 Seductive gameplay
Perfect model
Great sex scenes
When Mary is with you in the bathroom, you will have the option to give her shower gel. Even though this will reduce your energy by 15, you will get 30 bathroom points. Pocket Waifu tries to get the users to get their fuck buddy clean and in the best condition before sex. Once you are done soaping the large boobs of Mary, she goes onto enjoy a delicious meal that gives you 50 points of hunger.
After this, Mary gets to the action and something that every user is looking forward - sex. Mary has perfect boobs, and she likes to play around with her nipples to tease you. Completing this tutorial is a great experience and insight into what the game has. Moreover, once you finish the entire tutorial, you will get a free Premium trial period for 72 hours. For these many advantages, expending 5 minutes certainly won't be a bad option.
The players of Pocket Waifu are required to look after four different needs of their girls. They have to look after Energy actions, Bathroom, and Hunger. If you are playing the game in a hurry, you can skip these options with the help of Premium currency. By doing these basic actions, users will also be able to fill up the heart meter.
As soon as you complete a level, you will unlock a new scene. There will be interactions unlocked, which can be used with your girl. All these scenes are not pictures, but animations. Players can also earn by various methods. Users will be required to complete different tasks on a daily or weekly basis. Even by playing mini-games also, players can earn and also fill the "Happiness."
The in-game currency can be used to buy various items or gifts for your virtual partner. There are 30 different animated scenes in the game over the browser.
Mini games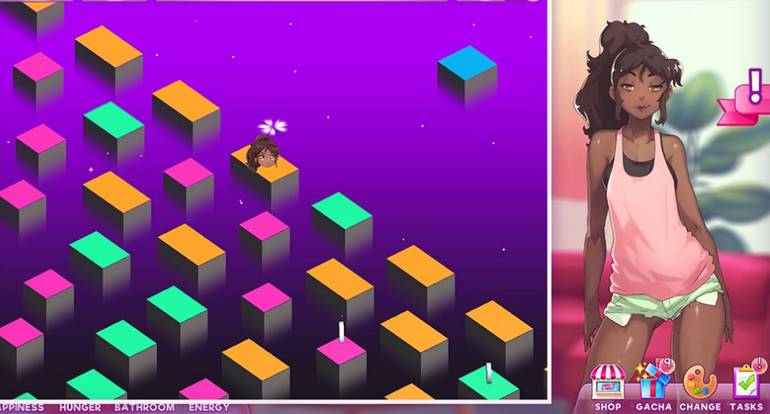 Initial access to 9 mini-games
Easiness to play mini-games
Great rewards
Pocket Waifu has plenty of mini-games that take the user experience to the next level. The game has a great skill aspect and users get to pick from an initial batch of nine games. There are games such as High Roller which can be a great option for new users as the higher you go once you spin the wheel, the more the number of rewards there will be. There are various other mini-games which have their own advantages and disadvantages. Therefore, you should pick the one that you find most appealing.
Games such as Sky Jump and Line Breaker will certainly be favorites. Most of these games can be played using a mouse and are reaction time-based games. These games will certainly tease the users, and they will be able to unlock better and hotter girls such as Yasu and Cleo.
Features
Free game
1000 gold coins as introductory offer
Take the game at your pace
Pocket Waifu is a completely free game to play. However, every now and then, there are special features that players can unlock for low prices. Therefore, players can take the game at any rate. If someone wants to complete it fast, he or she can do that. But if someone wants to enjoy the game with its story and take it slow, they can do that as well. New users can take advantage of the introductory offer within seven days of the first play. The offer is worth 1000 gold coins. Therefore, playing without having to spend a penny on Pocket Waifu is actually possible.
The positive nuances
After considering almost every aspect, Pocket Waifu is an interesting game to play. The users are provided with plenty of chances, and they can play without paying anything. The artwork, graphics, and animations are appreciable. However, the sex scenes could have started a little early. The experience provided on Pocket Waifu is great and appealing to every gamer. Players get to experience big boobs and great fucking. Moreover, there are regular updates of the game. Therefore, users can expect new features and fresh content frequently.
Conclusion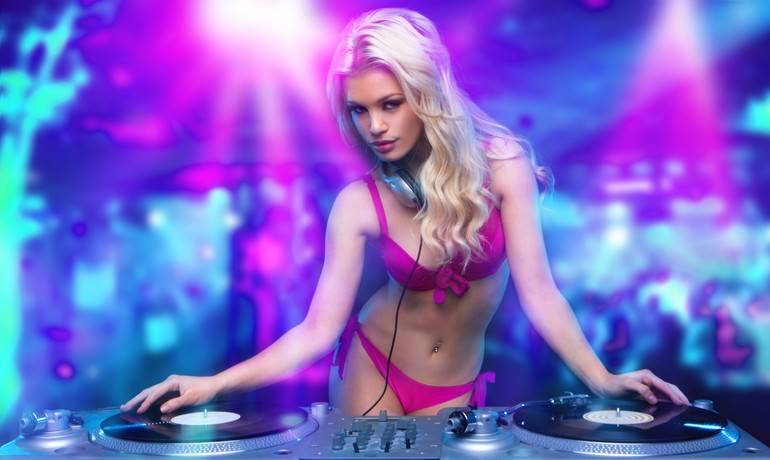 Pocket Waifu is a premium adult game that provides a great sexual experience on the browser as well as on Android devices. For all those who are tired and bored of playing mainstream games, Pocket Waifu by Nutaku can be a great option. The game has various sexy models who want to be pampered by you and then fucked hard. The gameplay of Pocket Waifu is also interesting and does not simply jump to fucking. It is easy to play, and even new users can understand all the basic functionalities and features of the game by going through the tutorial.
Pocket Waifu is a must-try the game for everyone who loves challenges and actions while enjoying sex scenes. Moreover, since the game is also available on Android devices, the user experience is all the more enhanced. Users can play from anywhere at any time with the Android application. Try your luck in Pocket Waifu and find out if the game is the right fit for you or not.
Frequently Asked Questions
1. Is Pocket Waifu free?
Yes, Pocket Waifu is a free game with in-game optional purchases.
2. How do conversations on Pocket Waifu work?
When there is conversation initiated between two people in the game, both partners lose energy. Also, users can click on the avatar of the other person and start a conversation.
3. Is Pocket Waifu game safe?
Yes, Pocket Waifu is a safe and secure adult game.
4. How can I delete my profile on Pocket Waifu?
If you wish to delete your profile, visit the 'My Account' section. Click on the option that reads 'Close my account' and confirm it.
5. Do I have to pay for anything on Pocket Waifu?
The game is free to play and there are no compulsions. However, there are in-game purchases which are optional and can speed up the game.
6. What can I do to keep my account safe on Pocket Waifu?
It is advised that you use a reliable WiFi network to keep your account safe. Also, do not share any of your personal details with anyone.