Last update: Jan 28, 2022
32784
Are you searching for something that can wake up your cock like nothing before? This is what playing porn games can give you, and SmutStone game is one of the best to try out for newbies and experienced players.
Indulge yourself with the hottest Hentai-like characters and exciting features. What SmutStone cards are all about? How much does it cost to play? And is it even safe for your ass? I give you all the answers in this SmutStone review. Go on reading, buddy!
Free registration
Customisation for different countries
Top-notch design
Credit system
Hot characters
Amazing design and interface
Engaging storyline
Completely free gaming
Helpful hints during the game
Nice bonuses for registration
It's impossible to save progress without registering an account
There's no SmutStone app
Our review
If after a hard working day you want to relax in a more spicy way, Smutstone is an online spot that will get you a lot of pleasure. The website hosts an eye-popping erotic card game that not only makes you horny but also excites your mind. Enjoy the erotic world of Smutstone and develop your skills of building strategies at the same time.
Launched in 2017, this game is fresh, but already gained a lot of fans from the entire world. Not similar to other erotic games, it attracts thousands of visitors every week. Besides, as the game is absolutely free to play, there are no money traps when you pay more much than you were supposed to do at the beginning of the deal. Pay only for special features and be sure that everything will be crystal fair and transparent.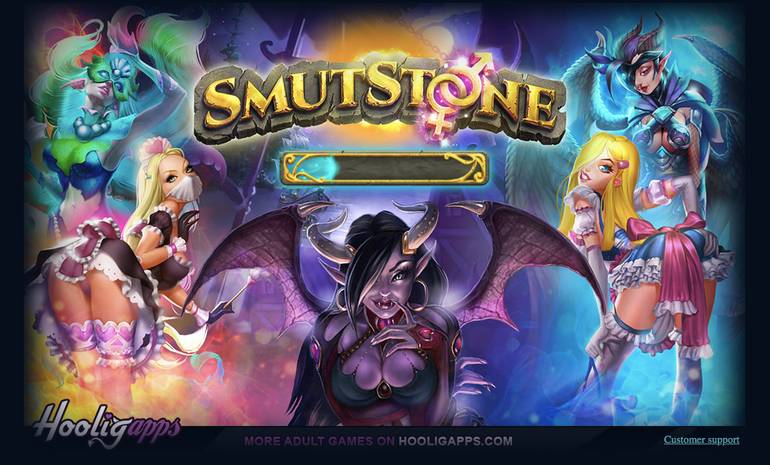 SmutStone gameplay
Everything starts with explaining the backstory of the SmutStone game. You're set to the strip club where a few mates are having a truly wild night. When your main character enters the dancer's room to enjoy some private, that bitch gets abducted by the evil witch through the portal in the mirror. Gee!
But that's only the beginning, as you (I mean your character, dummy) instantly get pulled through the same portal trying to save that poor sexy dancer you were going to fuck.
After that, you're transferred to the magic world of pig-liked creatures, evil wizards, and smoking hot girls. You're to fight the malicious powers by playing different SmutStone cards.
Smutstone members
Mostly members are from English-speaking countries, France, and Germany
Age limitation for visitors
No interaction between users
International fandom
Smutstone is an exciting game with an interesting plot and incredible illustrations. That's why the number of members is increasing. Every year, the website gets a lot of new users, viewing, and fans. Over a thousand of users visit the website every week. This all can show us the high level of the game and a friendly oriented approach of the creators.
To be able to gain access to the website, members should follow a specific rule that concerns age limitations. Smutstone.com's services are only available for persons over the age of 18 (21 in some regions). So, if you are not at least 18 years old, you won't get permission to visit Smutstone. Users from the entire world can visit the website and play a game. If you have ever appeared in the situation when the residents of your country can't visit the website, here you can forget about it. Absolute equality. The developers even launched customization. So you can translate the whole site and game in the following languages:
Registration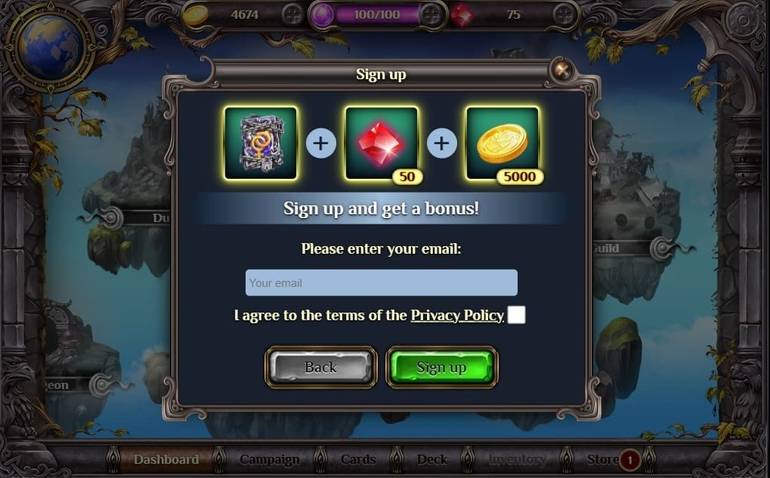 Only an email address required
Free process
It takes not much time
You will immediately get an email confirmation
Agreement with Rules and Conditions
The sign-up process on Smutstone.con is just a piece of cake. It's free and won't cost you even a penny. By the way, you don't necessarily need to register. But if you do it, you will be able to purchase advanced features and even bonus credits for free.
To create your profile, you will only need to enter your email. If you don't feel well about giving your email address, you can still use the site as a guest. However, we must admit the registration is really secure. Your email address is used only as a confirmation of your personality and nothing else. You won't get unsolicited letters and emails. No worries about it. Besides, they claim not to use your email in any other purposes and sell it. Your data is in total safety. After you have written your email, just click on "I agree to the terms of the Privacy Policy." We also recommend reading it before putting your click. Just to be aware of what you are going to agree to. Then you get a verification code. Enter it in a registration form. That's all.
Start conversation
Possibility to play a game from the first minute
Sign up to get more functions
Get an instruction if it is needed
Buy additional features
No forums or chats
Once you are on the website, you can start your virtual sex adventure. The navigation on the website is excellent, so you will easily understand where to find all the features. You don't need to wait or sign up obligatorily, just start your game and get new hot experiences. Let naughty girls join your harem, serve you, and fulfill all your desires.
As the game comprises different levels, you gain more and more cards with better and more attractive girls when you win new battles. Through the first level, they will lead you. In the instructions, you will see how to play and what to do. So don't worry if you feel unsure about buttons with functions, different maps, and menus with the main attributes. You will find out about it all
Unfortunately, the creators of the website didn't add a possibility to communicate in a group chat or to write and read in a forum. But, after all, you came here to plunge into the world of virtual porn gaming. Different chats might disturb you and distract from the main aim.
Profiles
No gender showed
No nickname
Profiles are necessary just to buy credits
Your level and recent actions are available for viewing only for you
No possibility to write to another member
On Smutstone, the profiles are just a way to confirm your account and give you the possibility to buy credits. As there are no requirements to fill in details concerning your name, age, country, ethnicity, age, or preferences, other members can know nothing about you. It's a good way to stay anonymous and not reveal your personality.
Besides, your account maintains a record of your achievements, levels, and steps from the start of your playing. Only you can see it. It's made for you to see your successes and keep going, completing new levels.
Mobile app
Smutstone's team has not developed a mobile application. Yet, one can easily reach the site from their devices - it works fine both on smartphones and tablets. Although it is not as comfortable as the mobile app would be, it is still possible to play the game.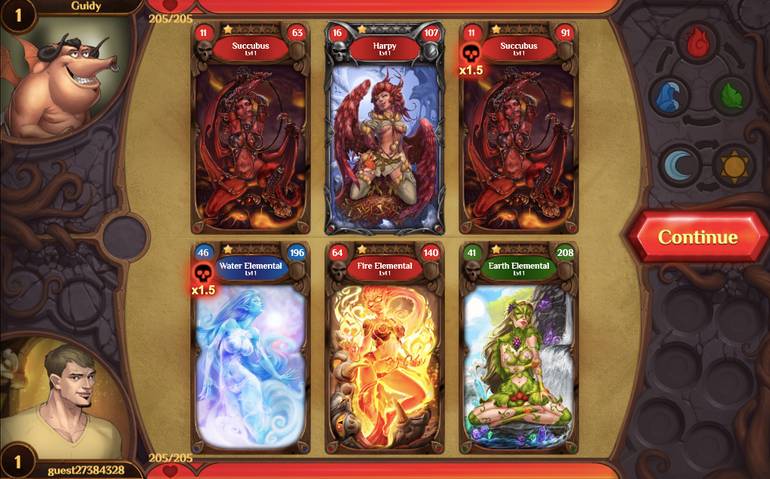 Prices
The pricing on SmutStone.com is average. You won't pay a lot for advanced features, but you can get great possibilities to complete levels much more simple, get new girls more quickly and enjoy the game in a new interesting way. The website uses a credit system. So, you buy a certain quantity of credits, so-called gems, to buy some features. It's a transparent system as you pay only for the features you want. The cost of credits looks like:
The cost for different features really varies. For example, if you want to buy coins, it will cost you so:
3000 - 20 credits
8000 - 50 credits
36000 - 200 credits
100000 - 500 credits
250000 - 1000 credits
Free services
Almost all the features connecting with the use of the website and game are free. So, you can do such a list of things for free on SmutStone:
Sign up
Browse
Play game
Contact support team
See your level
Fee-based services
The list of fee-based services is not so numerous, but it gives additional possibilities that you won't be able to experience with free functions. All paid features concern the playing and simplify the completion of levels and gaining more hot girls to your harem.
Appearance and interface
Even if Smutstone is your first erotic game, you will appreciate the interface and a great design. It attracts by its easy navigation and nice bright graphics. All functions are located at plain sight. From the home page, you get directly to the game. The registration form is also very understandable and not-complicated. All works smoothly, so developers and designers did a good job.
Special features
Free bonuses for sign-up
On Smutstone for registration you get some bonuses, free features, and credits. It encourages to sign up and to the same time gives pleasant gifts to the users. With these free bonuses, you can try advanced functions.
How easy is it to play the SmutStone porn game for newbies?
Geez, you won't even need any kind of SmutStone guide to understand the game from the very first second!
The pig creatures will show you the tips during the whole gameplay, so you don't need to puzzle over the rules and next steps. And when the cards battle will come, just push the "Fight" button! It's impossible to get confused with SmutStone.
Contact Information
| | |
| --- | --- |
| Company: | Smutstone.com |
| Address: | Czech Republic, Prague, Street, Namesti Pratelstvi 1518/2, Hostivar, 102 00 |
Frequently Asked Questions
1. Is Smutstone free?
Yes, Smutstone is a free website. You can sign up, browse, and even play a game without paying anything. There are some paid services, and they are optional.
2. How to create a profile on Smutstone.com?
It's tough to find a website where to create an account will be so easy. Just find a registration form, write your email, and you will get a verification code. Enter it in the necessary field, and here you go. Your account is ready to use.
3. How do Smutstone credits work?
Smutstone uses a credit system that means that you need to have credits to buy features. You pay only for the functions you choose. The more credits you buy, the bigger discount you get. Here they are called gems. They come in packages, and the starting price is $1.99 for 20 gems.
4. Is Smutstone safe?
Yes, the website uses a specialized secure system for transactions. Your credit card information is secure on Smutstone.com, as well as your communication is. Every kind of interaction on the site is protected.
5. How many members does Smutstone have?
The website can boost thousands of members. As the erotic games get more and more popular every day, the number of daily visitors is constantly growing.
6. Can I use Smutstone com anonymously?
Yes, it's possible. To stay anonymous, use the website as a guest and don't sign up.
7. How can I know that the profiles are real?
All the users have to pass the verification process by giving their valid email address and entering a code during sign-up.
8. Is messaging free?
On Smutstone you won't find a feature of messaging.
9. How long does it take to have my profile approved?
This procedure takes about some minutes. You will not need to wait a lot.
10. What can I do to keep my account safe?
Be cautious and don't share your private info or email address with other people.