BDSMlibrary Review
Your partner doesn't share your interest in BDSM, and you have no one to realize your wild fantasies with? Or maybe you succeed in BDSM sex and want to brag about it? Both ways, BDSMlibrary.com might be the place you'd want to visit.
BDSMlibrary is home to lots of sex stories shared by real users, and all those stories are BDSM-themed. Maybe it's time to bring your wanking to another level? Read everything about the site below.

Pure focus on BDSM
Like-minded community
Forums and chats for interaction
Ability to submit your own stories
Video and photo content
Some sections aren't active
The number of people who adore BDSM is growing every day - we mean people who really understand what it is and what to do with it. But, we believe that you came here to read our bdsmlibrary.com review because you know how to deal with domination and submissiveness.
Bdsmlibrary.com is the site famous for a huge collection of perfect and "pure" BDSM stories. This platform has started to grow the collection in 2001, and its owners paid a lot of attention to the quality of the content they offer to people. It was the right strategy because it resulted in a huge number of visits within several years after launching.
Now this site is the heaven to anyone keen on BDSM. No matter what do you want to find - a hardcore BDSM, lightweight choking story or a sexy dominant lady telling you what to do from the pages - you will find that on this platform. Do not lose time, visit the Library and have this night titillating!
Member Structure
Member Structure
Members geography
211,000 from USA
Members activity
70,000 active weekly
The majority of members are from the US and Europe
Users are quite active
There are more than 76,000 users on forum
Considering the number of comments under the stories, likes, and forum threads, there must be thousands of active users. And, there are 76+ thousand members on forum to make contacts with.
You can meet people from different countries on BDSM library and its forum, and discuss the stories you like or don't. Remember that some people may speak English not as good as you do, so, please, be patient and tolerant to users who want to communicate with you and the others on this language.
Registration at bdsmliabrary.com
To join the community of the site demands payment
People spend three-five minutes to complete registration
Registration demands to provide a bit of information about yourself, such as desirable username, email, and create a well-thought password. To become a member, you have to pay. You can find the prices below, in the "Prices" section.
Appearance and interface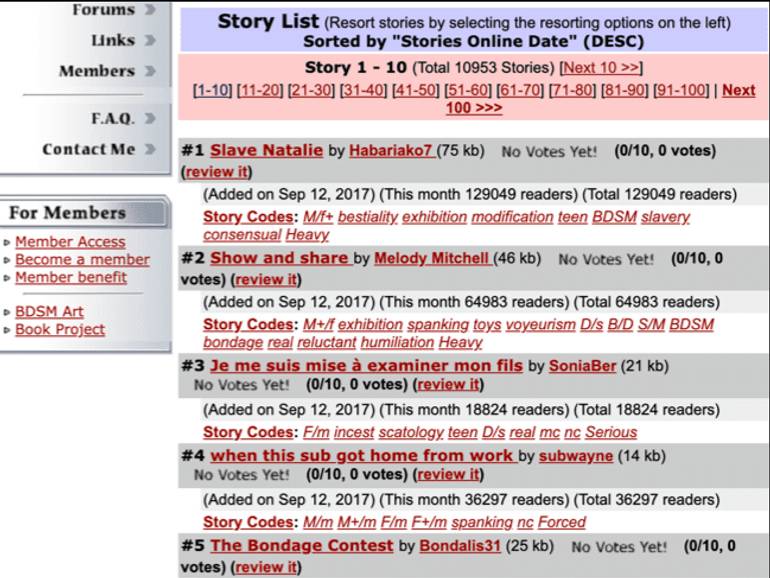 The interface of this site looks pretty old and too simple to be called "interface" in 2019. Moody grey colors and carelessly made graphic elements look poor. These features can make a bad impression on visitors. Luckily, the font is nice and readable, and there are more than 40 BDSM categories that are properly organized; these two things are ones of the most important for a site that offers written content.
Communication tools and forum

The site has a forum
You can make contacts via emails if the members left them in their profiles
There is a Live Chat, and anyone can join it after registering a username
There are three ways to communicate with people on BDSMlibrary: forum threads, emails, and the chat.
To make contacts on the forum, you need to register there, and it is completely free for anyone. You will be able to create new topics to discuss, enter the others' threads, and look through the forum profiles.
To have a conversation with a registered member, you should contact him/her via email, if there are any on the profile of the member. And, to enter the sex chat, you need to register a unique username: this username is unchangeable, so be careful while entering it in a text box. To communicate with people on chat does not require payment, so you can discuss anything you want spending only your time.
Profiles
Profiles contain only basic information
Members of the site cannot upload userpics
If you enter someone's profile on BDSM library com, you will see only the name of the user, his/her works, if any, and a few words about himself/herself. Some members who upload erotic stories on the site can leave their contacts, such as emails, personal websites, and so on. If there are any works by a user, you will see them all in the form of a list.
Special features
BDSMlibrary videos
If you feel that it is enough reading for today, you can switch to the porn videos! There is quite a big collection of videos on bdsmlibrary.com, and you can familiarize yourself with those hot ladies and guys within two clicks! You can watch videos for free. Combine the two types of content for ultimate satisfaction.
Photo content
BDSM library is a place not only for stories (and videos) but photo content as well. Sometimes, you just get tired of all those porn clips and want to give your imagination a chance. If you're new to sex stories, you might not get hard from the first time. That's when viewing sexy pictures might help! Moreover, all the photos are way too sexy and have lots of BDSM scenes. Consider it your special online adult games.
All the pictures are grouped in categories so that you can faster find what you desire. Some of the categories are pregnant, maledom, watersports, wrestling, fisting, torture, etc.
Mobile app
There is no mobile application for the site
The people who love to read stories from their tablets and smartphones are the unlucky ones, because this site does not offer any mobile hookup app for the maximum comfort of users. Yet, you still can open BDSM library on any of your devices via your favorite browser and enjoy the works by famous writers.
Prices
For one month of unlimited access to this site, you will be charged only $9.95. You will be billed $9.95 every 30 days until you cancel. You can cancel your subscription at any time.
If you want to see some erotic pictures, you can have a look at Erotic Art - a project by BDSM library com. For only $16.95 per month, you can browse the erotic art by famous and talented artists. Erotic Art was a part of the platform discussed earlier, and now it is a separate site with plenty of graphic content that is worth visiting.
Subscription
1 Month
$9.95
Erotic Art
1 Month
$16.95
Free services
You can read stories and watch videos for free. But, if you want to become a registered user with an account for the other people to see your name and recognize your works, you should pay a bit.
Paid services
The only thing that demands payment on this platform is registration, and you have already seen its price above. Why do you need to register on the platform? A member gets plenty of possibilities, such as:
Filling a profile;
Uploading stories personally;
Using the BDSMshelf. It is your bookshelf where you can save your favorite stories of BDSM Library. You can create a Shelf to save a list of stories posted on BDSMLibrary. And, you can create different shelves to collect your favorite stories in different categories.
Supporting the site. The platform exists only owing to the financial support of the readers and authors;
Access to the backup story archive;
Getting rid of commercial banners.
If you want to get all the above mentioned, you should spend some money and enjoy your activity on bdsmlibrary.com, getting the maximum possible pleasure and feeling comfortable every second online.
HookupGuru's final thoughts
<p>BDSMlibrary is a cool platform for doms and subs with great imagination and those who desire to share their experience with like-minded fans. Lots of sex stories and additional features like forums and video content make it a heaven for BDSM lovers. Check BDSM library out and see yourself!
Total Score
Contact Information
| | |
| --- | --- |
| Company: | NameSilo, LLC |
| Address: | 1928 E. Highland Ave. Ste F104 PMB# 255, Phoenix, AZ 85016, US |
| E-Mail: | webmaster@bdsmlibrary.com |