Last update: Nov 14, 2019
52949
A chance to build your world and character, AKA sexy Sims
A large number of daily visits from all over the world
Breathtaking animations and graphics
Engaging story
Simple interface and navigation
Chapters for free
Group communication with other players
High-quality design with amazing graphics
Ability to both download and play the game online and save progress throughout the chapters
Mesmerizing world and story with well-developed characters
Ability to skip scenes and redo actions to get
No content for free
Available only for Windows PC
Our review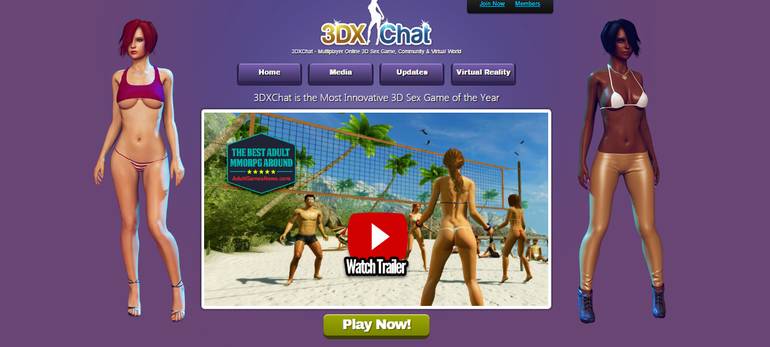 It is popular to engage in adult entertainment nowadays: watching porn, joining sex chatrooms, reading erotica, and playing online sex games. 3DXChat is a relatively new development of the 3D sex games developer - Sex Games Devil - which has been creating top-rated content since 2008. They are truly professional with the gameplay, graphics, and sexual visualization. Among the games they have developed are Juliet Sex Session, Venus Hostage, Nemo's Whores, Night Party, and Anal Masters, which are already universally loved by the users.
3DXChat is one of the best downloadable games on the market. It is available only for adults looking to fulfill their wildest dreams. It is an incredibly interactive example of virtual sex in the best quality. It is also connected with the already existing community of people who are open to making new connections, sharing sensual experiences, and seeing the world where every passion, desire, or wildest dream can come true at a snap of your fingers.
With 3DXChat, it can easily become your favorite adventure to live for! If you have sexual fantasies, and we know you do, welcome to 3DXChat. Here, you can date and have virtual sex with real people around the world without any judgments, limitations, misunderstandings, and drama. We believe it's an amazing plan that has combined the realism of modern 3D technology and anonymity of the Web.
3DXChat members
Users from all possible destinations around the world
English speaking or learning members
18+ age limitation
Thousands of visits every week
Most of the members are English-speaking from various time-zones across the globe, but a lot of them come from the United States, the United Kingdom, Canada, and Australia. If the users aren't English native speakers, they are at least English learners, since all of the game's features are currently in this language.
This game represents a big community of special individuals from any place on Earth. 3DXChat isn't like a social network or a dating site, but it provides its users with the supporting services and features and many communicative options to share their opinions and stuff.
Game technology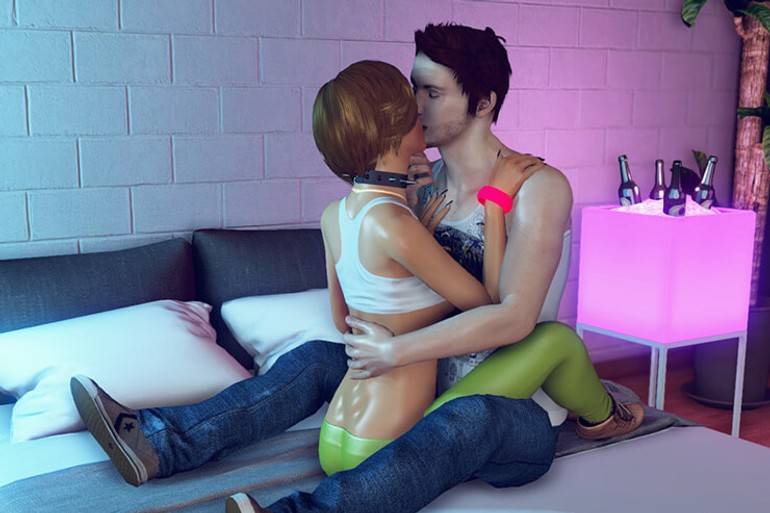 3DXChat is a unique combination of 3D sex traditions and up-to-date technologies providing amazing naturalistic animation brought to life by Sex Game Devil's best developers. This is one of the first sex games in the world where all the animations regarding sexual intercourses are done from motion-capture animations of real adults having sex. That is why the picture is so photo-realistic in the 3D.
Creating your profile
3DXChat is not just a sex game to help users who have grown bored of jacking off to old regular videos. It is a semi-erotic network with dozens of people who want more than just watching full-on virtual 3D sex scenes. They are here to make new acquaintances and communicate with people, at least online.
Once you have made your mind about what membership to use, entered the email address, and downloaded the game, it is time to create your avatar. Start with picking up your name and gender. Keep in mind that they can't be changed throughout the game, so choose responsibly. Be creative: if you want your username to show some sexual parts of your personality, go for it. Pick your name according to what you want other users to see in it. As for the gender part, you can choose to be a female, male, or transgender.
Filling in your profile
Your profile has 4 major parts: age, interests, location, and "About me" section. The minimum age of users is 18 for obvious legal reasons. Interests section is created especially for your sexual orientation. If you leave it blank, it will give off two possible messages: either "I don't care about sexual orientation" or "I am available for various new experiences." Putting in your location isn't obligatory. The last, but not least is "About me" section that is both loved and hated by many users. Here, you can give people an insight on who you are, describe yourself, add some of your sexual preferences, and specify what your goal in the game is.
Avatars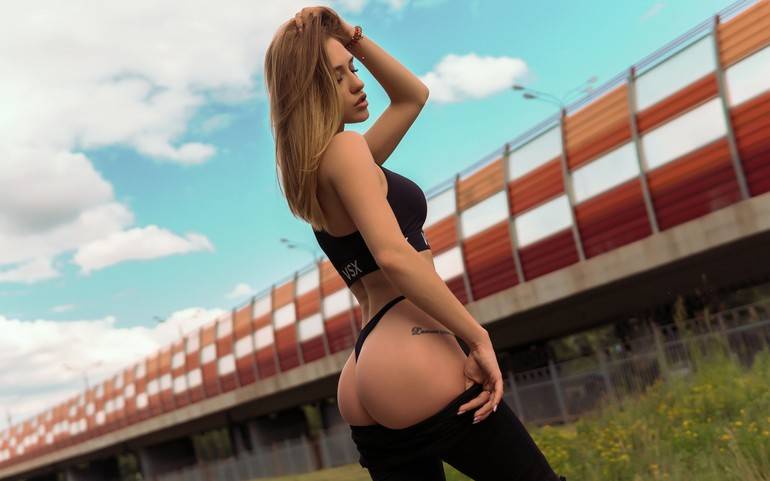 Think of 3DXChat as an adult, 18+ version of Sims. We all loved to create our characters and their houses, even build a pool, put the sim in there, and take the ladder away. However, 3DXChat isn't about that. With your avatar, you have the power to adapt body features to your preferences (body type, skin tone, etc.), and select sexy clothing and accessories to make a statement in the community.
Game setting
Basically, the game revolves around multiple locations where you get a chance to meet other players. For a start, you have two locations available which you can customize to your needs. You can pick furniture and props to make it comfortable and attractive. You also can make your apartment available to the general audience and invite players with the same sexual preferences. There are more places, such as nightclubs, beaches, yachts, bars, and hotels for your sex adventures and dreams.
Playing options
Nice developed gameplay
Available for Microsoft PC only
No mobile application yet
The playing process is rather simple. It is all about chatting up the people you meet in different locations and having lots of good-quality virtual sex. At any time, you can access 3 chat rooms. The first one is the general chat for all users to keep in touch. There are also chat rooms based on every specific location which you can enter once you get into that place. The last one is a specific person chat that opens once you start talking to their avatar.
Except chatting, you can also send in-app gifts with the help of gold. After that, you can simply send someone a request to become your sexual partner. With the great number of sex poses and acts, you will never get bored here.
Fee-based services
A great bonus is that with accessing only one game, you get a package of all Sex Game Devil's older games as a gift. So, you will have a chance to play not only 3DXChat, but also other 3DX games.
Appearance and interface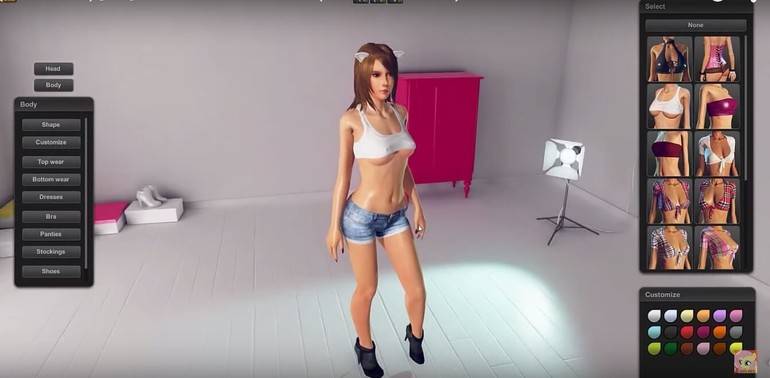 The game has an attractive and vibrant design. The team of 3DXChat always issues new updates to approach new users and satisfy the existing ones. In fact, updates come pretty regularly and offer lots of new delicious things, such as new locations, inviting sex positions, outfits, controls and so on. All this makes the game world even more exciting!
Contact Information
| | |
| --- | --- |
| Company: | SexGameDevil |
| E-Mail: | support@sexgamedevil.com |
Frequently Asked Questions
1. Is 3DXChat free?
No, it costs $19.99 a month, $59.99 per six month, and $91.99 for a year-long subscription. But you will also receive access to 5 more sex games.
2. How many members does 3DXChat have?
It is hard to count precisely, but on an every-day basis, the site has over 6 thousands of visits. Most of the users are available on weekends throughout all time zones.
3. Is messaging free?
Once you download the game, all of the features, including messaging, are added to your membership plan.
4. Does 3DXChat have any coins?
This game has an online currency called XGold. 20,000 XGold costs $24.98. For example, the price of a second avatar is 10,000 XGold.
5. Can I use various VR devices while playing?
Yes, this game is really revolutionary; thus, you can connect VR glasses Oculus Rift and VStroker Fleshlight or a virtual sex system.
6. What can I do to keep my account safe?
Just follow universal Internet safety rules: don't give anyone any of your personal information and report any suspicious activities that you face during the game.