Last update: Jan 25, 2022
40442
All the sexiest games in one place! What do you think of that? Opening one site and exploring dozens of sex games sounds like a pure heaven for a horny cock, agree?
And adult sex games on Gamcore are definitely one of the kind. What experience can you get when using it? Is there a Gamcome mobile version to enjoy playing on the go? And is Gamcore even safe to play? Let's find this out, my perverted friend.
A great range of various games
No need to fill detailed questionnaires during sign up
You can upload your games
Read their Twitter to know all news
Security of data
All games are free
You can download games
There is a comfortable search tool based on categories
Rating of games
There is no mobile application
Lots of ads
Our review
Gamcore is a gaming website that is on the market for already quite a long period. Launched in 2008, the service has replenished a lot and now can offer lots of videos of the adult content. This website will help you distract from the everyday duties and enjoy the whole universe of erotic video games.
Whether you are a man or a woman, you want to play a lot or just have fun, you prefer more standard thematics or the strangest ones, Gamcore will have a lot to show you. With its huge collection, everyone will find something for him or her. Savor new experiences, overcome the challenges, and enjoy spicy games.

First impression on the Gamcore games site
Opening the website, you notice the familiar dark color scheme, which is common for all adult platforms. But cartoony thumbnails of games definitely add to the fun.
Navigation on the Gamcore is simple—all the buttons you need are located on the left side of the screen. Here, you can filter all the games by numerous tags and other features. There are 150 pages of different adult sex games on Gamcore! Your evenings will never be lonely, buddy.
To make the choice of the game even easier, Gamcore provides a short description of it along with users′ rating and number of views. Surfing the platform, you feel you're appreciated here.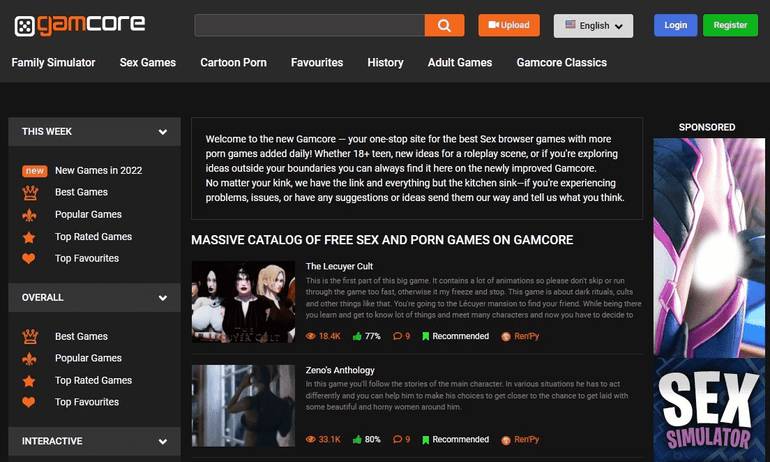 Gamcore members
Open-minded members that don't judge each one
People from the entire world
Users of different ages
The preferences of members are really various
Millions of users who visit the service every month
On gamcore.com you won't find any person who will judge you or whatever. Everyone is really respectful and understands that you all gather there to have fun and feel new interesting experiences in the virtual world. The community is international, and there are many members from different countries of the world.
The website offers a ton of different games for all tastes that cater to your brand of a kink. That's why here you can come across people with different fetishes and preferences. The members are not of the same ages. It doesn't matter whether you are 20 or 50 years old; everyone wants to have fun. As the collection of games is really large, and the basis of the site is free, Gamcore attracts over million members every month, that is a huge number. That all can't leave indifferent. So trying it is your obligation not to regret after!
Registration
Free sign up
No necessity to answer any additional questions
Total security of data
Easy step-by-step process
Opportunity to connect via Facebook
Once you stop at this service and decide that it's time to play, you will need to sign up. Don't worry, this procedure on Gamcore isn't time-consuming. Do only a few steps:
Create your nickname that should contain only numbers and letters
Make up a password
Enter your valid email
Write your gender and birthday
When you complete it, you need to agree with Terms and conditions and confirm that you are not a robot by clicking on CAPTCHA. After that, you will get an email, and at that moment your account is fully created. Besides, you don't obligatory need to fill any extra details and answer the questionnaires. There are no requirements to enter your credit card information, so don't worry about different not predicted charges. Here it won't happen, you can trust them. You also won't need to download your photos. It all is done to provide you with the possibility to use the service anonymously.
Here, you have a choice to sign up either via your email, or by connecting your Facebook account. The second one is much easier, but the website will have access to some of your data. In any way, they won't post anything on your behalf.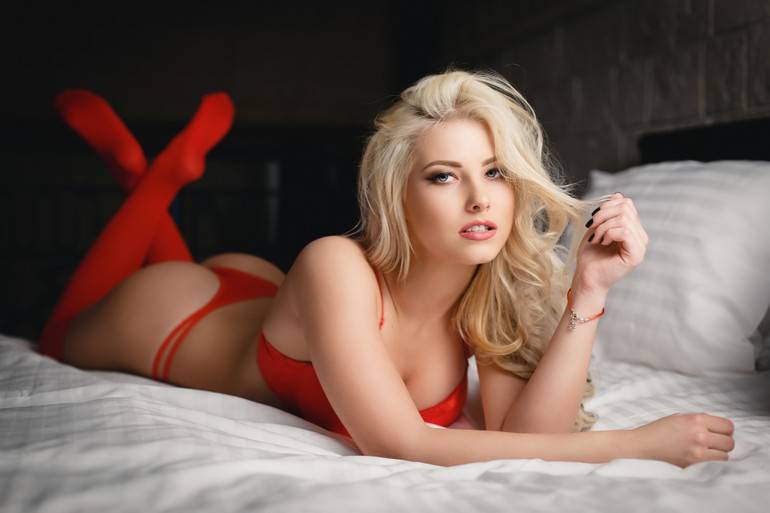 Start conversation
Free browsing
A good search tool to look for the games
No need to pay for messages
Select any category you want
Play without limitations
On gamcore.com, you can start your use at any moment after the registration. Playing and browsing are totally free. The process is quite simple. To look for a game that will tickle all your desires, you can use several ways of searching:
New games
Best games
Popular games
Top rated games
Top favorites
What is interesting is that you can look for games not only based on the regular categories available.You can search for the most popular games since the beginning of the site and top-famous for the last 30 days.
In addition, to facilitate entirely your search, the site offers you to look for different games by tags. The most used tags are:
3d
Adventure
Animation
Asian
Blondes
Celebrities
Criminal
Flash
Hentai
Love
Porn Stars
Strip
VirtuaGirl
If you like the game really much and don't want to lose it, use your Favorite list to add to, and have access to your best games whenever you want. You can also look at your history. Even if you play the whole day and night, you will be able to do it so long as you want. Here there are no limitations.
Mobile app
Gamcore doesn't have a mobile application, but you can use their mobile version with no problems. Be sure not to feel any uncomfortable moments during your use because the site and its version for mobile phones are created very well. It is customized, and the whole interface is quite good. The small thing is that you will need to download the Puffin Browser to play Flash content. If you are playing HTML games on your iPhone or Android device, they recommend downloading Google Chrome for better use.

Prices
To play erotic and hot games on Gamcore, you need not pay. It's a really good piece of news because you will hardly find a platform with such a large number of top-notch games with good quality and picture absolutely for free.
Free services
You have a long list of functions available for free here:
Signing up
Wandering on the website to find some interesting stuff before a play
Using searching engine
Using tags
Communication
Downloading of games
Reading a blog
Playing games
All these features will help you enjoy the site and your time here without paying a penny. From the start and signing up till the playing, you can do it on absolutely free basis.
Appearance and interface
The appearance of Gamcore is pleasant. The whole design gives a hint about the content of the site and sets you to be ready for a lot of fun. The homepage is divided into several parts that help to navigate and search. Speaking of games, there is a handful of various games depending on what you are looking, Some use the latest in computer animation technology. Others are more retro in their design.
Special features
Possibility to download games
Here, on Gamcore you can download games and enjoy them on your computer even without the Internet connection. It's very convenient and gives you access to the favorite game at any time.
Uploading games
Every member can upload his or her own game. Of course, it will be examined by the moderators. If it meets all the requirements and passes verification, the other users will have an opportunity to try it.
Twitter account with all latest news
Gamcore has its own Twitter account where they post everything connected with the site. There you can come across something about their latest updates or any other interesting stuff.
Is Gamcore legit?
Sure thing! These guys put the quality of your experience and safety of your ass as a top priority. The private information you provide on the site is never shared with any third parties. And the bank credentials you enter when making payments are also safe thanks to the encrypted transactions.
Contact Information
| | |
| --- | --- |
| Company: | Gamcore |
| Address: | 665 Third Street #207, San Francisco, CA, 94107, US |
| Phone: | +14806242599 |
| E-Mail: | Contact form on the website |
Frequently Asked Questions
1. Is Gamcore free?
Yes, it's absolutely free. Here you have a range of features to use without paying pence.
2. How to create a profile on Gamcore.com?
Provide little of your personal information (date of birth and gender) in the special registration form, create a strong password and a unique nickname. Finish it all with providing the site with a valid email - and there you go! Your profile is created.
3. How do Gamcore credits work?
Fortunately, there is no need to tell about any kind of system, be it a credit or membership system because you can enjoy this site for free. You don't need to pay or buy any coins or credits.
4. Is Gamcore.com safe?
Yes, you can use it with no worries about your personal data. If you connect via Facebook, all your information from there won't be used without your permission.
5. How can I delete Gamcore profile?
To close your account, you will need to visit a page with settings of the profile where you can click on "Remove my account". After that, you have to confirm that you have decided on it for sure, and that's done.
6. How many members does Gamcore have?
Every month it has about 1 millions of views.
7. Can I use Gamcore.com anonymously?
Yes, you can use it anonymously. As you don't need to write your real name or surname, your nickname will be good to use without recognition. You can also hide your gender and age in settings.
8. How can I know that the profiles are real?
All the games on Gamcore are uploaded by real people.
9. Is messaging free?
Yes, you can send messages to other users and comment games for free.
10. How long does it take to have my profile approved?
You will have to wait just till you get an email confirmation and click on the link. After that, your account is approved.
11. What can I do to keep my account safe?
For this, use reliable sources to connect with your account. Don't share your password and private info with a third party.