Last update: Aug 16, 2019
33328
High-quality security system
Support is available
International community with thousands of members
Lesson of Passion blog
Stylish design
Absolutely free registration
You can view the games rating
Constant updates
Games work without interruptions
Games can't be downloaded
No mobile application
Our review
When life seems to be too tight, the idea to unwind a bit and dive into the world of sex games is the best decision. Lesson Of Passion is a well-known gaming website. The service is full of different options for every taste. Launched in 2012, it develops and offers better and better features every year.
Considering users' desires and understanding of what will be great for different categories of people, Lesson Of Passion has become one of top-rated sex gaming services. As lots of games on the website are free to play, you can enjoy them all without any limitations. Forget the fear of wasting your money - it won't happen here. The quality of the service can't leave indifferent because sometimes it's really impossible to take your eyes off the screen. Besides, you can do whatever you want, control the process, make characters behave in the way you want, and get the best experiences from it all.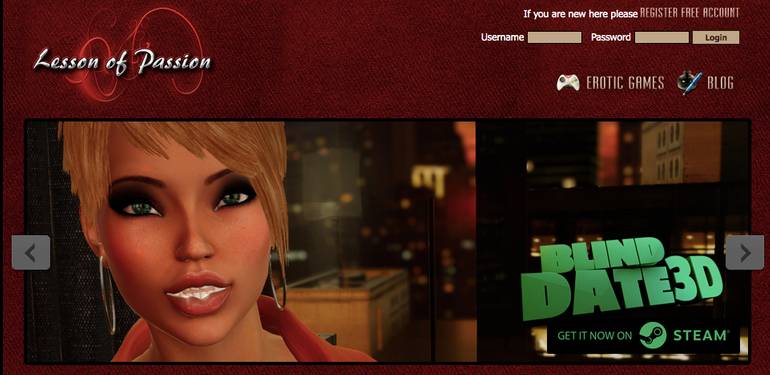 LessonOfPassion members
Only adults can use the service
Males and females are signed up
Members are mostly from English-speaking countries
Both members and guests can use the site
Blog for members
The big advantage of the website is the possibility to use it as a member and as a current visitor. The only thing is that membership gives more opportunities to interact in different ways. In any case, you can become a member for free. All visitors must follow the same rule. They may only use this Website if they are at least 18 years of age, or at least the age of majority in the jurisdiction where they reside or from which they access this Website. Otherwise, they don't have permission to use Lesson of Passion.
As the games available on the website are created for males as well as for females, people of different genders and different preferences visit the service. You can also meet people of different ages there.
Registration
Free sign-up
Registration is not obligatory
Email is used to send confirmation letters
No need to give any personal details
Nickname requirement instead of the real name
The registration is easy and quick on Lesson of Passion. It's not a necessary rule to have access to sex games, but sign up gives more privileges. When you visit the website, you will see the registration form at the top of the homepage in the upper corner. Just click on it and you will get to the small questionnaire. There you will need to write:
Your nickname
Your password
Confirmation of your password
After you click on "Register," you're done. The last thing to do is to visit your email box and check the confirmation letter. It will redirect you to your activated account. They assure that your email will be used only for this confirmation and nothing else. Don't worry about spam or unsolicited emails. Besides, you don't need to enter your credit card details or any info concerning your location, age, or ethnicity. Everything is anonymous.
Start conversation
View all available games
Search to find a specific game
Leave comments
Rate the games together with other users
Sketches from games are available on the homepage
If you are looking for the site that won't hamper your use by complicated processes and primitive features, LessonOfPassion is the right decision. To start your use of this great service is just a breeze. First of all, browse a bit to see the whole pack of games that the site offers you. There are a lot of them, so when you get tired, you can pass to the categories of games. It will help you navigate around and not waste your time on games that don't match your tastes. For example, you can look for the recently added games to avoid the ones you have already tried.
Besides, the blog of Lessonofpassion.com can give an idea of different games. You can read more details and rules and be aware of all the updates. To choose the game that won't disappoint you, pay your attention to the rating of games created by other users, and read the comments. Sometimes you can get a lot of useful info there: from cheat facts to unique ways to get more fun.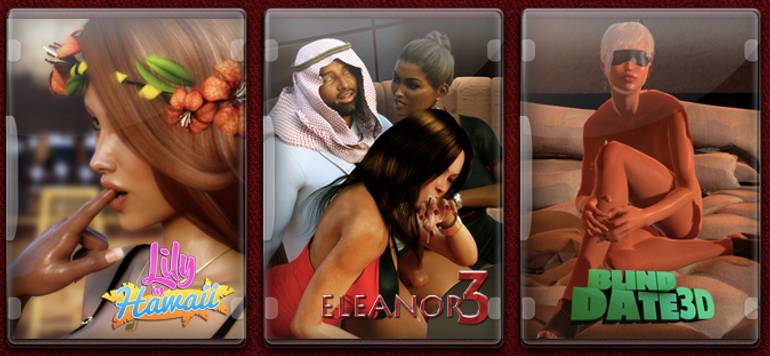 Profiles
Profiles are not detailed
Only the nickname can be viewed
No access to the email addresses of other users
You can use the service in an absolutely private mood
If you want total privacy with no access to any kind of your data, then you can safely use Lesson of Passion. Profiles here don't play an essential role. As this gaming type of website differs a lot from any dating one, here you don't need to know a lot about other members to use the website and enjoy it.
In general, this website doesn't have games for lots of users. So, the only interaction with other users is communication in comments of the website and of the blog where members can express their opinions about the plot, design and other stuff connected with games. The other users can see only your nickname and posts.
Mobile application
No mobile application available
The site is still accessible from any device
LessonOfPassion's makers have not developed the mobile application for it yet.Nevertheless, it doesn't mean that you can't use the site from your smartphone or tablet. All of the games are still easy to play, and you can enjoy the online sex entertainment anywhere anytime.
Prices
On lessonofpassion.com you can get a lot of games for free. Premium games are paid, but they are worth it very much as the quality of all the games is very high. It's evident that developers put lots of efforts to create something unique and incredibly exciting. Pricing on the website is fair and transparent. You have two options: pay for 1 game or get a membership. The cost for the membership varies on its length. You can get such types of deals:
Specific Game
1 Month
$9.99
At the same time, if you don't want to play all the games, but only the one, you don't have a necessity of paying for the whole month or more. In this case, you can get a recurring access to the specific game. It will cost you $9.99 per month and will be billed every month. If there is anything that doesn't satisfy you, you can always cancel the membership.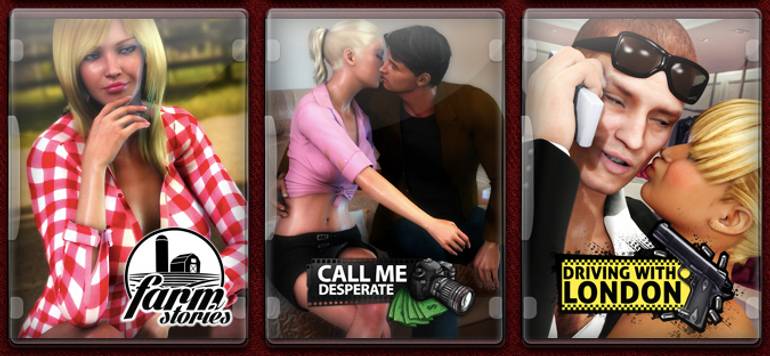 Free services
<p< All free services are available to give you an opportunity to try and decide whether the games fit your preferences and expectations. You can see the thumbnails of each game and understand what is the main bewitching detail, plot, and rules. So among free features of LessonOfPassion, you can find:
Sign up
Searching games
Reading a blog
Writing comments
Rating games personally
Playing the games
Fee-based services
Fee-based services give you the most important feature of playing the best games. So among paid features, you are free to choose between:
Playing all the games thanks to a membership
Access to one game with payment for it every month
Appearance and interface
The interface of Lesson of passion is great and leaves a pleasant impression. The design is modern and helps to maintain the brand of the website. It's easy for newcomers to use it and find all possible features. All teaser images attract and make you want to try the games. The only thing for you to know is that for some games you will need to install the Flash Player.
Special features
Lesson Of Passion blog
Lessonofpassion.com offers its users the possibility to read and write on their blogs. There all the posts are detailed and contain bright and juicy photos from the future games, announcements, and news about recent updates to keep their fans informed.
Contact Information
| | |
| --- | --- |
| Company: | Lesson of passion |
| E-Mail: | leonizer@lessonofpassion.com |
Frequently Asked Questions
1. Is Lesson Of Passion free?
Yes, the service is free, but only for sign up, browsing, and playing some of the games. To enjoy the best and the most well-known 3d games you will have to pay.
2. How to create a profile on Lessonofpassion.com?
If you want to open your account, just visit the registration form and fill in the required fields with your nickname and email address. After that, find your confirmation letter and follow the link in it. That's all, and your account is ready to use. Nothing super complicated, and it takes only a few seconds.
3. How do Lesson Of Passion credits work?
In fact, there are no credits, you can just buy a possibility to play a game through PayPal, credit card or wire transfer. You can upgrade your account to a paid membership that will only cost you $19.99 for 1 month
4. Is Lessonofpassion.com safe?
Yes, they assure that all your transactions are secure and discreet. Besides, your email address is also safe and won't be used in no other cases that the way to activate your account.
5. How many members does Lesson of passion have?
Every month the website attracts thousands of users.
6. Can I use Lesson of Passion anonymously?
Yes, just use it as a guest so no info about you can be viewed.
7. How can I know that the profiles are real?
Only real people with a valid email address can sign up and rate games or write comments.
8. Is messaging free?
You can only leave comments on the website or blogs. There is no feature of messaging.
9. How long does it take to have my profile approved?
It takes only a few minutes when you open your confirmation email.
10. What can I do to keep my account safe?
Don't use any suspicious wireless networkings to log in and keep in mind that you don't need to share your personal info.